Acoustic sewer innovation wins national utilities prize
Ground-breaking technology which detects sewer blockages using acoustic pulses has won the Innovation of the Year award from the National Joint Utilities Group (NJUG).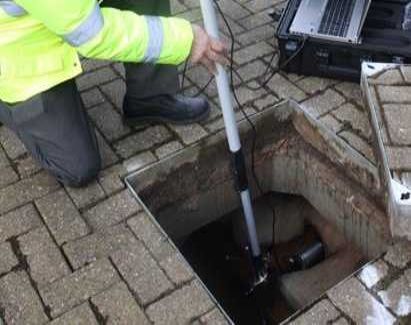 SewerBatt in action
At an award ceremony in the Houses of Parliament, SewerBatt was honoured for its innovative approach in helping companies spot problems like defects and blockages in their pipe networks.
Developed by Acoustic Sensing Technology (AST), working with Thames Water, Lanes and NRW Utilities Ltd, it sends an acoustic pulse through a sewer pipe, providing an immediate assessment of its condition and serviceability.
Thames Water is now using the technology to screen sewer blockage hotspots and target its proactive cleaning programme to the areas that require most urgent attention.
While the examinations are carried out in the field, the results can be immediately reviewed at the company's offices, allowing engineers to determine the correct decision to be made on every asset.
A SewerBatt survey can be carried out for a fraction of the cost of using CCTV and also brings much faster results. An on-site survey can be completed within seconds of the technology going into the manhole and means sewers can be examined with minimal street disruption. The lightweight equipment can be operated by just one person and gives immediate results.
Survey results are analysed by NRW's acoustic innovations team to confirm a pipe's serviceability and recommend appropriate intervention work.
Chris Hinton, Thames Water performance and risk analyst, said: "SewerBatt has been used to inspect more than 250km of sewers in our 2016/17 planned sewer maintenance and inspection programmes.
"This pre-screening has enabled better targeting of cleaning and surveying activity within these programmes, with the resulting improvement in efficiency allowing greater meterage of our sewer network to be inspected and cleaned.
"As a result we are able to increase the sewer flooding and pollution benefit these programmes deliver. At the same time we have been able to improve service and value for money to our customers while reducing the disruption and risk associated with working in the highway."
NJUG, which represents 56 utility companies on street works issues, promotes excellence and improved standards around seven core principles, including minimising disruption, safety, avoiding damage to underground assets and innovation.
Commenting on the award, AST development director Dave Cockerill said: "We are delighted that our technology is delivering great benefits to Thames Water and winning the NJUG accolade is proof that a focused team can make a real difference."