ABB and Sulzer in equipment servicing deal
ABB has agreed a deal with Sulzer Electro Mechanical Services UK (Ltd) which will see the latter providing workshop repair and maintenance services for its large motors and generators.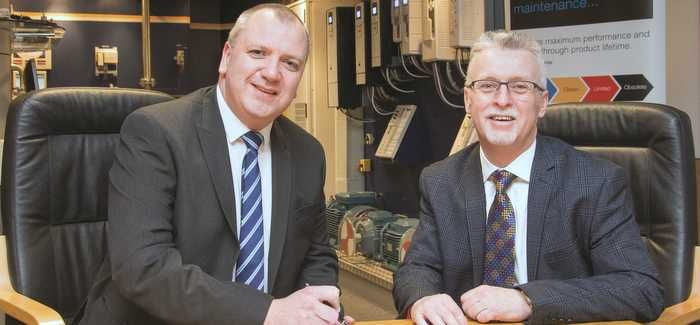 Chris Powles (Sulzer) and Peter Wright (ABB) sign the agreement
Sulzer has been named a 'loyalty partner' of ABB, meaning that users of ABB's 6.6 kV and above medium and high voltage motors and generators will be able to benefit from the skills and facilities of Sulzer's workshops in Birmingham and Falkirk. Sulzer offers inspection, remedial work, modification, repair and rewind of ABB large machines, together with some field services.
Sulzer's abilities include rebalancing of machines, motor rewinds, rotor repairs and manufacture of high voltage coils. Bringing these skills closer to ABB's UK customers will cut lead times for repairs and reduce costs.

The Loyalty Partner programme creates a network of local service partnerships to complement ABB's own field services and regional service centres.

Peter Wright, field service product manager for ABB motors and generators, comments: "The aim is to create a complete value chain for ABB clients. This will strengthen our joint position as collaboration through the Loyalty Partnership brings faster response and advanced service solutions closer to our local markets."

Sulzer was appointed following its successful completion of an appraisal procedure that all prospective ABB partners must pass. This assessed competence, quality and the company's ability to comply with ABB's exacting standards.

"Although we considered several high quality candidates for this partnering role, our global alliance with Sulzer and its strong local relationship with the pump business made it an obvious choice," says Wright. 

"The agreement with Sulzer means our customers get more service options in collaboration with ABB without compromising on quality."

Among the field services that could be offered through Sulzer are ABB's Life Expectancy Analysis Program (LEAP) and MACHsense. LEAP offers a range of inspection services that optimise maintenance planning for electrical machines and predicts the remaining lifetime of the stator Insulation system. It helps extend machine lifetime and minimizes downtime.

MACHsense is a condition monitoring service for electric motors that provides a warning of impending defects. As an early warning system, it provides time to plan maintenance and reduces unplanned shutdowns.