Z stick used to measure depth of pipes
Engineers from Northumbrian Water are using a tool which helps measure the depth of underground water pipes.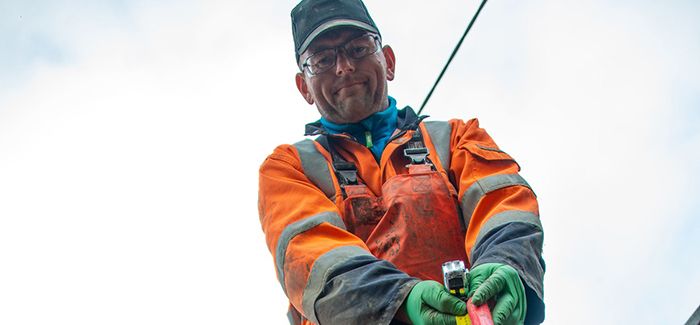 The company came up with the 'Z stick' idea at its Innovation Festival last year, to help its workers capture and record the depth of underground water and sewer pipes across the North East.
While the water company's records - which have been built up over hundreds of years - show the location of these types of assets, they don't always contain information about how far down they're buried.
The Z stick, a colour-coded stick which is now being placed into open excavations, is helping to indicate to water workers how deep underground a pipe is buried.
The blue, green and red coloured bands on the tool categorise the excavation as either shallow, normal or deep and this information is being measured and recorded from over 2,000 locations as part of a pilot project.
It will help the company despatch better equipped teams to jobs - knowing in advance any specialist equipment needed to help dig based on the coloured depth recorded - allowing them to get to the pipe safely and quickly, and complete the work quicker.
The data is fed back into a computer programme, which Northumbrian Water announced it would invest £20,000 into at its Innovation Festival, to help recalibrate a 3D model of the entire 15,000km long network of water pipes.
It's estimated that the project will help the water company save over £400,000 over three years, with efficiencies coming from the likes of reduced roadwork delays and less damages to pipework.
Paddy Garrett, asset systems team leader at Northumbrian Water, said: "It's more important than ever that we know the depth of our pipes because our pavements and roads are being crowded with the ever-increasing number of fibres and cables.
"We already know the width and the height, otherwise known as the X and Y position, of our assets, but this will help us measure the Z position, and that's how the Z stick was born.
"Not only will the Z stick help keep our people safe by helping them to avoid accidental strikes, but it also means they can complete jobs much faster and with minimal disruption because they know where the pipes are located and what equipment is needed to get to them.
"It shows that innovation comes in all different shapes and sizes and it's not just about utilising the latest new technology. Thanks to the Z stick, our aim is that in future, any field worker or planner about to dig, would be able to know accurately how deep the network is at any one point."