'Robust defences' protect Kenley WTW from flooding
Sutton & East Surrey Water (SES), which is battling to prevent Kenley Water Treatment Works from flooding as a result of the storms, says the situation has been contained. A spokesman said "robust defences" are surrounding key assets, and the site is producing water.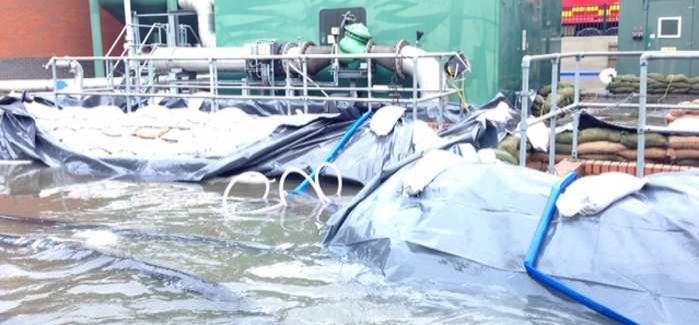 Engineers have been working 24/7 to prevent the treatment works from flooding
With storms forecast, the spokesman said the situation at the site should be fine as long as flood water moved offsite. SES is working closely with Croydon Council, the Fire Brigade and Environment Agency on this and to ensure "we don't flood other properties".
Kenley treatment works is in a valley and the incessant rainfall has led to severe localised flooding – including from the Bourne, a stream running alongside the site but flows only when there is exceptional rainfall.
Engineers at SES have been working round the clock to help protect the facility, which supplies water to more than 46,000 properties and 116,000 people in Purley, South Croydon, Warlingham and Caterham.
Sandbag and other defences have been placed around key operating buildings and plant, and pumps have been installed to take water away from the site. Meanwhile, network engineers are checking contigency plans for supplying customers from other treatment works in the event that the site has to be shut down.