'Monster' sewage grinders protect Scottish Water pumping station
Scottish Water has resolved ragging issues at a problematic pumping station by the installation of two innovative sewage grinders.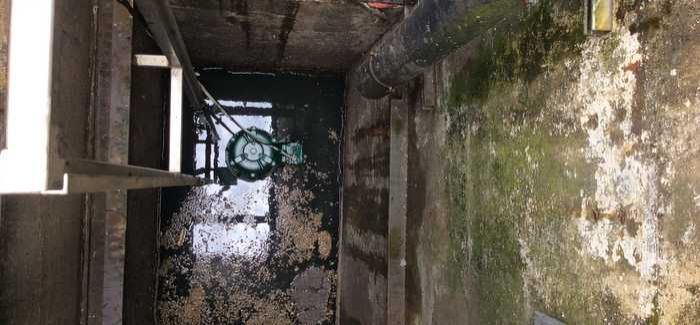 One of the Channel Monsters installed at Mosside Pump Station
The JWC International Channel Monster grinders proved to be the solution to frequent blockages and problems at Mosside Sewage Pump Station. Pump blockages and rags are a significant barrier to energy and operational efficiencies at pump stations, causing unscheduled shut downs, safety hazards for operators, costly equipment repairs and increased power usage due to a decrease in the pumps' hydraulic performance. 
In operation since 1961, Mosside Sewage Pump Station comprises three submersible pumps (duty/standby/assist) installed in the facility's wet well to process a flow rate of 489 m3/hour. Over the last few years, Mosside has experienced a heavier than usual volume of rags and solids flowing into the station. This debris is especially problematic during heavy storms, as the material would create a "raft" of solids which lead to pump blockages during peak capacity periods, and cause sewage to overflow in and around the pump station. This required the Scottish Water operators to attend the site on a regular basis to uplift and unblock the submersible pumps and also clean up the spillages — a time-consuming and unpleasant task.
The submersible pumps were originally protected by a coarse manually-raked bar screen, yet the volume of rags was so heavy that operators were concerned about the large amount of debris being manually removed from Mosside. They realized that the bar screen alone wouldn't be enough to deal with this volume of debris, so Scottish Water looked for an effective, reliable solution that would immediately resolve the issues.
WGM Engineering, the exclusive distributor for JWC International in Scotland, carried out an assessment and recommended that the manual bar screen be removed, the levels of the wet well walls and access flooring be raised to accommodate high-capacity periods, and two JWC International Channel Monsters be installed in the wet well, each on a guide rail system to facilitate easy installation.
The Channel Monster features a rotating screening drum complete with 6mm perforations, which allow small particles to pass through, while capturing and feeding the larger debris into a dual-shafted grinder. This allows the Channel Monster to shred solids effectively and completely, while maintaining proper flow rates so capacities at pump stations are not compromised by clogs and equipment breakdowns.
Since the installation of the two Channel Monsters in March 2014, Mosside has seen a massive drop in the number of pump blockages, freeing up operators from having to attend site unblock the submersible pumps.
Graham Black, area manager for Scottish Water, said: "The grinders have made a difference to both our operational and overtime costs, freeing up a lot of our operator time to concentrate on other sites. They have taken away the fear of being called to Mosside time and time again."
In addition to the reduction in unscheduled maintenance, the installation of the Channel Monsters has allowed Scottish Water to cancel other planned capital investments downstream in its catchment area, which were no longer required due to the conditioning of the rags being pumped from the facility.