FIDO detects water leaks for United Utilities
The North West water company which introduced the UK's first water sniffer dogs is blazing yet another new trail.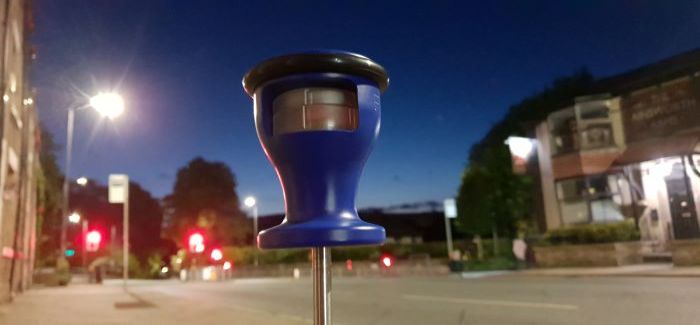 The North West water company which introduced the UK's first water sniffer dogs is blazing yet another new trail.
This time United Utilities has teamed up with FIDO Tech Ltd to develop artificial intelligence capable of hunting leaks both on pipe and in pipe.
FIDO is a cutting-edge AI platform and in field device that uses rapid machine-learning to 'listen' and interpret the unique data trail left by leaks. Then, a bit like sniffer dogs, it tracks them down using smart digital triangulation to pinpoint their exact location.
FIDO's intelligence is due to its deep learning, and growing, AI-library of leak data. As its intelligence grows, FIDO gets ever more effective at finding tricky leaks – for instance those in noisy areas where traditional listening methods are difficult. The device is raising United Utilities' game in the field of tech-led operations.
United Utilities' increasingly-sophisticated approach to managing its vast water and waste water networks, known as Systems Thinking, uses new and emerging technology to monitor interactions between every individual element of the company's huge regional system, and interpret this big data in real time to improve efficiency and customer service.
Now in daily usage, FIDO Tech's instant audio file analysis AI platform – also known as FIDO AInytime – delivers an accuracy rate of over 85 per cent, outperforming traditional methods and improving the rate in which leaks can be found. FIDO AInytime is hardware-neutral and analyses both the audio files of a utility network's existing estate of acoustic loggers as well as FIDO device data from in field. It all happens in real time to deliver leak probability, leak location and leak size.
FIDO is the latest industry-rocking development to emerge from United Utilities' highly respected Innovation Lab, an annual competition for bright ideas.
The innovative technology was initially conceived by the co-founders of FIDO Tech Ltd, Victoria Edwards, CEO and Neil Edwards, Chief Technical Officer.  Having initially struggled to gain traction with their clever use of technology, joining the United Utilities Innovation Lab was the catalyst they needed to turn their idea into a market-ready game-changer in leak detection.
Victoria said, "The reason FIDO is easy to adopt and deploy in field is that it's simple, rugged and easy to use. You just shake it to wake it. It fits into your back pocket. But once activated, it picks up sounds, vibrations and kinetic data and feeds them back to its fast-growing leak library for real-time analysis, to say where the leaks are, to within a distance of one metre. It can either be used above ground as a listening stick or, like a dog, tethered to a lead and put inside the pipe itself."
United Utilities Network and Capital Delivery Director Kevin Fowlie said FIDO has the potential to be a game-changer in leakage detection, especially as many leaks never show themselves above ground, so are difficult to find.
"We have thousands of loggers and monitors installed across our network to detect the barely perceptible sounds and vibrations which can be indicators of leaks, but it's difficult for humans to interpret which data is a leak, and which could be a pump, traffic noise or something else. FIDO gathers all this data into its AI leaks library and it learns fast. It can even calculate, with increasing accuracy, how severe the leak is, helping us prioritise. It really is revolutionising our response to leaks."
Kevin added, "Building a partnership with FIDO has enabled us to work closely with them to take their initial innovation and create multiple technologies, which are to be embedded in our ways of working. This ongoing partnership will also provide us with the opportunity for more innovative thinking in the future to co-create and collaborate, to help us with the increasing challenges we face as an industry."
United Utilities' Innovation Lab has been hugely successful bringing fledgling and emerging tech into the UK water sector over the past two years. Selected projects undergo an intensive 10-week incubation period, working with United Utilities teams, with unparalleled access to the water company's data and expertise.
In FIDO Tech's case, this involved everything from spending time on the streets of Manchester with leakage teams, to creating a bespoke testing site at the firm's site in the North West. The result is the world's largest, and growing, library of leakage data managed by FIDO's AI platform, plus a five-year framework contract with United Utilities, interest from other UK water companies and an additional £1.5m of international investment from other partners.
Victoria added: "I'd like to thank United Utilities for their commitment to their Innovation Lab and their team's support and encouragement over the past year. This type of collaboration rarely happens, but it has given rise to a valued long-term relationship.
"What we have now is a global technology, which really is a game changer.  Regardless of whether you're using your own data loggers in New Zealand, a FIDO listening stick in the Sudan, or a FIDO Pro in pipe in Wigan, everyone can access the FIDO AInytime platform and our deep learning, leak library. This means, the world over, we can now all play our part in helping to detect leaks and save water."
United Utilities will launch its third annual Innovation Lab competition in June, and will again be looking for innovative companies with solutions to key issues, so the company can better serve its customers and make sure our colleagues have everything they need to deliver.
Successful applicants will get the chance to test their solutions in a live environment, while gaining access to and building relationships with senior United Utilities executives, with the potential to lead to longer-term commercial partnerships.