About Us
WWTonline brings together the two market-leading print titles in the water market, Water & Wastewater Treatment (WWT) and WET News, to offer an unparalleled resource for water industry professionals.
Combining the breadth of WWT with the depth of WET News – the only specialist title that focuses on the water industry contractor – WWTonline offers the latest news, analysis, comment, tools, interviews, research and more.
Add to that our comprehensive conference programme throughout the year, the Water Industry Achievement Awards, sister titles WET News, Utility Week and International Desalination & Re-Use Quarterly, as well as IWEX and Resource Ireland exhibitions and there isn't an area of the water market that we don't have covered.
The magazines
Water & Wastewater Treatment is the market-leading publication for the UK water industry, providing an authoritative mix of news and regulatory analysis, case studies, technology innovations and new products. It covers the whole water cycle – clean water to dirty – making it the only monthly water title covering all the issues facing the water industry in one place.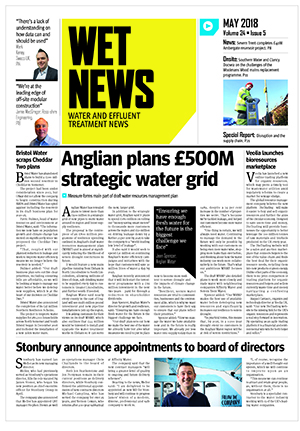 Monthly tabloid WET News is the voice of water industry contractors, delivering the specialist information that they require to operate efficiently, cost-effectively and profitably in an ever-changing market place. Through its lively and engaging editorial content, WET News ensures they are up-to-date about the news, products and services vital to their needs.
Contact the Team

>