Works trials split bearings
Maintenance time and cost has been reduced by a new approach to bearings in a Wessex Water treatment plant, says Adrian Menzies of Revolvo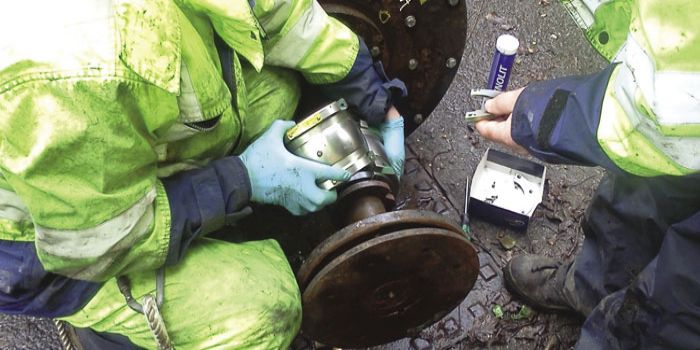 An initial trial of four split roller bearings (SRB) units has been undertaken at a Wessex Water wastewater treatment works. Wessex Water operates wastewater and water networks throughout South-west England.
Several of the company's wastewater sites incorporate orbital aeration tanks as part of the sewage treatment process. Each of these tanks has a number of horizontal rotors which agitate the sewage and introduce oxygen, thereby accelerating the treatment process.
In the past, the rotors have always been supported by two solid bearings with internal seals. However, this arrangement has not proved ideal. During periods of heavy rain it is possible for the sludge level in the aerator tanks to rise to the point where the bearing units become temporarily submerged, compromising the bearing seals and leading to premature bearing failure.
Replacement presents its own set of problems. In order to change out the solid bearings, each rotor must be lifted clear of the tank. Furthermore, depending on the level of corrosion, the rotor may then have to be completely removed for workshop based remedial work. In either case, the most substantial part of the cost is crane hire, which can be in excess of £2,500 per day.
Evaluation
Revolvo undertook a full evaluation of the existing application conditions and proposed a solution based upon its SRB range. The split bearing units were specified with housings and supports designed to be interchangeable with the existing bearing units wherever possible, or incorporate adaptor plates if necessary.
The trial period was undertaken throughout the winter months and contained several periods of heavy rainfall, subjecting the SRB to a number of high water level situations. Despite this, the bearings performed to expectations and continue to run smoothly and reliably.
The split-to-the-shaft design and advanced sealing of Revolvo's SRB allow easy maintenance without having to remove the shafts of long horizontal rotors that agitate sewage and introduce oxygen to the treatment process. In addition, the sealed SRBs are designed to withstand full submersion in sewage sludge, which can occur due to raised levels in the aerator tanks during periods of heavy rainfall.
Performance seals
The housings were also equipped with high performance split rubber lip seals with garter springs and retaining plates, to guard against water ingress during intermittent submersion. Finally, and importantly, the bearings were equipped with remote grease points that allow maintenance without engineers ever having to come into contact with the sludge.
The use of SRB bearings promises large future cost savings for Wessex Water. Should the need arise in future to change a SRB split bearing, it will only be necessary to support the rotor shaft, eliminating the necessity and cost of crane hire. This in itself will easily recover the investment of using the SRB split bearing units.