Workforce wellbeing: opening Pandora's Box
Caring about the wellbeing of your workforce in the utilities sector requires maturity and tenacity, writes Lanes Group utilities director Andy Brierley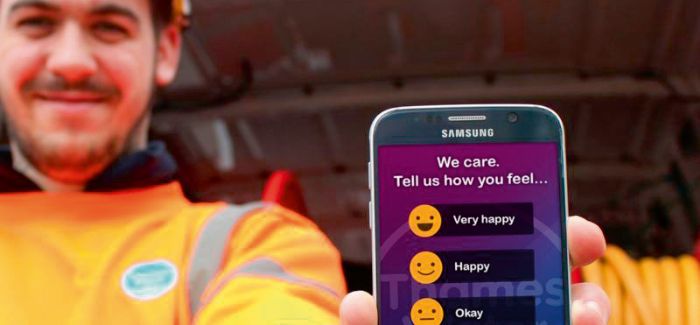 In the autumn of 2016, I was with the senior management team discussing what to do about stubbornly high levels of minor incidents, including slips and trips, and dropped equipment.
As the wastewater network services maintenance partner for Thames Water, we invested above industry average levels in training and health and safety. We had a uniform approach to safe systems of work. So why were some of our people involved in minor incidents, and others were not?
We concluded that, if all other things were equal, the issue was more emotional than technical. I strongly believed happy people work more safely and are more customer-centric. And our experience since then has confirmed that belief a hundredfold.
In November 2016 we introduced what we called a feeling app. Every day, the phone app asks all field workers a simple question: 'How happy do you feel today?' They have five click-button choices, from very happy to very unhappy.
If colleagues clicked unhappy or very unhappy, they were asked if they wanted to talk to someone about their problems. In those first few days and weeks, up to 12 per cent of the workforce clicked unhappy and very unhappy. And a good proportion of those said they wanted to talk.
We realised that line managers and senior managers didn't have the expertise or time to manage through the kind of problems making our colleagues unhappy.
Around 80 per cent were not work related, but complex issues, often to do with complex family disputes, relationship breakdowns, lifestyle issues, debt problems, and deep-seated mental health difficulties.
Where work did come into the frame, in some cases, line managers were implicated in the unhappiness.
They were not best able to provide a solution.
Our answer, in spring 2017, was to appoint a qualified wellbeing and mental health practitioner to support colleagues who raised personal concerns via the app.
Kelly Hansford began working with colleagues in whatever way suited them best. Some needed a few words of assurance. Others have had intensive support over weeks and months. Kelly advocates on their behalf within Lanes Utilities. She also works with external agencies, including GPs, who are delighted with the support their patients are getting.
We're now building strong links with a range of external support organisations, notably the mental health charity MIND, but also others, so there is appropriate support for all who need it.
The scope of the programme has now been extended to office teams. We have broken the silence about issues like mental health at work which is both liberating and transforming.
So, what are the benefits for us as an organisation? Firstly, unhappiness recorded by the app has fallen to less than 1 per cent. Occurrence of minor incidents has been all but wiped out. Our Accident Frequency Rate is 0.07, well below the industry average. Absence through sickness has halved. And our employee attrition rate has also halved.
This last point is vital to me. Every employee leaving us is like a dagger in my heart. I don't want people to leave our family just because they are unhappy. It's not just the £6,000 cost of training a new operative. We lose expertise. We lose continuity. We lose team cohesion. We lose goodwill. We lose a valued colleague.
The wellbeing app and practitioner programme has been a catalyst to achieve these performance improvements, and the real-time data on workforce happiness, combined with Kelly's insights, has been vital in the development of other HR initiatives.
Our approach has also won several business awards, the latest being the Water Industry Achievement Award for Health and Wellbeing. It's certainly nice to be recognised by our peers.
The question is: Can and should other water utility businesses follow our approach?
I would say yes, but they have to be clear what it means. It's very easy for us to live in denial – to accept that 'this is just how things are'. We recognised back in autumn 2016 that we needed to be bolder than that.
It's been a bit like opening Pandora's Box. There is now transparency across the organisation. There is no place to hide. You genuinely have to care. We've made commitments to individuals and teams we have to honour, or we lose all credibility with our people.
Any organisation can do this at any point in their corporate journey. But they need to be mature enough to acknowledge failure and tenacious enough to see the journey through to the end. Though there is no end.
Our approach to wellbeing has opened up a whole new way of looking at the organisation. It gives us more tools to understand what's happening and effect change. We want to be the best and the safest at what we do. To be those things, we also have to be the happiest.