Woolmans Wood: Driving down disruption
Southern Water and Clancy Docwra discuss the challenges of keeping disruption to a minimum on a 30km mains replacement programme that involved working around Kent's busiest hospital, 12 schools and 137 roads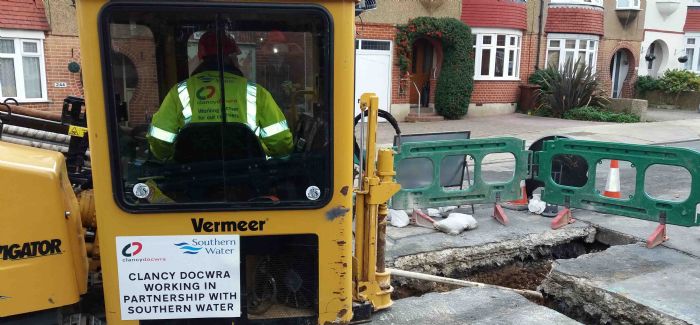 TECKNOW
Horizontal directional drilling (HDD), sometimes known as horizontal boring, essentially involves three stages, with a drilling fluid pumped down the bore to the drill head or reaming tool throughout.
• An initial small diameter pilot bore is drilled from a launch to a reception pit
• A back reamer, which is connected to the drill rods installed during the pilot boring, is then used to increase the size of the pilot bore. This can be carried out multiple times depending on the size of the hole required
• The pipe is then pulled back through the hole for installation
By Robin Hackett
When Southern Water began phase two of its Woolmans Wood mains replacement scheme in August 2016, it was contending with a task that had the potential to cause severe disruption for local customers.
The £8 million project, brought about by a DWI undertaking to mitigate the risk of iron contamination and discolouration, would eventually see 30km of mains replaced in population-dense, high-traffic areas in Chatham, Gillingham and Rochester in Kent.
"We were working outside a pretty major hospital, seven senior schools, five junior schools, and we had work on three of the main arterial roads through Medway," Southern Water project manager Mark Newman says.
The challenge of managing traffic issues was substantial so, to contend with the inevitable problems, a highways officer from Medway Council was brought in to work in-house with the project team on a full-time basis at Southern's expense.
"It gave us quite a lot of flexibility," Newman says. "If we finished an area early or were a week behind, he was really good in terms of making sure all our notices were in place and there were no fines for overruns.
"Because we had so much work to do in such a short space of time, we had to work on multiple fronts. What he brought to the project was invaluable."
Delivery partner Clancy Docwra also set up a dedicated customer care team with 24/7 phone support to help keep local residents on side.
Andy Bird, Clancy Docwra project manager, says: "We tried to resolve any enquiries immediately – if not the same day then the next day. We also letter-dropped every road two weeks ahead of actually going into that road. If we had any enquiries come back – for example, we had a customer say they were moving on a certain date – we would make our working arrangements around them."
Further efforts were made to reduce the burden of work for both the project team, which had 15 months to complete the work, and the public.
Surveying work
Prior to getting underway, Southern undertook an extensive survey programme, involving 82 trial pits and 37 coupon extractions, to determine which pipes along the 37km network it could afford to leave in place. Around 2km of water mains were identified as polyethylene, which therefore did not need to be replaced, while Flowserve provided life expectancy advice on the pipes using radar imaging.
"We also managed to descope areas or pipes that had self-cleansing velocities because we proved that they were not the cause of the higher iron content," Newman says.
The remaining replacement work still involved Medway Maritime Hospital – the largest and busiest hospital in Kent – but the project team was able to remove the need to lay a main after reviewing the design drawings.
"There's an access road towards the hospital called Montgomery Road and our engineers worked with Southern's engineers, ETS, to negate having to lay that section of main," Bird says. "There's only one route into the hospital for ambulances and buses, so obviously we were keen to avoid undertaking works with traffic lights that could have stopped an ambulance getting in."
Even so, there was no getting around the need to replace the main in the primary entrance to the hospital.
"We had to remove some redundant ironwork which actually meant closing the entrance to the hospital," Newman says. "It was all done at times agreed with them, so a lot of the work around the hospital was done quite late in the evening or overnight."
Pre-sterilised system
The project team adopted two important strategies to further alleviate the disruption: pre-sterilisation of the new pipework and horizontal directional drilling.
"We went away to our suppliers and came up with a pre-sterilised system where we would reduce the time of the pipe being laid in the ground from seven down to three days," Bird says. "We were able to pre-chlorinate the pipe before we took it to site, install the pipe, then flush it again, and check samples were taken.
"It sped the process up and wasn't a great cost difference. In fact, we wouldn't have been able to meet the end date if we didn't use this system. We would have been laying a pipe, it would have been in the ground under tests for seven days, and then we'd have had to come back to flush and do the connections."
Newman adds: "Because we were working on main arterial roads, we couldn't afford to have the periods where the site was left unattended."
Minimising the need for open-cut trenching was also vital to the project's success.
At the outset, the project team had planned to rely on open-cut for 60 per cent of the installations and directional drilling for 40 per cent, but Bird says: "We actually turned that around to do 85 to 90 per cent directional drilling.
"It allows you to only open-cut two areas: a launch and a reception area. It allowed us to be less intrusive and have less impact on the residents. Because you've not got 100m of open trench down the road, you can get the bays where people were parking along the controlled parking zone of Gillingham back in quicker."
As Newman says, the advantages were clear: "Less excavation, on site for less, less disruption for customers."
Such methods not only allowed the team to finish slightly ahead of deadline in November last year and within budget but also brought fulsome praise from the community.
Martin Morris, Medway Council's traffic manager, said the working arrangements represented "a model to be used in other areas or indeed again in Medway", while Jess Scott, Medway Maritime Hospital's emergency planning and business continuity manager, said in an email to Clancy Docwra that they were "very appreciative of all your staff being so attentive to the needs of our services".
Efforts to win over the local community did not end when the work was completed.
"We donated £1,000 to all the schools we worked near," Bird says. "We felt at the end of the project, as Clancy Docwra, that we'd caused them some disruption – not major disruption, but we felt we could give something back for the community. We also donated £1,000 to the Medway Maritime Hospital."
That money was used for the hospital's Part and Parcel project, which ensured that every patient in the hospital on Christmas Day would receive a present.
"Around 12 of us went up to help wrap the presents – we spent the day wrapping presents for them to be put into stockings," Bird says. "I think there were 750 stockings done in the end."
Newman described public relations as a "major success" of the project, saying: "With all the customer letters we sent out, there was a less than 1 per cent contact rate.
"We were working in areas that had the potential to cause a lot of traffic disruption, so that was brilliant."
This article originally appeared in May's issue of WET News