Will SfA8 make as big a splash as hoped?
Martin Lambley, product manager for stormwater management at Wavin, looks at whether Sewers for Adoption 8 will meet expectations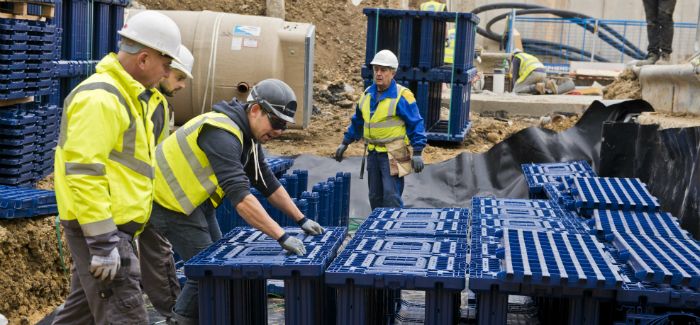 The eighth edition of Sewers for Adoption (SfA8), titled A Design and Construction Guide for Developers, comes into effect in April 2020 and sets out clear standards for sustainable drainage systems (SuDS) for the first time.
What does the new manual offer that previous versions have lacked?
SfA8 represents a positive step in improving the adoption of SuDS for the first time. It provides a formalised approach to the best practices for their adoption. With a clearer route to adoption, housebuilders and developers should be empowered to include more SuDS in their projects, not only after official implementation next year but in the lead-up, too.
Some of the positive and forward-thinking clauses in the document include the recommendation of swales, basins and geocellular systems, as well as the abolishment of the five-metre rule for infiltration which, in practice, should treble the capacity of water storage.
Do the guidelines go far enough?
SfA8 is no doubt making progress in this area, but with vague wording allowing for wiggle room, coupled with the fact that certain elements such as permeable pavements and green roofs are missing altogether, it's hard to see how SuDS will be universally adopted.
Additionally, even though the NPPF has given more power to local authorities by laying out the expectation that SuDS should be given first preference in development plans, there are drawbacks to this choice of formalisation. Without the technical knowledge, local authorities are likely to side with the developers should they argue against SuDS for whatever reason.
Why have SuDS historically received such little uptake?
There's no denying that developers have historically been resistant to the uptake of SuDS, and with limited instruction and no enforcement, who can blame them? This comes down to the pragmatism of developers wanting to install the most efficient solutions – if there's a cheaper and quicker solution, they will often go for that.
Although the new guide will be mandated by Ofwat, there are still some gaps and, it seems, few repercussions for local authorities if the recommendations are ignored. Compare this to Wales, where they've made the decision to make SuDS inclusion mandatory through Schedule 3, and it's clear the only real way to effect significant change is by making SfA8 a legal requirement. Wales has also gone one step further with the creation of a SuDS adopting body, which checks all planning applications to ensure sufficient SuDS are being used.
If we want to have the same amount of success in England, we need to take a leaf out of Wales' book and encourage collaboration between different authoritative bodies to get more SuDS over the line.
Having water and sewage companies in charge of SuDS adoption makes this process much slower. Instead, we need to place legal weight behind SfA8. With this seeming unlikely, for now we can only hope that developers recognise the wide-ranging and long-term benefits of SuDS and decide to follow the guidelines off their own back.
This article originally appeared in the September issue of WWT