Comment: When the effluent hits the affluent
A collaborative approach was key for the Victorians who built London's sewer system, and the same lesson applies today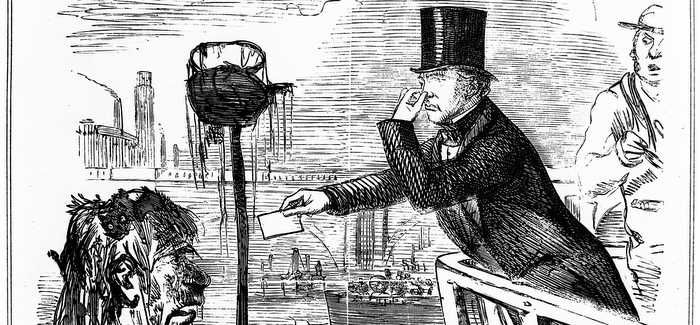 'Faraday giving his card to Father Thames' (cartoon from Punch, 1855)
by Dave Walker, Commercial Director, Detectronic
Used daily by its millions of residents, London's sewerage infrastructure is indebted to three people – a physicist, a clergyman and an engineer. It was the foresight and determination of Dr John Snow, reverend Henry Whitehead and engineer Joseph Bazalgette who collaborated to establish the link between water contamination and cholera and design a super sewer that was, in the grand scheme of things, one of the major pioneering developments of the 19th century.
However, it wasn't until the effluent hit the affluent in the hot summer of 1858 that Parliament finally gave Bazalgette the green light to begin the development of his sewer network. Originally proposed two years earlier, the pivotal point in accepting Bazalgettes's sewage plan was the 'Big Stink' of the Thames, and its pungent smells hitting the aristocratic gents and Lords of Parliament who would otherwise be enjoying a lovely summer's evening out on the terraces at Westminster. Even then, finance and resource were initially concentrated in the affluent areas of London, which proved deadly when the poorer East End suffered a further cholera outbreak in 1866.
The decisive collaboration between Snow, Whitehead and Bazalgette led to the final completion of Bazalgette's master sewer plan just under ten years later in 1875; but it took 33 years for the whole sewer network to move from initial conceptual design phase to final completion. If the government of the day had engaged in a more joined-up approach from the outset, fewer innocent people would have been victims of cholera.
Fast forward to today, and it is welcoming to learn that the UK's water industry is actively promoting a collaborative approach in regards to managing its own assets. Collaboration between water companies, the Environment Agency, local and district councils and NGOs is a challenging concept that requires careful planning. Understanding of budgets and resources between third party organisations is paramount for funds and activity to be allocated and released into the right areas and at the right time. However, if all parties are willing to partake and embrace in a collaborative approach many, if not all, of these barriers can be removed and the approach will provide realistic and achievable outcomes.
The collaboration we are talking about is a little more challenging for the complex water industries of the UK and beyond. We have a mixture of private and public sector organisations trying to work with different mechanisms of operation and finance, often referred to as 'red tape'. It is, however, not impossible to cut through this red tape and achieve huge success if we discuss the benefits and have clear vision for all interested parties.
Collaboration should not just stop there. Engaging in a joined-up approach when monitoring and managing the sewer network is a crucial element to the success of the Outcome Delivery Incentives (ODIs) set for the next AMP. Having one 'source' for installation, monitoring and maintenance of instrumentation in a sewer network removes any ambiguity in regards to error and puts a stop to the blame culture often witnessed when data is being questioned for its reliability.
Typical arguments arise such as, "well it was not installed correctly" or "it has never been maintained". Having a single entity delivering reliable data requires a huge level of skill, commitment and responsibility, which can only come from raising one's head above the parapet and taking full control from beginning to end, a full circle approach. This approach to monitoring the network brings added leverage of benefit to the client, as the supplier of this service now has a vested interest in ensuring the data is reliable and must be confident in the data withstanding any level of scrutiny. With a single source supplying, installing, monitoring and maintaining the instrumentation, there is no excuse for not providing the client with reliable and useable up-to-date management information from their network of monitors.
Reflecting on the Victorian history of the UK's sewer network we should remember the collaboration and vision of Joseph Bazalgette, John Snow and Henry Whitehead. These three men pioneered the principle of collaboration between different parties for the sewers in the UK and engaged a system of joined-up thinking that ensured everything would work as it was planned. Without this approach cholera would undoubtedly have claimed many more lives. Identifying opportunities for collaboration and a joined-up approach is something I think we should all consider carefully when planning and resourcing our future projects in AMP6.