When it rains it pours...
Australia has some salient lessons for the UK in managing climatic extremes, say Monica Infante,director, Isle Utilities (Australia) and Caroline Wadsworth, principal consultant, Isle Utilities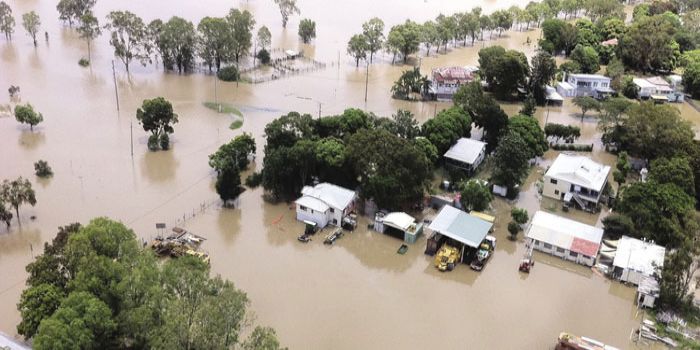 Queensland 2011 the extremes of drought and excess rainfall have proved problematic for Australia PA
Water scarcity has always been a serious issue in Australia. Most Australians grow up with a strong ethos towards water conservation, always knowing that the next drought could be just around the corner.
According to the country's Bureau of Meteorology, Australia's rainfall is one of the lowest and most highly variable of all the five continents. The majority of Australia's source water comes from surface water; therefore having sufficient storage to contend with the highly variable rainfall is important to the security of supply.
Sydney, for example, has the highest reserve of stored water per capita when compared to any other city in the world. When full, Warragamba Dam provides eight years' storage, equivalent in volume to four times the volume of Sydney Harbour.
London, by comparison, has relatively limited surface water storage with minor carry over capacity. A prolonged drought situation is usually defined by a number of months with below average rainfall, spanning at least one winter. Unlike Australia, the population of England is only just waking up to the
possibility that water may not always be in plentiful supply.
Drought
In England and Wales droughts are not an uncommon occurrence; however they have historically been significantly less severe and much shorter in length than those experienced in Australia. Water scarcity has only been a significant issue on a handful of occasions.
The drought of 1975-76 is notably the most extreme in living memory with standpipes and widespread water use restrictions being implemented.
The majority of England's source water comes from groundwater, the recharging of which is very much dependent on not only rainfall levels, but also on ground conditions. In the most recent drought in England and Wales, many surface reservoirs were at 50% full and groundwater supplies were at historically low levels.
Furthermore, dry, compact soils also do not facilitate the percolation of rainwater into the aquifers below. Due to the relatively short-term storage availability of water in England and Wales, the predicted drought in the summer of 2012 was looking to become a very desperate situation.
Faced with this issue, a number of innovative schemes were considered. The most controversial of which was the bulk transfer of water across regions - namely the transfer of millions of litres of water a day from the Severn Trent region to the Anglian Water region.
There is no uniform definition that marks the start or end of a drought. In Australia, the start of a drought is determined by a myriad of factors, including severe rainfall deficiency, low dam levels, the onset of water restrictions and a careful balance of other social and political elements.
It is the same for England and Wales. Each region is also unique when it comes to the severity and impacts of drought to society, and therefore the timing and response to drought is different in each state.
Western Australia, for example entered drought in 2001, when the lowest system inflow of 60Gl was observed compared to the long term average of 300Gl per year. The English drought affected different regions at different rates, with some not being affected at all. The first region to declare drought was East Anglia, quickly followed by London and the South-east.
Action
Water authorities in Australia gradually implemented a number of rigorous and highly effective augmentation and water efficiency measures to address the rising need for austerity with water use. All authorities focused on short term water conservation measures effective at a ground level; however they have recognised that short term programmes can also provide cumulative long-term effects.
The use of water saving devices within the home, for example, is expected to provide continued water savings in the long term. In Western Australia, the community is accustomed to annual periods of several months without rainfall thus experiencing water shortages more regularly than other parts
of Australia.
Because of this, water savings programmes and the shift of supply proportions in favour of desalination and aquifer recharge of treated wastewater are more widely accepted. The focus in Eastern Australia will remain with water conservation and recycling programmes, with supply augmentation programmes providing additional security and contingency during periods of drought. Like the UK, bulk water transfer schemes are highly controversial, however such schemes already provide significant supply augmentation alternatives in some parts of Australia. To mitigate the risk of drought, the water companies in England and Wales are required to produce 25-year Water Resource Management Plans and Drought Plans. Part of this includes a variety of schemes to reduce the levels of leakage in the distribution network which are, on average, at 20-25% of daily supply across the country. Ofwat reviews the water companies' performance in this area on an annual basis.
The challenges of the previous drought caught some Australian states off guard in terms of planning and consultation. Simply, the drought that occurred exceeded all previous 'worst case' predictions.
Customer education
In Melbourne, the drought was so severe that reliability of supply was dependant on demand reduction strategies as water storages dropped to 26% in 2007. In response, authorities invested AU$6M (£4M) into communication and community education programmes, culminating in a highly successful water reduction scheme that aimed to reduce indoor water consumption from 350l water/person/day in 2005 to 155l water/person/day in 2009. Melbourne authorities have completed an extensive community consultation programme for the future 50-year water strategy, and they consider community consultation and future planning as the key lessons learnt from the previous drought experience.
In real figures, augmentation solutions such as desalination and water transfer schemes are contributing anywhere between 15-50% of water supply; water efficiency solutions (such as showerhead swaps) were able to achieve up to 25% savings; business water efficiency measures were able to shed up to 20% off consumption for the largest commercial and industrial users within a matter of months. The cumulative, long-term impacts of water conservation programmes implemented during this period are expected to offer some relief when the next drought comes along.
Extremes
Many people said that the only way to prevent the drought from becoming a desperate situation was for biblical amounts of rain to fall. It seems that someone somewhere was listening to this plea, with record amounts of rainfall having fallen over the last few years.
While coping with water scarcity is not new or unusual to Australians, managing the extremes caused by a changing climate presents a new dilemma. The Australian climate is largely determined by the La Niña and El Niño weather systems cooling and warming the surface temperatures of the Pacific Ocean.
La Niña years are characterised by lower average temperatures and increased rainfall, whilst El Niño years are characterised by higher temperatures and reduced rainfall. It is the El Niño years that triggered drought conditions in the 2000s, coinciding with the worst drought on record. The La Niña weather cycle that started in 2009 has resulted in extremes in rainfall, causing devastating floods across the east coast. The UK itself is not ignorant to the occurrence of extreme rainfall. Since the mid-1990s, whilst Australia contended with severe drought conditions, Britain experienced extremes in flooding across England and Wales, with 1998, 2000, 2007 and 2010 recorded as hydrologically notable flood years.
In 2012, England and Wales received 200% of the average rainfall normally expected within a concentrated period of time. Despite the concerning trend, all water companies in England are investing in long-term measures to protect security of supply for the future, with programmes including the promotion of free water-saving devices to households, along with measures to encourage households to switch to water meters. Several water companies have undertaken studies to learn from countries such as Australia and Singapore who lead the way in water resource management.
Conservation
Due to the fact that some Australian authorities have been operating water conservation programmes since the mid-1990s, market research has indicated that water austerity measures are considered 'business as usual' for their customer base, with residential and business communities working hard to preserve this scarce resource.
Nonetheless, the severity and longevity of the drought that occurred in the 2000s required desalination and wastewater recycling projects to be fast-tracked amid fears that the remaining supply would not be sufficient to meet demand. However, the recent occurrences of high rainfall have now called some of these investments into question. The challenge is now how to best to manage and maximise the outputs of new desalination and recycling plants now that water is in abundance.
The exacerbated climatic shift is something that Australian utilities must now consider when undertaking water resource planning. This adds significant complexity to the planning process, particularly as there is variation in its severity from state to state. It may be raining heavily in some parts, but still totally dry in others. For example, 2010-2012 saw the strongest La Niña event in 40 years, making 2010 and 2011 the wettest years on record.
Above average cyclone activity and flooding in Queensland and New South Wales (in Eastern Australia) have made headlines internationally and Queensland was declared a disaster zone in January 2011 with 35 lives lost, 200,000 people affected and billions of dollars' worth of damage. Western Australia, on the other hand is still experiencing a water shortage. There, a drought is now defined as a 'temporary' shortage in water and the prolonged dry period they are experiencing being termed a long term 'climatic shift' (rather than just a drought).
Lessons learned
With the unpredictability of the English climate, the biggest lesson learned from the Australian experience is to be proactive: anticipating future water shortages and starting early to reduce water consumption per capita by instilling an ethos of water conservation similar to that in Australia. Technological innovation can also play a critical role in coping with extremes in climate and weather. Some more notable technologies include trenchless automatic leakage curing, novel stormwater treatment techniques that incorporate the principals of integrated water cycle management reuse systems and clever agent-based models to predict consumer behaviour.
The recent drought experience in Australia has changed the way the utilities, regulators, politicians and community think about drought and its implications for the future. This can only be a good thing.
Australians have embraced the need for long-term planning and intend to be prepared when the next drought occurs. Both Australia and the UK have experienced extreme rainfall events bringing relief to water shortages, but coupled with devastating impacts to some local communities. The previous drought events will not be the last, so concerted efforts to plan effectively from all parties must be continued to safeguard the future of water supplies.