What can cities do to combat the water crisis?
Louise Ellis, water engineer and associate at Arup, discusses the findings from City Water Resilience Approach assessments from Cape Town and Miami, and looks at how the methodology could be applied the UK water industry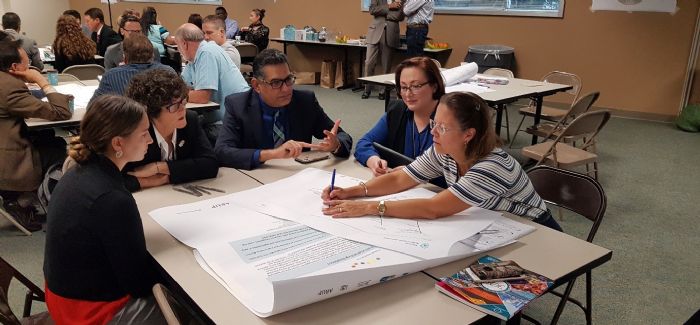 A City Water Resilience Approach workshop in Miami
In 2018, the City of Cape Town hit international headlines. It was imminently approaching Day Zero – the day its city government would shut off the water supply to four million citizens and ask them to collect water at points of distribution throughout the city.
Over 12,000km away in Greater Miami and the Beaches, the headlines warned that sea-level rise would put Miami underwater and threaten the delicate balance of the Biscayne Aquifer, the city's main source of drinking water. But these cities are not alone.
Since then Chennai, Istanbul and Paris have all faced water-related crises and, in the UK, we have seen flooding in towns and cities across the north of the UK and reports that London may face its own water emergency.
With cities worldwide expected to grow by an estimated two billion residents by 2050, there is an urgent need to address these crises head on to ensure consistent, adequate and high-quality water services for all.
Arup has been working with Stockholm International Water Institute and 100 Resilient Cities to develop the City Water Resilience Approach (CWRA) – an innovative approach to help cities and utilities build water resilience at the urban scale.
The CWRA is supported by the Rockefeller Foundation and the Resilience Shift and has been developed in collaboration with eight cities from across the globe that are facing a range of water shocks and stresses – including Kingston-Upon-Hull and Greater Manchester.
The Approach holds two principles at its core.
Firstly, the water system, including the upstream and downstream catchment, is fundamental to the operation of a city. Shocks and stresses on the water system can have cascading impacts on a range of other city systems and, consequently, a systems-based approach is needed to improve the resilience of the water system.
Secondly, there are many stakeholders involved in a city's water basin(s) and resilience can only be achieved if they all work in partnership, meaning stakeholders need to be involved from the outset.
As a result, the CWRA uses a five-stage approach to bring multiple stakeholders together to diagnose the strengths and weaknesses of the water system using quantitative and qualitative indicators and develop a collective action plan to address them.
This year, the CWRA was implemented by the City of Cape Town and Greater Miami and the Beaches to develop their water resilience action plans and, at the end of August, we will be presenting the findings at World Water Week in Stockholm.
The workshops in the two cities have brought together more than 130 stakeholders from public and private utilities, city, regional and national governments, environmental regulators, environmental and social NGOs, academia and community groups with differing perspectives to assess the resilience of the cities using qualitative indicators.
Although the baseline assessments are specific for each city, there are clear similarities between the challenges that the two cities face which provide key learnings for all cities facing water crises.
Coordination between water stakeholders, especially those upstream, is challenging. Catchment-level partnerships or water management district organisations have a large role to play in facilitating resilient water management
Cities' urban systems (e.g. water, energy and transportation) are all connected and improved collection and sharing of data and information and collaboration between infrastructure operators will help them ensure informed decisions are made to prepare for, respond during, and recover after disaster, allowing critical infrastructure to continue to operate
At all levels of decision-making across all organisations, data, technical knowledge and information needs to drive actions taken to improve resilience including in times of disaster and in long-term planning to ensure that future plans are robust, and leaders make 'no regrets or least regrets' decisions
City governments and utilities need to engage their communities on how to be responsible water-citizens and how to prepare for water-related disasters by ensuring consistent core messages, networks of community champions and inclusive community engagement events that are multi-lingual and accessible. It is also important that cities and utilities build trust with communities and engage with them on water-related policies and programmes
It is challenging for city governments and utilities to make the case for investment in resilience when they face current asset failures. Approaches such as the 'Resilience Dividend' and multiple capitals approach highlight the co-benefits to resilience investment, strengthening the case
City governments can improve their water resilience by incorporating the principles of water sensitive urban design and sustainable urban drainage into existing and new developments. While much focus has been given to the contribution of citizens to the reduction in water demand, a wider focus on sustainable commercial and industrial water use is needed
Our water resources are essential to the functioning of cities. Adequate source water protection including regulation and enforcement is necessary to prevent the pollution and over-abstraction of water resources
Based on a shared understanding of their strengths and weaknesses, water stakeholders in each city have collectively developed and prioritised a series of actions through workshops, which form their resilience action plan. Capitalising on the momentum of the CWRA workshops, the owners of these mitigations have set up working groups to progress them through detailed scoping and feasibility to implementation.
With the increased focus in the UK water industry and its regulators, including Ofwat, on resilience, the CWRA offers a robust collaborative approach to the development of action plans to improve resilience.
By bringing together diverse stakeholders from the outset, the approach builds a shared understanding of the resilience of the water system as a foundation for the development of a co-owned action plan.
The Approach is a systems-based approach that incorporates an awareness of the cascading effects of shocks and stresses through the mapping of the water system and its interdependencies with other urban systems and the stakeholders involved.
It also has a wider focus than operational resilience, looking at resilience in the round and incorporating the social value of water with the four dimensions of the City Water Resilience Framework: leadership and strategy; planning and finance; infrastructure and ecosystems; and health and wellbeing.
The Approach is also being applied at different scales from Hull through to Mexico City with different lead partners – city governments and public and private utilities.
With cities facing a more uncertain future, there is a need for knowledge, tools and approaches and the sharing of best practice on how to tackle the water challenges cities face.
The cities of Cape Town and Miami have recognised their water challenges and are tackling them head-on. Approaches like the CWRA offer the opportunity for other cities to do the same.
For more information on the City Water Resilience Approach, visit the Resilience Shift's CWRA resource page and the City Water Resilience Approach publication