Welsh Water gets immersed
Being able to visualise a concept design in the digital world is helping Welsh Water transform its capital delivery. WET News finds out why.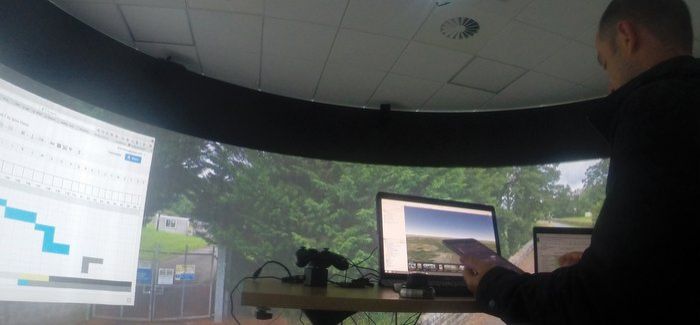 Dwr Cymru Welsh Water has gone Igloo crazy. Not for the construction made of ice but rather a visualisation digital engineering tool.
"It's like having a new toy," says Nick Parkin, who heads Welsh Water's capital delivery alliance. "Engineers being engineers, they like to see what things are going to look like and how they operate. It's the latest bit of technology, and they're certainly keen for that. Everyone wants to use it – so much so we've now got a booking system!"
'It' is the Igloo Pod360, an immersive visualisation centre that is enabling Welsh Water to "bring construction concepts to life".
Developed by 360° projection company Igloo Vision, the Pod360 is a 2.55m high, 6m diameter projection cylinder that enables 3D modelling to be projected in a 360° immersed environment. Its features include a Surround Sound system; fully immersive 360° projection screen; and aluminium truss frame; media server and Wi-Fi router; and a curved, lockable door.
The technology is part of Welsh Water's £9M investment in innovation projects over the past 12 months, and has not only transformed the way in which Welsh Water approaches design and delivery but has also enabled even greater collaboration within the company's capital delivery alliance and supply chain, and operations team.

Rural
The alliance, which includes Skanska and Arcardis, is responsible for delivering Welsh Water's £1.7bn capital delivery programme across AMP6. There is also the challenge of making 20% efficiency savings, and this is where the Pod360 has come into its own.
Parkin explains: "Having looked at the capital programme some of the issues have been the amount of time and cost associated with repeat site visits to distant locations. Wales is quite rural and spread out, so moving between different assets can take a great deal of time. It was an opportunity to save costs, and to reduce exposure to health and safety risk for staff travelling to and from sites by bringing Welsh Water's assets to us.
"The method of doing that was to use the pod and bring the assets back to our new central delivery office just outside Newport."
The Pod360 was one of the ideas put forward by the delivery partners when they were looking at BIM (Building Information Technology). Having gone through "the usual due diligence" of looking at Pod360 Welsh Water felt it offered many advantages.
Parkin says: "It offered a different way in which we looked at designing and delivering our capital programme. If you think of a normal CAD [computer-aided design] system looking at 3D drawings on a screen, the Pod360 allows us to import all of that into this 360° immersed environment.
"It allows designers to see things in a 1:1 scale for line of sight. They can walk around the assets and see if things have been designed correctly or if things will operate efficiently. Because it links in with BIM and 3D CAD modelling we're able to build up those models and then import them into the Igloo and the 360° immersed environment so you can see them. It feels like you are actually walking round the asset."
Digital world
The Pod360 will reduce time spent on design and rework during construction handover because it has been rehearsed first in the digital world. "There's input from our ops colleagues, and designed-out problems before we've even broken ground."
He continues: "BIM is the future of construction projects. It's like any new technology, if you don't utilise it then you end up falling behind with your construction techniques and efficiency challenges. This is a far better way of designing a project. We also now have all the asset data electronically as we go through the project.
"We're able to not only benefit from the efficiencies that it brings to delivering projects, the lean construction methodology if you like, but we also then have all that information and all that asset data there. If in a few years' time we need to make any modifications or any upgrades, then rather than looking for drawings that information is all there electronically, so it's easily accessible."
Being able to walk around the concept design that you see on the drawing and see what it is supposed to look like helps with the construction of it.
Another advantage of using the Pod360 is that it has enabled Welsh Water to engage with its supply chain earlier. It promotes greater transparency and collaboration between suppliers, thereby reducing waste through all levels of the supply chain.
Amazed
As well as helping with concept design, the Igloo can help minimise the impact of projects on Welsh Water's customers. By using Google's Street View, the company has been able to create street scenes to visualise any impact its work may have and to anticipate any problems before they occur.
Parkin explains: "If we have large items of plant being delivered to one of our assets, and some of our assets are quite rural, we can actually plan out the route. We can see the best route to take avoiding low bridges, for instance, which reduces the impact on our customers and other people living in the area."
Parkin has not used the Igloo himself but he is amazed at how quickly those that do can build up models. "We have one particular project, a refurbishment, and they were able to build up the model for us to see in the Igloo in less than a day.
"It's the speed at which they can bring things to life. You can imagine doing that by traditional methods – everybody going to site, all that travelling, and the meetings about it. I was amazed at the speed."
Another advantage of using the Igloo is that Welsh Water has been able to engage with its supply chain early. "A lot of the supply chain may not have BIM but they certainly have CAD so they can look at it and understand our requirements," Parkin explains.
"They understand the challenges we face and our requirements. Access to this technology means we can engage with the supply chain early and they get a consistent and accurate understanding of our requirements. You're comparing apples and apples."
Positive
Welsh Water's capital delivery partners bought into the concept of Igloo very quickly, surprisingly so, says Parkin. "We carried out training and got them involved. They have really bought into it very quickly. There can be some reluctance to embrace technology, but that's certainly not the case. The feedback has all been very positive, and everybody's keen to use it."
There were a number of training courses set up for staff to learn all the basic functions and uses of the Igloo. There was also 'super user' training for those identified as key individuals that could provide any troubleshooting if anyone had issues using it.
"We've also set up a steering group to ensure that all the good ideas and opportunities for future use can be captured. It's going very well, there's been no resistance at all to using it," says Parkin.
As far as Parkin is concerned BIM is the future of construction projects. "It's like any new technology, if you don't utilise it then you end up falling behind with your construction techniques and efficiency challenges that we have to meet. This is a far better way of designing a project, but it also allows us to have all that data electronically as we go through the project."