Water management shake-up in Wales
The Welsh government consults on its plans for a massive shake-up to the water industry in Wales. The Welsh government plans for water metering, sewerage management, and new approaches to drainage and catchment area management.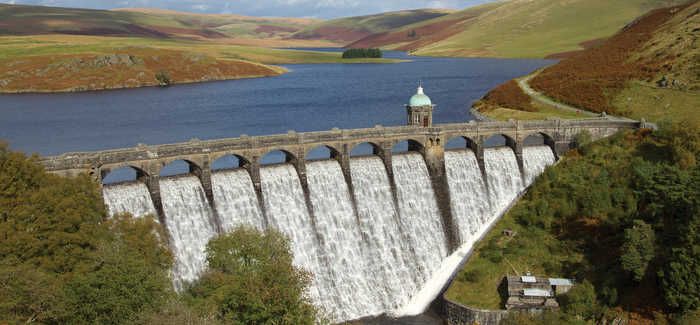 A more integrated approach to managing water resources, such as Craig Goch Reservoir in the Elan Valley, is being sought by the Welsh government
The Welsh government has issued a consultation on A Water Strategy for Wales in which it proposes a raft of new measures. The consultation document, all 79 pages of it, is surprisingly clear for a government-written publication.
The buzz word is "integrated", appearing 30 times in the consultation document.
"Key to our approach is the development of a more integrated approach to managing water as part of our wider approach to natural resource management. A more integrated approach to the way we manage our water resources will help to promote the coordinated management of water, land and related resources."
There is already a detailed planning process for the maintenance and development of water resources and supply systems but the Welsh government proposes the Asset Management Planning cycle process should be aligned with the area-based approach to natural resource management. This would require sewerage undertakers to develop and maintain a strategic wastewater and sewerage management plan, and would involve surveys of the ageing sewerage and drainage infrastructure.
The consultation document suggests that water meters could be installed in order to reduce waste. The government is to assess and consult on a number of options to metering of all water supplies in Wales in a "phased and proportionate programme".
The document says: "We will consult on how we can reduce both domestic and business consumption and the role of water metering in this. We will assess the feasibility of a company per capita consumption targets to encourage efficiency. As a minimum, we expect all companies to take action to ensure that total leakage forecasts do not rise at any point in the planning period and should not be causing a supply shortfall."
Legislative competence
On sewerage, the consultation paper states: "Given that the National Assembly for Wales does not have legislative competence for sewerage, we will work with water companies to introduce plans for wastewater and sewerage management on a voluntary basis."
The paper points out that much of the sewer network is old – the average age of Dŵr Cymru's sewers is 60 years with some dating back to Victorian times. The Welsh government expects water companies to develop "a strategic approach" to managing leakage. It wants companies to forecast a reduction in total leakage during the five-yearly asset management planning cycle. The Welsh government expects water companies to look at introducing innovative technology to help them achieve their goals.
The consultation document is all good and worthy stuff but implementation will be complicated by the fact that many of the recommendations are for areas outside the remit of the Welsh government.
It does not, for example, have legislative competence for sewerage. Instead, the Welsh government will rely on the voluntary co-operation of the water companies. "We also need to ensure that we have the appropriate tools and powers at our disposal to deliver the strategy's objectives. I therefore welcome the Silk Commission's recommendations for reforming the constitutional position in relation to water so that decisions on water in Wales are a matter for the National Assembly and the Welsh government," says Alun Davies, minister for Natural Resources and Food.
Earlier response
An added complication is the overlap between England and Wales for one of Wales' major water service providers, Severn Trent Water. It broadly welcomes an integrated approach but in an earlier response to the Strategic Environmental Assessment Scoping Document for the Water Strategy for Wales it pointed out that it already collaborates with other stakeholders such as Natural Resources Wales / Cyfoeth Naturiol Cymru and Dŵr Cymru, and the Wye and Usk Abstraction Management Group.
The water companies operating in the region are Dŵr Cymru Welsh Water, Dee Valley Water and Severn Trent Water.
A spokesman for Dŵr Cymru Welsh Water said: "We welcome the publication of the Welsh Government's water strategy and will study it closely over coming weeks before responding to the consultation, whilst also safeguarding the environment in our care."
How much further the three water companies providing Welsh water treatment and sewage disposal services can be integrated, or their approach integrated, remains to be seen. The final strategy will be published later in 2014.