Water Innovators 2017 - lend us your skills!
In the latest blog from WaterAid, Rob Fuller highlights the need for innovation in solving water challenges in the developing world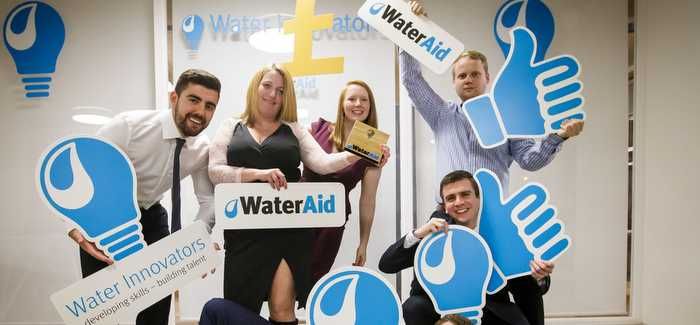 One of the words I seem to hear more often than any other across the water industry is 'innovation' and this makes complete sense as we need to find new ways of working in a world of increasing complexity driven by disruptive technology, regulatory shifts, climate change, population growth and political upheaval. But innovation isn't just needed in the developed world; across WaterAid's work we are constantly seeking new approaches and solutions to deliver water, sanitation and hygiene (WASH) to people living in the world's poorest and most marginalised communities.
One obvious source of ideas to develop our work is the tremendous well of knowledge (pun intended), skills and most importantly, passion from staff in our water industry partners. Historically, they have always been keen and willing to offer more than fundraising support but this has been something we have struggled to tap into. This is partly down to the multi-faceted nature of our work which encompasses not just new technologies but innovation in behaviour change, financing, marketing and many other areas alongside the more practical considerations of cost, security and remoteness of many of our programmes.
In 2015, in order to help us bridge this gap, we launched Water Innovators, a unique employee engagement programme that challenges teams of up to 12 staff to solve real-life WASH-related problems from one of the countries we work in, at the same time developing key business skills and raising crucial funds for WaterAid. In its first year, the programme was open only to UK companies who competed to solve challenges from Nepal - challenges that became even more pressing following the devastating earthquake that hit Nepal just after the programme launched. Thirteen teams from companies including South-East Water, Thames Water, Mott MacDonald and Balfour Beatty took part with Anglian Water's team of graduates emerging as winners at the final awards ceremony.
Last year, we shifted the focus of the challenges to Cambodia and expanded the programme to include teams from a number of the Australian water utilities as well as welcoming entrants from the wider corporate world including global consulting firm EY. It's fair to say that the prospect of some good old-fashioned UK:Australia rivalry definitely helped spur the teams on and the resulting submissions provided our Cambodia team with a wealth of ideas to progress!
For 2017, the challenges have been set by our team in Nicaragua and we are looking to double in size again as we go truly global with interest so far coming from companies in India, USA, Canada and Europe. We'd love to get your company on board too. To find out more about this year's challenges and how to enter go to www.wateraid.org/uk/waterinnovators or email WaterInnovators@wateraid.org . Entries for 2017 close at the end of February.