Water companies track down private pumping stations
Water and sewerage companies in England and Wales face a deadline of 1st October 2016 for adopting most private pumping stations in their region. How prepared are they?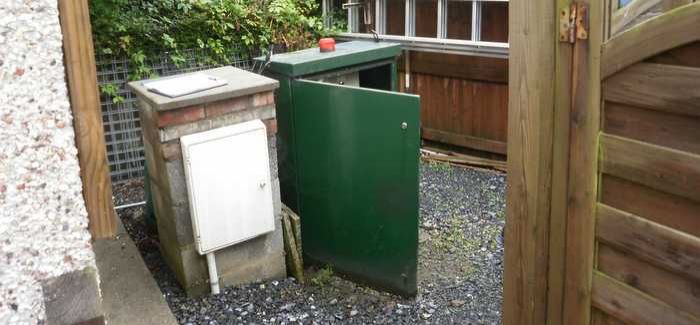 Private pumping stations come in all shapes and sizes
by James Brockett
On the 1st October next year thousands of private pumping stations will transfer to water companies in England and Wales. The adoption of so many stations will amount to a significant, and potentially problematic, addition to companies' asset base: some of them are difficult to access, many of them are in poor condition and all will require maintenance and monitoring to mitigate risk. So how prepared are the companies for the change?
The transfer has been on the horizon since the passing of the Water Industry (Schemes for Adoption of Private Sewers) Regulations 2011, which decreed that any pumping station which serves two or more properties, or lies outside a property boundary, should transfer to the sewerage undertaker. Unlike the transfer of private sewers in 2011, which saw water companies inherit a vast number of essentially passive assets, the pumping stations require active maintenance, and need to be located, logged and surveyed before they can be adopted effectively: one reason why Defra and the Welsh Government granted companies five years' preparation time before automatic transfer took place.
But with just over a year to go until the transfer, progress in tracking down stations, assessing their eligibility for transfer and making them ready for adoption has been mixed.
Finding the stations represents a major obstacle in itself. For example, Anglian Water believes it has 2,700 stations in its region, but so far has only logged and surveyed 1,000; Thames Water estimates it has 4,000, but has only located 2,000 of these. Even with publicity campaigns and local authority help, the concern is that water companies will face being in the undesirable position of adopting stations they have not yet found, let alone had the opportunity to survey.
"Customers will know if they've got a pumping station – they'll be in gardens, down the sides of houses – but they might not know about the change of ownership," says David Simson, Head of the Integrated Operational Solutions Alliance at Anglian Water. "We're going to include that information with bills and other mailshots, and ask for their help in identifying the remaining pumping stations."
Justin Camis, Thames Water Strategy Lead, says that Thames has approached Water UK about a co-ordinated publicity campaign to help track down sites; its tactics also include a £25 incentive for staff and contractors who identify a previously unknown station. Thames has not yet adopted any stations but is about to undertake a pilot project to upgrade its first 100 sites. By next October Thames plans to have made all the stations it knows about 'safe and serviceable' even if others continue to come to light post-deadline.
"The programme that we are working towards at the moment indicates we are going to adopt and upgrade 2,350 sites by 1st October 2016," says Camis. "That moves towards 3096 by the end of the AMP, and then the balance of the 4000 we expect to continue to be identified as time goes on. Those that we will have found by 1st October 2016 we will have adopted and upgraded, because we recognise that when that day comes, if there's a failure that leads to flooding or pollution, we will be liable, and we want to be in control of those things."
What may be some relief to those involved in the adoption projects is that the companies which have made most progress on the task of surveying and adopting stations are finding that fewer of them are eligible for the transfer than originally envisaged.
Mike Hartwell, Programme Manager at Dwr Cymru Welsh Water, says that of the 920 pumping stations the utility has located, only 510 meet the eligibility criteria for transfer; the other 410 will stay in private hands. Part of the reason for this is the definitions contained in the regulations: to be eligible for transfer, pumping stations must serve more than a single 'curtilage'. While in popular parlance this means more than a single property, it is not always that simple. A block of flats which share a freehold, for example, or a business park containing multiple businesses, may count as a single curtilage.
Welsh Water has been adopting stations gradually since March 2014 and having taken on 195 so far, is confident of bringing them all up to standard within the deadline.
"Once we've located the station we do a fairly detailed survey, and decide what needs to be done to make the station safe and serviceable, so that our operatives can maintain it in future," says Hartwell. "On the day we legally take control of the station, we go in there and do the upgrades, which can take anywhere between a day and a week, depending on what needs to be done; then we have a telemetry contractor who puts a telemetry system into every one of the stations, so from that day onward we'll have full monitoring of the station."
The cost can vary widely for each job, from under £5000 for simply adding telemetry and basic maintenance, to some stations that need to be completely rebuilt at a cost of £100,000-£200,000.
Ensuring health and safety for those accessing the assets in future is an important consideration in the upgrades, says Camis. "Our safe and serviceable specification has focused on the need to make sure that only Thames Water authorised people can gain access – so it's changing locks on kiosks, changing covers on wet wells, putting in safety grids below the lid. We supplement those works with electrical safety certificates, installing stainless steel lifting chains, and so on."
While the majority of pumping stations are in kiosks on the street, some are situated in gardens, garages or industrial premises, presenting access problems. The occasional one is in an even more inconvenient location, with examples found under bridges, in cellars or even in a house under a bed.
"If a station is in a defined compound, with a fence around it, we will take transfer of the land in which the station sits," says Welsh Water's Hartwell. "But if the station is in somebody's back garden for example, then we would get the components of the station legally vested, and get a formal right of way agreed. It still relies to a certain extent on somebody being in – which is why we need to have all the details of the station, including access telephone numbers, on our telemetry help sheets, so if one of our operators needs to attend the station and there is a problem with access there is a number to call and solve the problem."
Access can be a consideration even where a station is not eligible for transfer, because in many cases the rising main leading from the station is itself transferring under the parallel regulations for lateral drains. This means that in practice the water company still needs to hold information about the station and who is responsible should there be a future problem with the rising main.
As well as Welsh Water, other water companies to have made a start on adopting stations include United Utilities and Severn Trent. Others will leave the majority until the deadline, in part because they have a more manageable number to deal with: Wessex Water, for example, has 500-600 stations to adopt, and despite surveying all of them, is only planning to take on around 50 of them in advance. But Anglian and Thames undoubtedly have the biggest task on their hands. Anglian has set itself the demanding task of adopting 70 stations per month from next month onwards, while Thames's plans imply an even faster rate.
Adoption in 2016 is not the end of the story: the sheer variety of the designs of the adopted pumping stations will present an ongoing challenge to companies' operational maintenance teams.