Wastewater treatment benefits from compact chemical dosing
Water treatment technologies are not optimised for use in small facilities, but compact chemical dosing systems help reduce cost and meet strict new rules on phosphorus removal. Graham Ward, he is Sales and Marketing Director, at WES Ltd explains.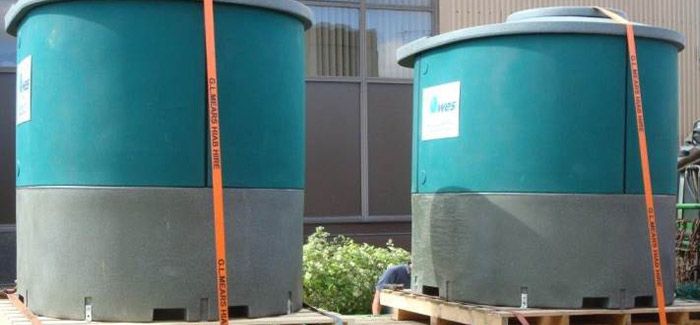 Many industries have struggled to cope in the Covid-19 pandemic, and the water treatment sector is among them. A recent survey from British Water revealed that many UK water and wastewater suppliers have suffered financially.
Nearly 30% of the 178 respondents said the effect of the pandemic was "significant". One-third of businesses have furloughed large numbers of employees – and a similar proportion of companies expect turnover to decrease over the next six to 12 months. More than a quarter of firms have laid off employees. Around 20% have experienced cashflow concerns – with half of these halting new investments in response.
The pandemic-enforced lockdown in the UK, which began in March 2020, coincided with the introduction of the water industry's latest Asset Management Plan – AMP7. This controls factors such as allowable price increases and sets new targets for water quality. Among the targets is a renewed focus on phosphorus removal, to help prevent excess plant growth in rivers – such as algal blooms.
Large plants
However, most technologies to remove phosphorus have been developed for larger treatment plants – which typically have economy of scale, sophisticated monitoring and in-house expertise. These factors are less likely to be present in smaller treatment plants.
In a 2018 paper in Frontiers in Environmental Science, UK researchers reviewed phosphorus-removal (P-removal) technologies in smaller wastewater treatment (WWT) facilities.
"There is a shortage of treatment technologies for P-removal at smaller scales, particularly sustainable and reliable options that demand minimal operating and maintenance expertise," said the researchers. "In view of regulatory pressure, investment should be made in developing new or adapting existing P-removal technologies, specifically for implementation at small-scale treatment works."
The relative inability of smaller WWTs to remove phosphorus could lead to smaller water courses becoming more polluted, said the researchers. Small-scale WWTs are typically less accessible than larger facilities, and are also less rigorously managed and monitored, the researchers added.
Small scale
Despite these shortcomings, there are technologies that can remove phosphorus on a smaller scale – though they typically need to be more energy efficient, less complex and easier to maintain. Physico-chemical methods are well established in phosphorus removal, and include techniques such as filtration, precipitation, sorption and ion exchange. Variants of these are used in small-scale WWTs.
Sorption methods rely on 'active' materials that selectively remove phosphorus from a wastewater stream. Absorptive media can be made from natural substances (such as limestone), waste products (such as fly ash) and synthetic materials. These active materials can even be incorporated into wetlands, where they help to reduce phosphorus concentration in a very low-maintenance system.
Ion exchange is another key chemical technique, and is also used in desalination plants, for instance. It is highly selective – which can help to remove the relatively low level of phosphate ions from water.
Another important technology is chemical dosing – in which a (metallic) salt is added to the water, causing phosphorus to precipitate as a solid. It is then removed by filtration, or by settling under gravity. Chemical dosing systems use a combination of ferric chloride, ferric sulphates and other metallic salts to remove and capture phosphate during treatment – before water is released back into the environment.
Compact systems
The increased focus on phosphorus removal has led to increased demand for compact, packaged chemical dosing systems at smaller sites.
This is because compact systems have a flexibility advantage over their large equivalents and can more easily be transported to – and fitted into – smaller sites. Systems such as the DS1500 from WES include inbuilt weather protection, making it applicable to both indoor and outdoor locations. DS1500 is a fully enclosed chemical dosing system with a weatherproof polyethylene enclosure and a 1,500 litre polyethylene storage tank. Single duty or duty/standby pumps can be fitted, with dose rates up to 150 litres/hour.
It has an integral bund and separate doors to the dosing and fill/control compartments. The use of digital dosing pumps – which have a user interface that allows dosing rate to be entered directly onto the screen – makes the system is easy to use. Because it has a very wide turn-down ratio (100:1 for smaller pumps, 1000:1 for large pumps) – and no need for stroke rate calculations – the system is "plug and play".
The main benefit of standardised, small and medium sized chemical dosing systems is that they can be built to a repeatable design and immediately manufactured in efficient batches. This helps to keep costs and lead times down.
Supplier expertise can also help to simplify the specification and reduce cost. WES has been able to halve costs for some customers by using its skills and knowledge to provide a better design. For example, WES reduced costs and slab size on one project by looking at a different way of achieving the end result – coming up with almost half the "footprint" of the original 3.5 x 7.5m solution.
Very few businesses are immune to Covid-19, and this includes those in water treatment. However, choosing appropriate technologies – such as compact chemical dosing – can help them to offset these effects and save costs.