Wastewater: Seizing the opportunity
With sustainability high on the water industry's agenda, maximising resource recovery from wastewater is becoming increasingly important. As part of our Utility of the Future campaign, we look at the challenges and innovations that could impact the industry as it harnesses the potential value of wastewater. Nadine Buddoo reports.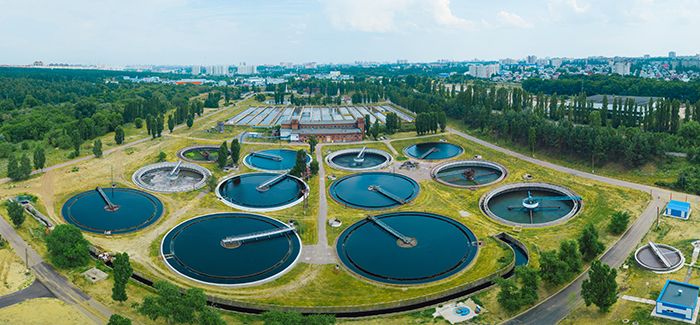 Case study: Spernal STW Test bed
Severn Trent has recently opened a new multi-million pound demonstration test-bed site at Spernal STW in Redditch and will be using this to validate technologies and flowsheets that can be used to upgrade its wastewater treatment works to resource recovery factories. The test-bed offers the opportunity to evaluate energy neutral wastewater treatment and to recover valuable materials contained in wastewater.
 
Energy neutral sewage treatment
The initial focus of the trial programme will be on low energy treatment consisting of enhanced primary treatment and mainstream anaerobic treatment. An enhanced primary treatment stage removes more suspended solids and more organic load than conventional primary settlement tanks. This directs more of the organic load to the energy generating anaerobic sludge digesters and less to the energy consuming wastewater secondary treatment process.  

Severn Trent has been developing the anaerobic technology over the last 10 years with one of its research partners, Cranfield University. Anaerobic treatment is already successfully used in warm countries like Brazil, but recent research breakthroughs with anaerobic membrane bioreactors (AnMBRs) have developed a process capable of efficient treatment in temperate climates like the UK's. In 2020 the company plans to commission the largest demonstration scale AnMBR system in Europe, capable of treating up to 500m3/d. The AnMBR will degrade the organic material in sewage without the need for air and in doing so will produce methane that can generate renewable electricity.
 
Nutrient recovery
In most of Severn Trent's wastewater treatment plants the company also removes nutrients – nitrogen and phosphorus – to protect the streams and rivers it discharges into. Nutrients, however, are an essential resource, they are a component of all living cells and without them it is impossible to grow crops, fruit or vegetables. Nitrogen fertilisers are manufactured by the energy intensive Haber-Bosch process which chemically converts nitrogen from the air to ammonia. Phosphorus is a non-renewable, finite resource that is mined and incorporated into fertilisers. Consequently, the Earth's phosphate rock reserves are becoming rapidly depleted. There is a compelling argument, therefore, to recover both nitrogen and phosphorus from sewage.

Severn Trent already has a full-scale plant that recovers phosphorus in the form of struvite (magnesium ammonium phosphate) at its Nottingham sewage treatment works. Mainstream anaerobic treatment will not remove nitrogen and phosphorus from the sewage, which in the context of nutrient recovery is yet a further advantage. The effluent from an AnMBR will be relatively rich in nitrogen and phosphorus, but crucially it is free from solids and hence very suitable for adsorption and ion exchange based nutrient recovery technologies that the company will also evaluate at Spernal. These technologies, developed by Cranfield University, use a media – mesolite for ammonia recovery and an iron nano-particle embedded ion exchange bead for phosphorus recovery.  
 
Future opportunities
This work in developing resource recovery from sewage has been strongly supported by the company's involvement in a number of EU research projects. The EU's Horizon 2020 Innovation Fund has provided approximately £450,000 worth of funding for the AnMBR demonstration plant through the "NextGen" project. This European consortium, consisting of over 30 world-leading partners from across the EU, is setting out a four-year programme to evaluate and champion circular economy solutions and systems in the water sector.
Global demand for energy and water is expected to increase by 40 per cent and 50 per cent respectively by 2030, according to the United Nations. As this demand soars, optimising wastewater management processes could unlock solutions to some of society's biggest sustainability challenges, from food production to renewable energy.

In January 2018, the UK government published its 25 Year Environment Plan which sets out plans to improve the environment within a generation. As part of this ambitious strategy to improve the UK's air and water quality, a key target is minimising waste and championing the reuse of materials to reduce the impact on the environment.

Work is already underway as the government aims to reach zero avoidable waste by 2050 – and water companies must play a vital role in reducing waste and delivering a sustainable water system for the future.

UK Water Industry Research (UKWIR) is currently leading the development of the water research agenda by defining a strategic research programme to address the key sustainability issues facing the industry. From a growing population and changing climate, to extensive market reform and evolving customer expectations, the challenges for the water industry are myriad and complex.
To ensure the industry's response to these key issues is informed by comprehensive research, UKWIR has developed "12 Big Questions" that seek to shape the blueprint for a more sustainable future.
One big question is how the industry can maximise recovery of useful resources and achieve zero waste by 2050. Recovering valuable resources from water and wastewater is becoming particularly crucial as the industry recognises that the traditional linear economic model of "take, make, use throw" is simply unsustainable.

"Recovery from wastewater is becoming increasingly important because we need to move from a linear to a circular economy in a world of depleted resources," explains Alison Fergusson, associate director at Ofwat. "For example, the use of materials like phosphorus which is essential for food production and yet our source for it is a finite and limited mineral."

Traditional wastewater treatment methods call for the removal of phosphorus, resulting in increased use of chemicals like iron salts. But the finite nature of phosphorous, for example, makes a compelling case for resource recovery, instead of removing it and treating it as waste.

Peter Vale, technical innovation lead in Severn Trent's environmental R&D team, agrees that the water industry can play an important role in an emerging circular economy (re-use, remanufacture, repair, recycle) where there is more focus on recovery and regeneration. "We receive huge amounts of 'waste' water that is full of potentially valuable materials that can be recovered and regenerated, for example nutrients, cellulose, bio-plastics and perhaps in the future higher value materials such as proteins and enzymes," he says. "We can potentially use some of these materials ourselves or sell them on to be made into value-added products."

According to Vale, Severn Trent has advanced plans to be at the forefront of the emerging circular economy through recovering materials, energy and clean water from the wastewater it treats. "By reducing the amount of resources we need to effectively treat sewage, we can also keep customers' bills low," he adds.
Key challenges
While the benefits of wastewater recovery are clear, the route forward is a challenging prospect. "The key challenge facing the water industry is getting the right balance between investment, implementation of changes on complex infrastructure, and delivering real efficiency and cost benefits for the future," says Tony McKenna, head of business development and optimisation services, Veolia.
Veolia Optimisation Services aims to help clients tackle these challenges by reducing operational costs of wastewater plans. The company's approach to water and wastewater management involves working directly with existing operations to implement and sustain new operating regimes, while benchmarking against global asset performance.

"Outcomes include energy efficiency, reduced chemical usage, reduced carbon footprint, improved resilience, reduced capital maintenance spend and a set of optimised business processes and associated operating philosophy," says McKenna.

Vale agrees there are complex challenges ahead for water companies, but believes the major obstacles are more around regulation and public perception rather than operational concerns. "In order for an investment in resource recovery technology to be viable we need to achieve a reasonable price for the recovered material we generate, this is unlikely if it is still perceived as a 'waste' product. Gaining 'end of waste status' for recovered materials will be an important component of this," he says.

Customers are often resistant to the prospect of wastewater recovery, primarily due to a lack of awareness and concerns over the re-use of "waste" products. While more research is undoubtedly required to improve public perception, Vale does not see this as an insurmountable hurdle. "I think there is an opportunity to tap into the increasing public demand for sustainable products," he explains. "It may be that in the same way as organic food the public will be prepared to pay a premium for sustainable recovered materials and this will make the financial case for investing in resource recovery more compelling."

As further research will be critical to help move the industry forward, UKWIR is hopeful that its programme around maximising recovery of useful resources and achieving zero waste will provide some much-needed clarity, particularly around the value of waste and its economic viability.

"There is huge potential to remove valuable resources from water and wastewater, but we really need to understand the whole cycle and get to the heart of the most efficient and economically viable point of recovery," insists Steve Kaye, chief executive, UKWIR. 

The research programme will involve a series of projects on issues such as improving resource recovery efficiencies, while ensuring these practices are commonplace and championed across the industry.
 
Over the course of the next year, the UKWIR team will be inviting universities, consultants and other key stakeholders to get involved and help deliver these research projects. It is this type of industry-wide collaboration that will be vital to help drive innovation and maximise resource recovery from the creation and operation of valuable assets.
Promoting innovation
Currently, the value of recovered materials is not overtly taken into account in how Ofwat carries out its economic regulatory duties, but the regulator is encouraging water companies to find innovative ways to improve their processes and efficiency through its comparative benchmarking regulation. "If net costs can be reduced through additional income from sale of recovered materials then companies can reap the benefits of improved efficiency," says Fergusson.

The regulator has been consulting on ways to improve the uptake of innovation and hopes to see a transformational change in how innovation is tested and successful innovations are adopted across the water sector. "We hope that encouraging a transformation in innovation will ensure that resource recovery gets a seat at the table and we can forge a way to meet zero waste by 2050," adds Fergusson.

For Severn Trent, collaborating with academia and other stakeholders is key to driving innovation in this area. As well as working with Cranfield University to develop anaerobic technology [see case study], the company is also collaborating on a new development with Coventry University that will produce hydrogen from waste materials using renewable energy produced at its sites.
Looking ahead
The future sustainability of the water industry is heavily dependent on the way wastewater is managed. But shifting towards a more circular approach is about more than just delivering an alternative source of clean water to meet rising demand. Wastewater is a largely untapped resource, with the potential to have wide-ranging impact in areas such as energy production, agriculture and industrial development.

With the emergence of new technologies, increased collaboration will be key for the industry as it forges ahead into a new era of wastewater management. Working closely with research partners to harness the potential value of wastewater, while engaging with communities, could help secure the sustainability of the water system to 2050 and beyond.