Utileyes: Northumbrian's award-winning 'virtual visit' app
The Utileyes app - which allows Northumbrian Water Group technicians to view potential problems inside customers' homes and elsewhere remotely - was recently named Customer Service Initiative of the Year at the 2018 Water Industry Awards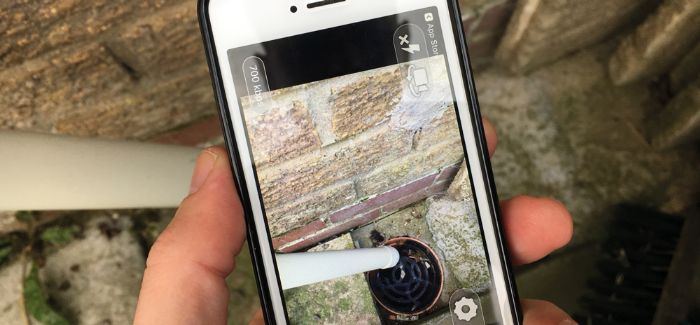 By Robin Hackett
As Northumbrian Water Group embarked on its 'unrivalled customer experience strategy' in 2016, a three-day innovation sprint set about answering a question: How might the company make customers' lives easier and work smarter as a business?
The sprint participants had been exploring ways to improve customer journeys and were discussing the fact that, when people called to report a problem such as a suspected leak, the company would usually have to send a distribution technician (DT) out to the property, which took seven days on average.
"Then somebody came up with a brilliant idea," Northumbrian Water customer director Claire Sharp says. "They asked: 'What if we could see inside customers' homes?'"
When one of the participants mentioned a video-sharing tool that had been used at Northumbrian's Information Services 2015 Conference, the potential was clear: customers could download an app and, using the camera on their device, allow the DTs to make a 'virtual visit'.
Northumbrian began work on making the idea a reality and, while an initial plan to make use of a pre-existing app had to be aborted due to data protection issues, the company was able to develop its own software successfully.
The Utileyes app was launched in July 2017 and, in its first year, the company was able to virtually validate in excess of 400 leaks.
"Every visit that we do virtually saves us at least £50 in terms of a technician going out, and clearly it's massively quicker – we can fix leaks in around a day-and-a-half, whereas normally it's three days," Sharp says.
Positive customer response
Its benefits have not gone unnoticed: the judges at the 2018 Water Industry Awards declared Utileyes the "clear winner" in the Customer Service Initiative of the Year category, saying it is an example of "how innovation can be turned into real customer benefits", and it has received a very positive response from the user base.
Sharp adds: "If customers are at home when they call, we can ask them to download the app and almost instantly we can see the problem and explain what it is. They're really quite wowed by it because it's not what they expect. They often think they're going to have to get an appointment and take time off work."
One of the initial challenges for Northumbrian was convincing its own technicians that they could carry out their duties effectively with Utileyes, and the company had to ensure the app could support sufficiently high-quality video to make doing so viable. Once staff recognised that the software was up to the task, word quickly spread around the company.
"We have this real innovation culture where we're encouraging people across the business to share their ideas and the innovations they've come up that are making a difference for customers," Sharp says. "Utileyes was showcased at one of our regular team-talk sessions, and that just sparked off lots of discussions across the business."
Staff in other departments realised that Utileyes, in its existing form, had potential for them too – for example, a member of a maintenance team contending with an engineering problem might use the app to connect with a senior technician back at base.
Trench inspections
Northumbrian has also been using it to carry out trench inspections. While the normal wait time for a trench inspection can be between five and ten days, a virtual trench inspection can take place either on the same day or next working day.
"We often find that once you've found an innovation, there'll be other applications for it," Sharp says. "I think there will still be more that we can do with Utileyes. Our customers are becoming more tech-savvy all the time. Most people use their mobile phones to access apps as opposed to using it as a telephone now – that's just how things are evolving – so as customers become savvier and more comfortable using this sort of technology, the possibilities are endless really."
It is no secret that Northumbrian – which also took Water Company of the Year at the Water Industry Awards – is putting more stock in the value of new ideas, and it hosted its second Innovation Festival in July, attracting thousands of attendees and the involvement of over 500 businesses over the course of its five days.
"It was a great success," she says. "We've had some brilliant ideas coming out of it. That's often the challenge – we'll get some great ideas coming out of sprints, but the real innovation is what you do with them and how you take them forward, getting them to become a real activity or initiative within our business or our partners' businesses. It's a big part of our culture at Northumbrian.
"We look outside the business a lot. We have an innovation panel that has representatives from Apple, Amazon, National Grid and Microsoft working on it – we're getting access to some other innovative organisations that are really pushing the boundaries and testing us to do more.
"It's great when you have access to those organisations and the people within them because often posing a problem to them or a challenge that we've got will spark something that they're doing and we can work together."
Sharp acknowledges that some Northumbrian customers will be more comfortable with technology than others and that apps such as Utileyes may not be for everyone. As such, the company has no intention of abandoning traditional face-to-face services for those who want them.
"Sometimes you can't beat that," she says. "We really pride ourselves on being customer-focused – building rapport and looking after them. Technology has a place but so does human contact, and we must never forget that.
It's just part of our evolution to look at how we can use innovation. It might be apps, it might be something else, but we want to make our customers' lives better and make sure they're getting an unrivalled service from Northumbrian and Essex & Suffolk."
• Northumbrian Water won the Customer Service Initiative of the Year category in the Water Industry Awards 2018 with the Utileyes App; Northumbrian also scooped the Water Company of the Year award sponsored by NM Group
This article is taken from the September issue of WWT