Unflushables: Driving us round the U-bend
What can be done to stop an A-Z of inappropriate items being flushed down the toilet? Fergal Campbell of waste management specialists CDEnviro looks at a tough-to-tackle problem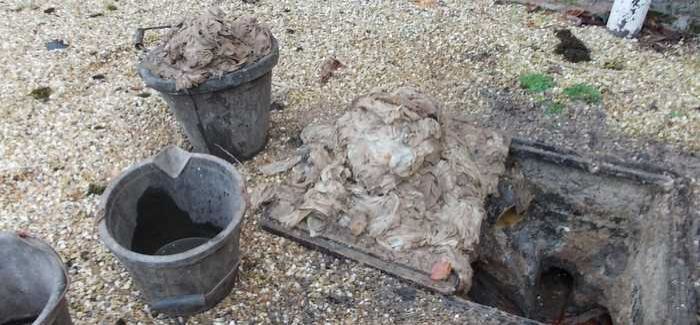 by Fergal Campbell, Customcare Manager, CDEnviro
The type and range of inappropriate material that people flush down the toilet will come as no surprise to water industry professionals. It's to be hoped, however, that some items at least, such as car keys and teddy bears are accidental victims, flushed alongside the more common wet wipes, sanitary towels, tights and the like.
There are almost as many reasons people flush the wrong things down the toilet as there are types of items they flush. It may be embarrassment when disposing of a personal hygiene item, a misunderstanding or overconfidence of what the sewer system can take, or a lack of knowledge of what can and can't be flushed. A survey of women in the UK found nearly half (41%) said they flushed sanitary items down the toilet and didn't know they shouldn't. Whatever is causing the behaviour, we need to help consumers change their practices.
Persuasive messaging
The first, and seemingly most straightforward, way to reduce the amount of inappropriate material being deposited into our drains and sewers is to educate people of the problems caused when anything other than bodily waste and tissue paper are flushed. This is a powerful message to share and one you'd expect people to listen to; no-one wants sewage returning to the surface in their home or garden following a blockage. Newspaper headlines about 'fatbergs' and social media activity, such as videos showing drains being cleared can help immensely.
Wessex Water has launched a campaign designed to encourage people to 'love your loo' by only flushing the three Ps (paper, poo and pee). Behaviour change campaigns of this kind can be very successful, particularly the more nuanced ones, which aim to 'nudge' people towards a different approach rather than expecting wholesale immediate changes. This includes ideas such as encouraging people to bin their cigarette butts by using bins as a voting system (with each butt counting as a vote). A street in London was remarkably cleaner after asking people to choose between Lionel Messi and Cristiano Ronaldo as the world's best footballer.
However, large scale behaviour change efforts can only go so far no matter how persuasive the message seems, as long-running campaigns such as those to stop littering or encourage recycling prove. They will never reach everyone or eradicate the problem entirely. A more collaborative, multi-faceted approach is required to address the bigger issues.
Manufacturing and marketing flush friendly products
Where our sewers are concerned, manufacturers and marketers have a key role to play in ensuring their products do not mislead consumers into thinking they can be flushed when they shouldn't be. This is the basis of the recently launched campaign by Wessex Water and backed by City to Sea, Surfers Against Sewage, the Marine Conservation Society and Litter Free Coast and Sea, calling for a ban on the word 'flushable' on wet wipes, which do not break down like conventional toilet paper after going down the U bend. The swift action taken by the Government to ban microbeads in cosmetic goods shows that such campaigns can be very effective.
Wet wipes are often branded as flushable but were reportedly responsible for more than two thirds of blockages in the West Country region last year. With mixed messages coming from water companies and manufacturers, it's no wonder consumers struggle to take on board behaviour change initiatives.
There are some manufacturers taking positive steps to tackle the issue and help educate consumers. For instance, Anglian Water has worked with entrepreneur Martha Silcott to develop a hygienic, easy-to-use disposal bag that biodegrades and provides a hygienic, easy and discreet way to deal with tampon disposal instead of flushing, for instance.
Back-up solutions
An important further step in tackling the problem is for machinery manufacturers, like ourselves, to work with the water industry to develop solutions that can have an immediate effect on the problem, while the longer term campaigns progress.
Water companies need to take a proactive approach and ensure they have back-up systems in place to successfully screen material in wastewater treatment plants.
The effective removal of rag and grit at the start of the process can save operators money on unnecessary maintenance and downtime. Using the latest high-efficiency sludge screening technology, material such as rag can be received directly on to the screen and removed before it causes blockages. All wastewater treatment companies should have an effective primary screening system, such as our high frequency vibrating technology, in place if they are to win the war on 'flushable' wipes and the like.
As well as improving conditions for workers and reducing distress for customers, there are significant savings to be made if sewer blockages are reduced. For example, Anglian Water spends around £15M every year on removing blockages from sewers. It attends more than 30,000 incidents every year, the vast majority of which are avoidable and caused by wipes, sanitary items and fats and greases from cooking.
Collaboration can cure blockages
The more companies that work together on this multi-faceted approach to educating consumers and improving products and systems, the sooner a lasting solution can be found. There may still be the occasional teddy or plastic fish that goes on an adventure thanks to an imaginative child, but the larger scale problem should be wiped away.