Trant Engineering: Forward thinking
Now positioned as a multi-discipline, innovation-focused contractor, Trant Engineering is aiming high - and says its partnership with Austrian company SFC Umwelttechnik has the potential to revolutionise UK water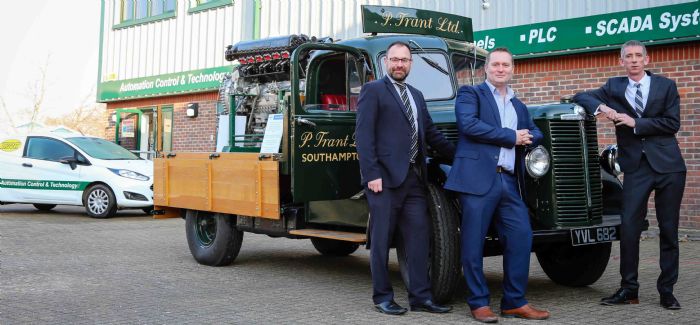 Wayne Broadbent, Timothy Bullen and Brendan Dowd at Trant's headquarters near Southampton
Trant's SFC Umwelttechnik technologies
• C-ION: Advanced oxidation process for water and wastewater treatment, using electrical glow discharge to form different species of reactive oxygen species (ROS) in a non-thermic plasma (NTP). Uses immersed organic hollow fibre membranes for optional ultrafiltration
• C-TECH: Cyclic activated sludge process in which carbon oxidation, nitrification, denitrification and bio-P removal are carried out simultaneously
• C-MEM: Advanced filtration technology that uses immersed organic hollow fibre membranes for ultrafiltration. Uses air scour cleaning, resulting in higher flux
• EuPhoRe: Two-stage process to recover phosphate from sludge and remove heavy metals. Can either be installed as a complete system or retrofitted into existing power or solid waste incineration plants
By Robin Hackett
The business is turning 60 years old but Trant Engineering is in no mood to look back. Having brought all its services under one banner, the company believes it is not only primed to cope with the fast-changing demands of the modern water sector but to get ahead of the game.
Trant made its name through a strong focus on civil, mechanical and electrical engineering, but its current position is summed up by the company strapline: Delivering total engineering.
"We started out as a traditional civil contractor, but we've evolved as the company has grown," Business Development Director Brendan Dowd says. "We're not going to sit back and just become one of the others. That's never been our game plan."
At an open day in February, Trant showed visitors around its new offsite manufacture & assembly (OMA) facility, which allows the company to remove on-site fabrication, assisting in quality assurance and reducing on-site times for clients. It joins the Innovation Design & Solutions (IDS) and Automation, Control & Technology (ACT) departments at the company's headquarters in Totton, near Southampton.
"We have a huge array of in-house capabilities," Dowd says. "We work closely with supply chain and external consultants but we are not solely reliant on them, so we've got more control on programme, more control on cost – that's where we bring the efficiencies to our clients."
Engineering Director Timothy Bullen adds: "We're not a tier one that likes to just sit here and project manage – we're a tier one that likes to get in there and engineer. That makes us quite agile from an engineering perspective."
Operational technology is another area of pride, with Trant having been on an OT framework with United Utilities for five years.
"We like to see ourselves as a technology-focused innovation company – an intelligent contractor that is able to deliver complexity," Bullen says.
ACT also designs and manufactures control panels, motor control centres, LV switchboards, hazardous area equipment and software system integration, including in-house design and supply of software for programmable logic controllers (PLCs), human machine interfaces (HMIs) and SCADA systems. IDS is there to offer technological solutions for clients, seeking to remove hazards and improve efficiency, with a focus on low Totex and sustainability.
"We're very versatile as a business," Bullen adds. "There isn't really anything here we don't do and I think that makes us unique. I'd struggle to think of another organisation that can deliver these services in-house."
The OMA facility will also be used in the production of the company's containerised, modular water and wastewater treatment systems, which make use of the partnership with Austrian company SFC Umwelttechnik.
In October, the company announced it had signed a deal with SFC – exclusive to the UK and Irish market – that is clearly a huge source of excitement.
"That partnership has got the potential to revolutionise the UK water industry by bombarding it with this new technology," Dowd says. "We haven't got a technology for every process need but we have got technologies that will certainly disrupt the technologies that are in there at the moment."
The partnership will offer up four technologies: C-ION, an advanced oxidation process based on non-thermal plasma; C-TECH, a cyclic activated sludge process; C-MEM, a submerged hollow fibre cartridge ultrafiltration system; and EuPhoRe, which targets 100% phosphate recovery from sludge.
Trant sees the SFC partnership as timely ahead of AMP7, with water companies expected to come under greater regulatory pressure to remove micropollutants, while phosphorus removal and reuse is also set for greater focus.
"There is only so much phosphate in the world," Wayne Broadbent, Trant's Engineering Manager, says. "It's a precious and finite resource. Our EuPhoRe process is very much about recovering 100% of that precious resource and making it available as a saleable commodity.
"Ofwat are in the process of deregulating the sludge elements of water companies' treatment operations with the aim of promoting better use of our natural resources. This has the potential to open up the market for sludge and encourage the implementation of innovative processes such as EuPhoRe."
Trant is currently engaging in pilot trials with several utilities that are eager to take a further look at the various SFC technologies.
"We have had very, very positive feedback from the water companies," Dowd says. "They're very interested in this technology because they can see savings – they can see huge Totex savings."
The company's products are also attracting interest from further afield, including discussions with the United Nations over a self-contained wastewater package plant that makes use of solar energy and provides primary, secondary and tertiary treatment.
"In developing countries, traditionally they've taken the Western approach of finding a water source, pumping it for miles, losing a lot of it in the network and then dumping the waste out," Dowd says. "It's a very inefficient way of using the water, so there's a lot of emphasis now on using the water brain, where you have smaller networks, modular plants that reuse the nutrients. That's where our products really do fit in."
The plants are modelled on the Trant Membrane Bioreactor (T-MBR), which features a containerised service module that houses the automated control system, air blowers, pumps and process equipment with a separate process tank containing the selector, mixed anoxic zone and the main reactor zone, which contains the C-MEM membrane cartridge assemblies. It uses a PLC, and a telemetry system is available for remote monitoring.
The UN venture is a point of focus on the open day because it highlights several of the strengths Trant is eager to demonstrate: a complete project using offsite manufacturing and the SFR technology, offering innovation but with a focus on ease of use and a small footprint.
It also provides a showcase for the company's journey towards virtual reality, with visitors able to set foot inside a digital model of a plant and interact with objects.
"VR has really enhanced our 3D models to a new level of immersive interaction," BIM Leader Adam Rhind-Tutt says. "Whether that's allowing the client to see their final product before they've set foot on site or even completed the design, they can then make comments on the usability and operation of that facility. We are continuing to develop the interactivity even further, such as simulating the operation of a plant in a virtual world."
VR and augmented reality are the next step for Trant in a Building Information Modelling (BIM) programme it takes seriously.
Visitors are also shown how existing assets can be laser-scanned to provide complex models quickly and accurately. Rhind-Tutt says Trant is embracing any new technologies that can benefit the company and its clients.
A link-up with local company isodo3d, meanwhile, gives Trant the facility for 3D scanning and printing. Capable of creating objects at low cost and in a range of materials including medical-grade titanium, the system is also useful for reverse engineering. "By using the laser, we have no boundaries," isodo3d Managing Director John Cousins says.
It is another example of how Trant is seeking to embrace new methods to move ahead of the crowd, and from the evidence of the open day, there is a confidence that they are succeeding.
"We've had representatives of all the major water companies that we work for," Dowd says. "Blue-chip clients. We work for these guys across all the sectors, all over the world some of them."
Bullen adds: "They're down here because they know we innovate and they want to see what else we offer because they're looking for the next innovative solution. It's our bread and butter.
"If you don't innovate, you just become one of the others, and if you're just one of the others, you're putting yourself into a very competitive market."