Top Tips for… Building Asset Resilience
PR19 will be a considerable step forward from PR14, requiring a significant shift towards greater service resilience and a Totex focus on asset health. Here, Adler & Allan's Tim Farley explains the pivotal role of asset resilience in facilitating this transition and provides his top tips on implementing proactive measures to meet regulatory targets and customer outcomes.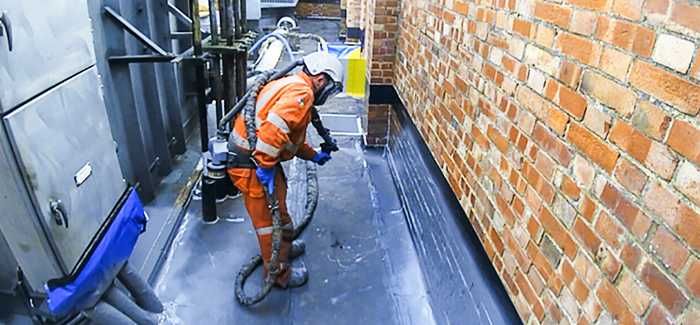 Spray lining an asset with a waterproof polyurea coating
by Tim Farley, Utility Resilience Adviser, Adler & Allan
TIP 1: Develop a 'safe to fail' plan
From a rapidly changing climate that places assets at increased risk of flooding and leakage incidents, to the population growth currently placing ageing infrastructure under increasing strain; there has never been a greater need for water companies to address asset resilience.
'Safe to fail' scenario planning is the first step of this process, requiring that companies identify weaknesses across operational estates before designing and implementing measures that allow assets to fail 'safely' with minimal disruption to serviceability or other consequences that impacts on ability to meet ODIs and deliver customer outcomes.
TIP 2: Plan asset restoration measures
Based on the assumption that disruptive incidents are ultimately inevitable, asset restoration planning is a critical component of resilience. It is concerned with the practicalities of returning assets to working order in the shortest time possible with use of the fewest resources.
Companies need to identify physical vulnerabilities, 'hidden assets', or aged infrastructure that could exacerbate the scale of any damage and pollution caused by potential floods and leakages. Once identified, this vulnerability can be used to highlight the assets with the greatest net impact in the event of environmental incidents, allowing proactive planning for mitigation and recovery.
TIP 3: Plan protective measures
Effective resilience and planning must build on the assumption that the worst case scenario will eventually occur, but prevention still remains a better option than cure, and water companies must therefore take considerable steps to prevent disruptive incidents from damaging key assets.
In practical terms this means building from the previous two planning exercises to design and plan protective measures and preventative solutions that significantly extend asset life. One example is the lining of tanks, filter beds and storage tanks with impermeable polyurea coatings that provide structural reinforcement, prevent leakages and age-induced deterioration, and consequently lowers assets' total cost of ownership.
TIP 4: Refurbish and build resilience into assets
Whether we're talking cathodic protection solutions to prevent corrosion in pipework, or polyurea lining as an alternative to costly civils repair, implementing resilience solutions and refurbishing assets before failure is not only an effective means of extending asset life, but is also significantly more cost-effective and less resource-intensive than capital replacement.
Using comprehensive planning as their foundation, water companies should use innovative technologies to refurbish and address vulnerabilities in at-risk assets before they require the outright replacement that is often a consequence of substandard stewardship and a reactive maintenance approach to weaknesses. This movement away from traditional capex bias clearly complements the Totex approach favoured by Ofwat.
TIP 5: Implement planned preventative maintenance
In light of Ofwat's approach to PR19, which explicitly calls out the need for water companies to address 'asset health', it is difficult to overstate how important it is for water companies to conduct both pre and post-incident Planned Preventative Maintenance (PPM) as part of a shift away from reactive maintenance.
This reactivity can often neglect the tell-tale signs and root causes of potentially critical issues until they have moved beyond the point of no return, culminating in failures: burst pipes, high-profile watercourse pollution incidents, regulatory fines, and major service interruptions that directly influence AMP6 performance.
Consequently, water companies must make a conscious effort to protect and extend the life of assets through PPM, ensuring constant compliance and 360° protection from an increasingly risk laden environment.
TIP 6: Mitigate and restore
Where disruptive incidents do occur, efforts must be focussed on mitigating the scale of damage, the length of subsequent downtime, and on ensuring that assets return to an optimal operational state as quickly as possible. As a result, it is critical for companies to act in accordance with their Asset Restoration plans.
Armed with risk audits and scenario plans, water companies should be in a position to implement any number of emergency response measures - whether directly or via specialist third party support - when necessary. While there will always be contingencies and discrepancies between theory and practice, these plans provide the direction necessary to limit collateral damage and minimise asset recovery time through purposeful and coordinated response.
TIP 7: Review
Both before and after damage has been minimised, leaks contained, remediation complete, and assets returned to working order, there must be a detailed assessment of the situation and the efficacy of the response and preventative action. What worked well? What didn't? How did the preventative measures fail? Were any vulnerabilities overlooked?
By consistently analysing and reviewing the effectiveness of all PPM, planned resilience measures and response methods, water companies can develop a feedback loop that helps identify the most effective causes of action during disruptive events, that helps bridge the gap between theory and practice, and that ultimately informs greater resilience in the future so that assets are indefinitely at their strongest at any given moment.
TIP 8: Optimise
After examining every vulnerability and area of weakness exposed during disruptive incidents comes the optimisation stage. As the name suggests, this is when the necessary changes are made to the resilience measures that were detailed in the initial design and planning stages.
Practically, this means resilience plans must be tweaked according to the feedback from the review stage. Similarly, assets must be optimised according to this feedback. For instance, where structural integrity was compromised through age-induced deterioration, perhaps polyurea spray linings are the answer. Where pollution incidents occur, perhaps containment solutions are necessary and reactive maintenance needs to be phased out. Where the worst case scenario has become reality and been addressed, perhaps water companies should make a swift return to the planning stage.
Ultimately, the key to resilience lies beyond a checklist or any third-party solution, no matter how clearly defined, reputable, or innovative. Instead, effective resilience stems from those who maintain a solid commitment to continuous improvement that extends far beyond compliance or regulatory mandates.
At a time when risks are evolving at a rate that threatens the viability of the traditional capex replacement approach, it's clear we as an industry must also evolve. This, I believe, begins with effective asset resilience.
-Many of the themes, challenges and risks discussed in this article are also explored in greater depth in Adler & Allan's comprehensive white paper on overcoming key threats water and wastewater assets and critical infrastructure. To download the white paper, visit: http://assetresilience.adlerandallan.co.uk/water-company-insights .