Thinking outside the box on alternative water
Water companies' response to a short-term supply disruption is often to distribute bottled water, but Thames Water is now using a different approach which is more sustainable and cost-effective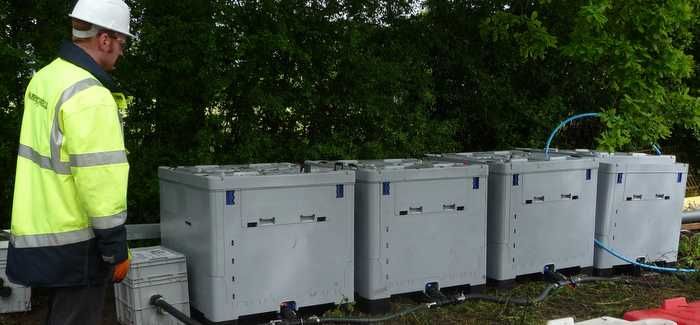 Multiple AEWT tanks can be put into action with the AiS pumping unit (left)
Factfile: Supply Interruptions
- How often water supplies are interrupted (and for how many customers, and how long) is one of the central measures of water company performance. Most water companies have an 'SI3' threshold, meaning that any interruption longer than 3 hours must be logged and counted against its annual targets.
- There is also a 'SI12' threshold for interruptions lasting more than 12 hours. This is significant because water companies are legally obliged to provide an alternative supply of water, such as bottled water or a bowser in the street, after 12 hours of interruption.
- Supply interruptions are measured by the length of time water is unavailable from customer taps, so providing alternative water in the form of bottles or bowsers does not help water companies when it comes to these performance figures. However, pumping water into the network via the AiS system eliminates the interruption to those properties for these purposes.
- In England and Wales in 2016-7, the average supply interruption was 11 minutes per property per year. Water company performance varied widely against this: Northumbrian Water was the best performing of the major WASCs with just 2 minutes 26 secs of interruptions on average. The worst was United Utilities (13 minutes 33 secs). Thames Water was better than average, with 7 minutes 12 secs of disruption.
- Water companies typically spend a large proportion of their alternative water supply budget on bottled water, which costs them around 40p a litre when the cost of transport is included. Any system that allows them to use their own water – where the cost of water is less than 1p a litre – is therefore a big saving. Another factor is that water companies typically overestimate the amount of bottled water they need for an incident, resulting in wastage and unnecessary cost.
by James Brockett
Thames Water has started to use a flexible, modular system of temporary tanks and digitally controlled pumps to keep water flowing through customers' taps during short-term supply interruptions.
The Always in Supply (AiS) system, which the utility helped develop in partnership with liquid handling company Arlington, consists of boxed tanks and pumps with their own power source, which can be delivered from the back of a van and placed in the street near where required work is taking place. Water (whether it is taken from the main prior to shut off, or a mobile tanker lorry) is then stored in the temporary tanks and pumped directly into customers' pipes for the duration of the incident.
Thames is using the system both for small-scale planned work and for unplanned incidents such as burst mains, when they affect areas of up to a few hundred properties.
The water company has a 'SI4' regulatory threshold agreed with Ofwat, which means that any supply interruption over 4 hours is counted towards its performance total and could contribute to an incentive or penalty from the regulator at the end of the year. Because the system supplies water to individual household taps, its operation means that an incident need not be counted as a supply interruption at all – in fact, most customers do not notice that anything has occurred.
When compared to the distribution of bottled water, it is significantly cheaper and more sustainable – particularly since the tanks can be refilled if a shut-off takes longer than expected.
After the success of an initial trial, Thames is now using the system across its region, where it is used to attend to 2 or 3 incidents a week. The utility owns more than 150 Arlington AEWT tanks, which it can deploy for incidents of all sizes, but hires the AiS pumping units from the Pewsey-based supplier in order to benefit from its expertise with the equipment.
Because the number of tanks and pumping units can be tailored to fit each situation, the system provides for a flexible approach to alternative water which could mean water companies can join up their response to notifiable, unplanned events with the way that they treat smaller, planned shutdowns.
Water company view: Meriel Jones, Compliance Lead, Thames Water
"Ever since I started working in our business resilience and security department, we'd always talked about having mini-reservoirs for customers: simple, alternative water that we could use for a few streets, that's easy to get around, that's cheap and isn't too complicated.
"I came across these things called Arlington tanks, and felt they could be the answer, so around two years ago, we went up to Arlington to talk about the different things we could do with them. Because they are quite a small, innovative company with an engineering background, they were open to discussions. Could we make them pressurised? Add a pump? What about putting a weight on top?
"In six months, they had come back with a prototype with a pump; then we went through a couple of iterations, before ending with what we've got now.
"It's a flexible solution. You can put the tanks in series, and have any number of them – it just depends on how long you want to use it for and how many times you are willing to top it up. We have done it for small shuts of up to about 400 houses, which is fine, especially during the day when people aren't using a huge amount of water. You can use it for about six or seven hours, then refill, and carry on like that for days if needed.
"You can also have more than one pump – the pumps have Bluetooth technology where they talk to each other, to keep a continual pressure.
"The customer doesn't see any change. When we first did the original trials with it, we had quite a few customers who came out and said, 'I thought you were switching my water off?' They didn't notice any change in pressure, or any spluttering, to them it was a continual service. It's very quiet as well - especially when you use electric generators - so most customers don't even hear it.
"So far, we have tended to use them for emergency, unplanned events, but we are now trying to build the planned work up as well. It's better than giving out bottled water, which is not very green, doesn't help with our SI4 or SI2 [regulatory targets], and from the customer's perspective, is never the same as getting water through your tap."
The Kit
For its new alternative water provision during incidents Thames is using the 'Always in Supply' (AiS) unit from Arlington, a variable speed, digitally-controlled pumping unit which is both portable and powerful. One or more AiS units can be combined with one or more AEWT storage units (a bag-in-box water tank which is already a familiar product to many in the UK water industry), to create a modular, flexible system that can respond to events of all sizes.
The tanks are set up close to the chosen fill point (e.g. hydrant, boundary box) and filled from the main prior to the shut occurring. Once the tanks have been filled, they can be connected back to the point from which the water has just been taken via the AiS unit. The integrated pressure gauge within the pump indicates the current pressure in the main; the pump can then be set slightly below that pressure and left on standby. As soon as the shut is actioned, any reduction in pressure from demand in the main will be instantly and seamlessly met by the AiS unit.
"The technology inside the pump product that we developed is relatively new, and has only recently been packaged in a way that we could use it," says George Lewis, Sales and Marketing Manager at Arlington.
"The pumps are digitally controlled and use a 240-volt, three stage motor which enables them to be variable speed. This is important because if you connect a pipe to the network and suddenly pump water into it, you can cause all sorts of pressure transients and pressure waves which may cause damage to the pipes. By contrast, our system starts from zero, and if you only need a little bit of water, it will only give you a little bit of water, based on the pressure you want to maintain."
A single AiS unit is capable of meeting the usual demand placed on the network by up to 100 homes operating at 2.5-3 bar in pressure. However, the beauty of the system is its modular nature, with any number of pumps and tanks able to be deployed in combination, explains Lewis.
"We can daisy chain our tanks together, but we can also daisy chain the pumps together, if you need more flow. The clever part is that the pumps use Bluetooth so that they act as a single unit - they don't have to be physically connected. I could be pumping into one part of the network, and then I could set up another water station and pump into another part of the network 100 yards up the road, and I can build that into a temporary infrastructure to create a mini reservoir of water.
"You don't have to use the tanks: there's no reason why you couldn't park a tanker and use that as the reservoir, with our pumps. The only problem with that is that in an emergency situation, tankers are suddenly very in demand, as are drivers, and everybody is after that resource. So by setting up our little water stations, you can then do a milk round and fill them up. That's a much better use of that resource then tying the tankers to a particular area."
In a large scale loss of supply due to an emergency incident, the water stations could be concentrated on sites such as schools or old people's homes, helping to minimise disruption to vulnerable customers.
Case Study: Business Continuity in Kent
When an unplanned burst main caused a retail park in Crayford, Kent to lose water supply, several water-dependent businesses found themselves cut off from water, including the local Nando's restaurant and Parcel Force vehicle maintenance depot. Due to the scale and expected duration of the event, tankers were mainly engaged in other duties. Thames's operations team decided to deploy Always in Supply (AiS) units to four locations in the retail park; AEWT tanks were filled once a day from tankers on a milk round basis. Systems were maintained by staff with Arlington support. Without the system, the businesses might have faced a week or more without water; with AiS, they were back in supply in a few hours. The units kept going until the network was fully restored 14 days later, and none of the connected businesses claimed for losses.
Last Word: Mark Jenner, Head of Operations Systems, Thames Water
"This is really changing the mindset for us and shown us a new way of working," says Mark Jenner, Head of Operations Systems at Thames Water. "Culturally, when alternative water is needed we've always used bottled water and tankers. But when we use bottled water, we have got a third party involved: they have got to go and transport the product for us. This way, it's all in our control, we have our own resources working on the situation.
"The customer receives better service – they are none the wiser inside their house with the taps still running - and it buys us more time, so we don't have to put pressure on our teams to cut corners when they are doing the civils work of relining a mains, for example.
"Our carbon footprint is lower as well, because in most cases, we can fill the tanks from the main before we shut it down, so we are not driving round the countryside with big lorries full of bottled water."