The whole pump package
A combination of new regulations and development in more and more inaccessible areas is creating formidable challenges when pumping wastewater to treatment works. Steven Heathcote, market manager for packaged pumping stations at Xylem Water Solutions UK, outlines the problems and offers a potential solution.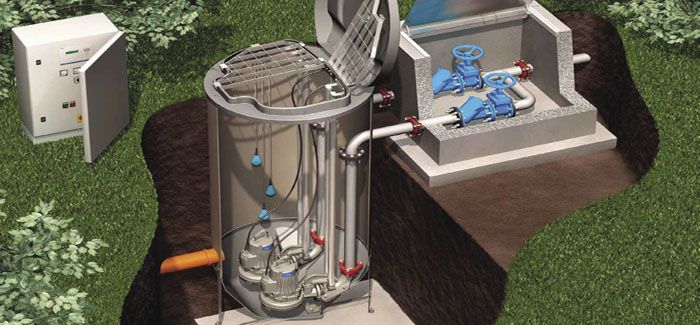 Graphic showing Flygt's TOPS prefabricated PPS which is easy to install
As we build in more and more remote and inaccessible areas, the requirement to provide basic utilities to households and businesses becomes increasingly challenging. Nowhere is this more apparent than in the pumping of wastewater to treatment works, where the development is situated below the gravity sewer, or the treatment works is situated many miles away.
The traditional solution has been to build a pumping station (PS) consisting of a chamber constructed from concrete rings and fitted out with pipes, valves and pumping equipment to move wastewater to the gravity main. In many areas, this can be challenging.
It can take many weeks to complete the construction of a pumping station on site. This can lead to some issues relating to access, confined space working and logistics.
Increasingly therefore, developers and water companies have been looking for a cost-effective and safe solution for PS construction. This search has led them to look towards prefabricated options that are built off-site and ready to be installed.
Minimal design
Prefabricated packaged pumping stations (PPS) use a simple, minimal design concept which can allow ease and speed of installation and commissioning, as well as aiding the reduction of labour intensive tasks. Whereas traditional PSs can take six to eight weeks to install, a packaged pumping station can be fully installed or integrated with an existing system within one week. Furthermore, containerised pumping stations can be designed, manufactured and tested off-site ensuring the operational activities of the client are not affected.
PPS' can be adapted to suit most individual requirements, including domestic wastewater for a single household, through to large housing developments, effluent and wastewater from industrial units and commercial premises. In fact, they can be used in almost any situation where sewage or surface water needs pumping to a mains connection. As well as stand-alone installations, PPS chambers can be used to augment existing arrangements.
Sewers for Adoption
The Sewers for Adoption (SFA) legislation sets out guidelines to ensure that developers build pumping stations that are compliant with the specifications agreed by the local water company, to allow them to be adopted at a later date (see page 31). These guidelines effectively mean that many PSs needing full replacement or refurbishment also have to meet the standards set out by the local water company.
The legislation is set in place to ensure that pipework, valve layout, pump types and level & control specifications all conform to the required standards. From a civils building contractor's point of view, the traditional method for adoption authority can be a long and complicated one involving submissions forms and potentially long turnaround times.
PPSs meet all the design criteria specified by individual water companies, reducing installation times and ensuring the pumping station can be integrated into the existing sewerage system quickly and simply.
Cost effective
Packaged pumping stations offer a simple and cost effective means to transport wastewater. By being designed off-site and meeting the required standards, containerised pumping stations can be installed quickly and simply, offer vital health and safety benefits whilst reducing plant downtime and ensuring treatment works can maintain optimum performance levels.
By liaising closely with the appropriate water authority at an early stage in a project, it is possible to ensure that your pumping stations will meet the authority's full design criteria and SFA requirements, paving the way for future adoption. At the same time, expert design ensures that the most cost-efficient PS possible is procured and installed.