The search for safer streetworks practices
Amey Utilities' HSEQ director, Gerry Mulholland, explains how the company's 2020 Challenge and Know What's Below initiatives are working to bring about safer streetworks practices - and why he wants to see widespread industry support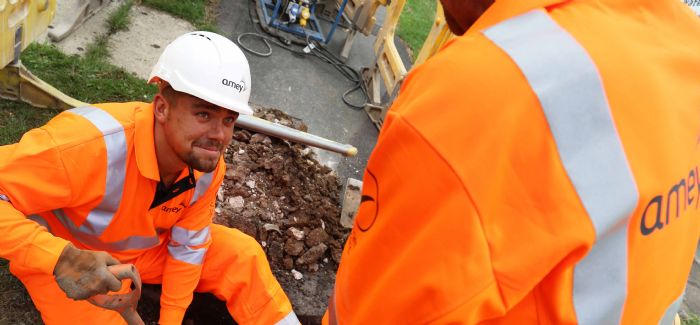 When I joined the utilities industry just over a year ago, it gave me a chance to take a fresh look at the current standards and practices and to reflect on the remarkable advances in technology and the like that are now available to us.
So many things have changed our safety practices for the better, reducing the risk of harm to our employees with regard to their health and safety, since the introduction of The New Roads and Street Works Act 1991.
It also struck me that, in some fundamental areas of health, safety and environmental management practices, we're still stuck in the past. It seemed clear that there were some key actions we could tackle straight away within Amey, and the utilities industry itself, to re-invigorate our approaches to some basic standards within our work.
That's why we've rolled out two key campaigns at Amey. The first, Know What's Below, is focused on the identification and safe avoidance of buried services. It is critical for anyone involved in excavations to 'Locate, Mark and Avoid' underground services.
Cable strikes remain one of the biggest risks for the workforce, yet we are still seeing incidents where damage to buried services occurs. We know from both our own and our clients' and competitors' experiences just how devastating an impact a cable strike can have on individuals, their colleagues and the local communities, with the potential for serious injury and fatalities, as well as major disruption to people's everyday lives when a critical utility is damaged.
This is not new – the requirements for avoiding underground services are set out in the HS(G)47 guidance from the Health and Safety Executive (HSE). What we've aimed for is 'shaking the tree' to ensure both our own employees and our supply-chain partners are clear on what they should be doing and, as part of that, introducing a simple three-step reminder to everyone we work with – Locate, Mark, Avoid.
It is as simple as it sounds but we work in a sector where there are so many jobs every day it can be all too easy to forget the risk and for complacency to set in. To keep it in the forefront of people's minds, we put this message on dig plans, posters, in inductions, toolbox talks and have issued 20,000 stickers to be plastered everywhere as a reminder, from noticeboards to the backs of people's phones. It's not a new message but a different way of bringing back focus on the need to stay alert.
Combining this with the work we're doing with organisations such as the Manufacturing Technology Centre into new and improved detection technology, and knowledge sharing with other organisations through the Utilities Strike Avoidance Group (USAG), we're taking ideas across the board and sharing our approach with everybody to help support other organisations in the utilities industry.
Similarly, our 2020 Challenge – to eliminate streetwork excavations being left open overnight – is something that is open to the whole industry to encourage new and different thinking as to how we tackle public safety around these excavations.
Unfortunately, incidents do occur that result in injuries to members of the public, and the traditional exclusion measures currently in place, such as barriers, are regularly subject to damage from weather conditions and vandalism, which increases the risk to people in the communities we work in every day.
Since the introduction of the New Roads and Street Works 1991, we've seen improvements in training, barriers, covers and housekeeping around the holes that are dug. What we haven't seen is any progress to address the real issue – an excavation left open. That's what this challenge is aimed at.
Amey is a big player in the industry but, with an estimated 4 million holes dug a year to carry out essential maintenance, repairs and upgrades across the sector, we can only play a small part in tackling the issue. That's why it's vital to bring more people on board: the more we have involved, the better the opportunity is for industry improving together.
It also means that we can be open to thinking from those not directly involved in our industry – universities, schools and colleges, as well as other sectors. We certainly don't hold all the answers and there are some very clever people out there who may hold a brilliant, simple solution to an age-old issue.
It's why we think 2020 is also a very achievable date, and we're looking forward to working with manufacturers and developers later this year to bring the best ideas to fruition. We'll be offering a financial, commercial partnership for those ideas taken forward to allow us to trial and develop them before potentially rolling them out across our accounts in the new year.
Across both initiatives, the knock-on effects have the potential to bring some real benefits: reduced excavation times and less disruption to local communities, plus collaboration and innovation across both our own and other industries where these types of tasks are carried out.
These improvements, and a better perception of the utilities industry, will improve customer satisfaction ratings for our clients – an important benchmark for them with their regulators.
Amey also works in the highways and rail markets and we will be able to share and take the learnings into these sectors too.
Ultimately, we know it's the small ideas that can sometimes make the biggest difference, the ones that allow us to continually improve the services we deliver. Someone has to 'put the first shovel in the ground' and take the first step in order for the industry to improve standards, but we're hoping that people come together across utilities and beyond to tackle this challenge, which will help us to make the communities in which we work safer for years to come.
To submit a proposal or find out more about the challenge, email utilities2020challenge@amey.co.uk – the closing date for submissions is 19 July 2019
This article originally appeared in the May issue of WET News