The role of safe digging in the UK's economic recovery
The UK government looks set to invest heavily in large scale infrastructure in a bid to try and kickstart the economy. Here, Richard Broome, MD at LSBUD, analyses the vital role safe digging will play within this boom of activity.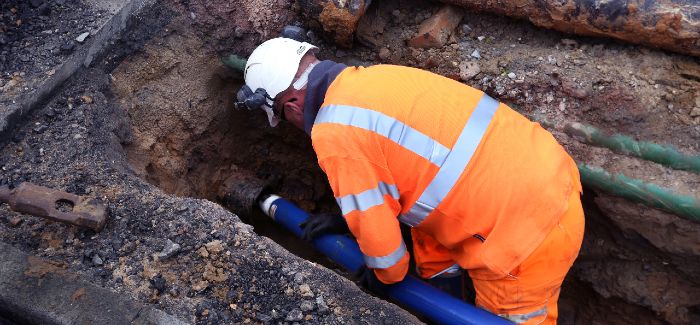 The past 12-15 months have been incredibly uncertain for all of us. This is true on a personal level, as well as an economic one. Still, the end of this uncertainty appears in sight and there's plenty of reasons to be optimistic about the future, especially given how well the UK's vaccination rollout programme is going.
With more and more of the UK's population receiving their jabs each day, the government is well aware of the urgent need to stimulate economic recovery. In weighing up where the strongest possibilities lie, the government is planning to redress Britain's historic under investment in infrastructure with over £600 billion of gross public investment over the next five years.
The road to recovery
In January, Chancellor Rishi Sunak included investing in infrastructure as one of his three key pillars to drive economic growth as we emerge from the pandemic. This was reflected in his recent budget, which announced plans to launch a new National Infrastructure Bank to finance schemes. The bank will launch with £12 billion in capitalisation and aims to attract up to £40 billion of private investment into projects.
When this is coupled with the £640 billion (over five years) that was set aside in the 2020 Spring Budget for the 'Build Back Better' campaign, reinforced in the March 2021 Policy Statement, which includes road, tunnel and rail projects, as well as investment in the renewable energy sector, the intention is clear.
In addition, the private sector plays a vital role in achieving the UK's infrastructure ambitions. Much of the UK's economic infrastructure is privately owned and over half of the UK's infrastructure pipeline is forecast to be publicly financed. Historic levels of investment will be required in UK infrastructure in the coming years to maintain and upgrade networks to meet the government's objectives for economic growth and decarbonisation.
Don't dig blind
It's crucial that we don't get carried away with an increase in infrastructure projects to the point where safety is neglected. We simply can't let that happen.
It's important to bear in mind that with so many projects set to take place, the risk of people hitting underground pipes and cables goes up. We know that the water industry is acutely aware of the consequences that come with hitting pipes, but as more work comes in, time pressures might creep in with negative results for all concerned.
The one thing which must not be cut from any protocols is performing a quick and easy asset search as part of any organisation's safe digging practices. This is not only good health and safety practice, eliminating unnecessary risk on site and keeping workers safe, but it also keeps projects on track and contributes towards regulatory compliance and customer service.
The consequences of strikes
Future projects are often dependent on the previous one finishing on time. If you are delayed due to pipes or cables having been struck during excavation, there are likely to be significant penalties, as well as a direct impact on the success of the next project. Time really is money, and this is certainly going to be the case as the volume of work ramps up.
There are also financial ramifications to think of when an asset is struck. Underground assets need to be repaired when they've been hit. Beyond this, there are indirect costs, such as traffic disruption and loss of custom to local businesses which must be factored into the final bill. According to research by the University of Birmingham, the true cost of an asset strike is 29 times the direct cost; so, for every £1,000 of direct repair cost arising from a utility strike, the actual cost is £29,000.
For larger contractors, hitting pipes and cables could result in a costly bill, a loss of contract or the incident may hinder it during the tender process on future projects, depending on the severity of the strike and negligence on display. At a time when work will likely be flooding in, this type of financial and reputational damage would have a significant impact on any business' bottom line. Few firms want to be in that position.
As well as the human and financial impact, an asset strike can also result in considerable reputational damage to the company involved. For the utility company, any damage is likely to cause disruption to their service, which impacts customer perception and satisfaction, both important regulatory performance targets. Whilst, for the worker, contractor or company, people in the local areas will often find out who is responsible for the outage via social media, with complaints and comments quickly reaching a mass audience - especially if there is a gushing water feature as seen in recent incidents in Leicester and Morley.
What the water sector has to do
Given the 'digging boom' the UK is set to experience, asset protection is more important than ever. When you throw in the introduction of PR19 by Ofwat to reduce leakages by 17%, you would have thought asset owners within the water sector would be doing all they can to protect themselves against third party strikes. Sadly, this is not the case. In fact, just 10% of the UK's water networks are visible to those digging through LSBUD, leaving 350,000 kilometres of water pipes at constant risk of being hit.
If every water company were to join a system such as LSBUD that provides the location of all the UK's underground infrastructure – including water and gas pipes, electricity and broadband cables, and oil and chemical pipelines – then a search for assets prior to excavation work taking place would greatly minimise the risk of damage occurring. This quick process would better protect our underground networks and keep safe construction workers, contractors, and members of the public.
By joining a central system, asset owners would benefit from the 'safety of the herd' effect. In essence, the greater the number of asset owners sharing their information, the greater the number of enquiries every utility company receives. Indeed, utility providers using the LSBUD portal often see more than a 10-fold increase in the number of searches for their assets.
For anyone involved in the water sector or those involved in large scale infrastructure projects, these are certainly exciting times. There are going to be plenty of opportunities up for grabs. Therefore, it is so important that things run smoothly now and as momentum starts to build. You don't want health and safety incidents, delays on site, loss of contracts, tenders being impacted, huge bills to pay or damage to your reputation. All things which can result from a needless, highly avoidable underground asset strike.
A quick and thorough asset search before digging commences must be your company policy for tasks large and small. No digger or spade should hit the ground before everyone knows what's there. It is not just a case of building back better but also building back safely.