The price of water
As part of our Utility of the Future campaign, Robin Hackett looks at whether low water bills can be maintained long term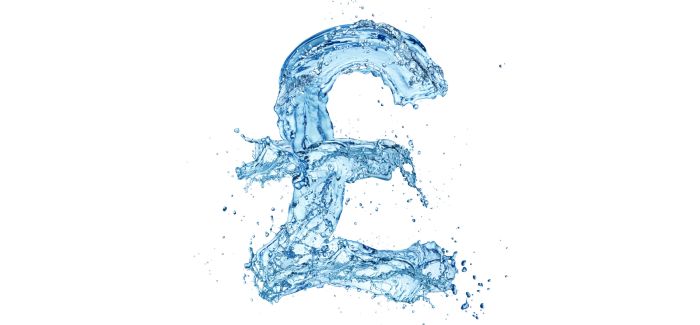 PR19 plans
Ofwat made the following announcements when publishing the details of its draft determinations in July:
• Bills are expected to fall by 12 per cent in AMP7, which represents an average £50 reduction before inflation
• Nearly 1.5 million customers will get help with water bills through social tariffs and WaterSure
• Companies are set to spend £49 billion on business as usual services and new investment and an extra £12 billion to improve services for future generations
• Companies are expected to cut leakage by an average of 17 per cent
When Ofwat announced its draft determination decisions for PR19 in July, it said it expected bills to fall by 12 per cent before inflation over the course of AMP7.
With the sector facing significant political pressure in addition to the concerns over the impact of water debt, reducing the amount customers pay seems a logical solution.
Yet climate change and population growth mean companies are now facing up to the need to not only spend out on greater levels of resilience but to encourage the public to place greater value on water, and many in their supply chains are already struggling with low margins.
Faced with such significant challenges, is it realistic to believe low prices are sustainable in the long term?
Rising costs
At a time when the privatised water industry faces a battle to justify its existence, lowering bills is an obvious means of winning public support, but the move comes at a challenging time.
Water companies are under heavy pressure to boost resilience, including cutting leakage by an average 17 per cent in AMP7 as well as potentially making substantial investments in major infrastructure such as reservoirs, desalination plants, water grids and drainage systems.
Last year, the Institution of Mechanical Engineers (IMechE) issued the 'Water: Drought and Flood' report, looking at how climate change may impact on the UK water industry. It suggested consumers may ultimately have to pay more for their water bills due to the spending required not only on new assets but also on treating and managing water supplies.
"One of the things you find in periods of drought is that people actually use more water," IMechE head of engineering Jenifer Baxter says. "They want to water their gardens more and they shower more because it's hotter.
"That means you have to deliver more water to homes, and to do that you're having to deliver it from reservoirs and water storage areas that have less water in them. You have to push more water down pipes faster, which requires greater use of pumps and more compression, which also requires you to use more power. The increased water flow also means you need more chemicals to clean the water faster at the plants.
"That all increases the cost of what you're doing. In addition to that, there's the expense of the ongoing repairing of pipes in the system."
Baxter suggests more could be done to mitigate the impact of climate-related issues, such as installing more greywater recycling systems in domestic properties and adopting more co-ordinated approaches to flood prevention, including widespread use of nature-based solutions.
Even if those actions are taken, though, bill increases may be unavoidable given the extent of the investment that may be required.
"You would hope that bills wouldn't need to rise if companies take the right approach, but price rises are based on a whole raft of different issues," she says. "In the South East of England, for example, water companies have to work much harder to manage water supplies and that is likely to increase the cost in the future."
Valuing water
There is also an argument to suggest that lowering bills could work against efforts to drive down per capita consumption (PCC).
In 2014, a New York Times article headlined 'The Risks of Cheap Water' presented data indicating that water use in most wealthy countries correlates to cost. "Getting the water price right to signal scarcity is crucially important," David G. Victor of the University of California, San Diego, told the newspaper.
In Australia more recently, the Independent Pricing & Regulatory Tribunal's draft determination for Sydney Water in the 2016-20 period saw prices for domestic water use fall 13.5 per cent; total consumption was then shown to have risen in 2016, 2017 and 2018, hitting heights not seen since the early part of the millennium.
However, the situation may not be as straightforward as it appears. Sydney Water suggested the increased usage was down to hot weather in 2017-18, and Waterwise, the UK-based water efficiency NGO, believes there are several factors in play.
"Whether water is too cheap depends on who you are and who you ask," Nicci Russell, Waterwise's managing director, says. "I think valuing water is more around how we all relate to it – its importance in our everyday lives and for the environment.
"It therefore links directly with how companies engage with customers, and how they publicise and deliver on their commitment to improve the environment. Price is part of the picture, but it probably doesn't even register for quite a few people. It's certainly not just about that."
Increasing cost in an effort to drive down usage may cause other problems. The Joseph Rowntree Foundation's 'UK Poverty 2018' study found that the most common types of debt for those with low incomes are water bills and council tax, followed by rent and other utility bills.
"You could increase the cost, which might make people think much harder about it, but that means you might end up with an unfair situation for those who can't afford it," IMechE's Baxter says.
"There are so many interrelated elements to it around social equality and making sure everybody has access to water. What we've not done is emphasised the value we should place on water as a society."
One emerging approach that could help to balance these complex issues is to use a 'capitals' approach.
Pioneered in the UK water sector by AECOM for Yorkshire Water, it provides a framework for quantifying and reporting the impacts and dependencies of water companies on environmental, social and economic issues.
The capitals approach allows water companies to quantify and measure their impact on the environment – demonstrating the extent to which they are improving river water quality, managing upland ecosystems to secure water supplies and reducing carbon emissions – as well as the implications for social issues such as the higher water prices and levels of water poverty, changing levels of trust between consumers and water companies, or changes in the quality of place of local communities through the provision of recreational areas or reductions in flood events.
At the same time, it looks at the economic impacts of these decisions in terms of investment and revenues, costs and employment opportunities. The capitals approach makes clear the importance of water to all aspects of society and how these values can be used to make better, more transparent decisions.
"Integrating social and environmental factors into decision-making about investment choices will help the water sector to successfully negotiate the range of challenges it's likely to face in the future," Chris White, principal environmental economist at AECOM, says.
"Water companies are planning up to 25 years in advance, so the investments they make now must be resilient to factors such as climate change, changing client expectations and demand."
Greater levels of water efficiency could also help, since it can improve resilience while driving down bills.
Northumbrian Water, for example, has a project that involves visiting customers' homes to offer advice on saving energy, water and money, tying into the company's water poverty eradication efforts (see below).
"They're also developing a digital platform, which is about how they engage with their customers, and tying that in with their zero water poverty commitment," Russell says. "For them, water poverty and water efficiency are two sides of the same coin."
Russell also highlights Thames Water's scheme offering cash boosts to water retailers if they encourage business customers to be more water-efficient, which has proved more cost-effective than finding new water resources.
"I think there's a huge opportunity for water companies to help their non-household customers be more water-efficient, and that in turn will help ensure that everybody's bills don't have to be massively hiked to pay for great big resilience mop-ups," Russell says.
Low margins
For many in the water industry supply chain, the lack of money has been a longstanding problem.
With return on investment low, spending on research and development is limited, while staff retention and recruitment can be extremely difficult with better salaries on offer in other sectors.
"The sector is a victim of its own success," Ian Small, innovation champion for AECOM's civil infrastructure division across UK, Europe, Middle East and Africa, says.
"The industry is never going to be able to get customers to agree to put the bills up, so it's either going to have to bring about a step change in how it delivers or accept the sector is going to get squeezed, which could result in less qualified staff because it can't pay the salaries of the top people."
This summer, Balfour Beatty issued a position paper that proposed some potential solutions to the problems facing the supply chain.
Titled 'Two Sides of a Coin', it backed Ofwat's ambition to increase investment while keeping bills affordable but expressed concern that the current balance of risk and return could lead to increases in the costs for consumers over the long-term by disincentivising investment in innovation and skills, and simultaneously destabilising the supply chain, making it less productive.
"The cost of water, and the stability of the industry more generally, is under pressure to ensure it meets increasing demands linked to population growth and the requirement to upgrade ageing infrastructure," Mark Bullock, Balfour Beatty's chief executive officer for rail and utilities, says.
"These pressures will develop over time and change as the world does. To manage and mitigate the risks coming from these pressures, the water industry needs to innovate and evolve with a long-term aim of lowering water costs for customers. We believe that without a sustainable supply chain, which is able to innovate and attract new talent, costs to customers will not reduce."
The paper makes a series of recommendations, including the need to deliver sustainable margins, provide enough certainty to facilitate investment in R&D, address the skills gap and facilitate greater collaboration.
"At an industry level, to reduce costs of delivering water, we need to change focus from low-cost bids to an understanding of the practicalities of delivering the project," Bullock adds. "There needs to be better recognition of the output required to deliver schemes in an efficient and effective manner.
"Currently, the relationship between those commissioning projects and those delivering them is underpinned by an unbalanced combination of risk and reward due to this lack of understanding or mismatched priorities. This ultimately results in a supply chain that is unable to invest in innovation or skills that would otherwise help shape the future of the sector. As it stands, the uncertainty of repeat and new business in the industry limits the desire to invest in anything other than the job at hand."
He adds: "Innovation will be the way in which the sector will mitigate continued significant increases in water prices over the long term for the customer. It offers the best way of ensuring that the £50 billion of investment planned by water companies between 2020-2050 is spent as effectively as possible, while delivering the 21st-century water infrastructure the country needs."
Future
In AMP7, UK water companies will have little choice but to find ways to get by with less income, but the longer-term picture is less clear.
In 2016, a report commissioned by Water UK suggested that the additional cost of making our water supplies more resilient would be around £4 per household each year, while the most widespread situations of severe drought could cost each household more than £100. The National Infrastructure Commission, meanwhile, calculated last year that while the cost of investing in drought resilience may be around £21 billion, the cost of not doing so could be £40 billion.
If the sector falls short in its preparations, the result may be that costs – and customer bills – increase substantially when pressures bite.
"It's certainly the case that valuing water isn't just about price," Waterwise's Russell says, "but it's also clear that price of water may go up in the future if we don't start valuing it more."
NORTHUMBRIAN WATER GROUP'S WATER POVERTY ERADICATION MODELLING
By Graham Coulson, performance & insight analyst BI lead in intelligence & analytics team, Northumbrian Water
"Northumbrian Water Group (NWG) is dedicated to eradicating water poverty across our operating areas by 2030. This goal, as set out in our 2020-2025 business plan, supports our commitment to providing affordable and inclusive services for all by delivering an unrivalled customer experience.
"Using data science for continual monitoring means we can successfully accomplish our goal. Historically we have estimated volumes of customers in water poverty, but without a reliable picture at individual account level. We recognise that realising this ambition demands access to truly actionable insight.
"This led us to our Water Poverty Eradication Modelling (WPEM), which was established in 2018 with the overarching aim of providing intelligence via innovative use of leading-edge machine learning techniques and toolsets to channel our ocean of big data.
"Modelling allows us to detect customers currently in trouble and – significantly – triangulates contributing factors to anticipate when customers may become water poor. Consequently, we are able to take pre-emptive measures to support customers before they suffer the stress of falling behind on their water bill.
"We set out with four key objectives:
• Determine our current water poverty landscape – to eradicate this problem we must first clearly understand the scale of the problem
• Identify patterns and trends – interrogating our datasets to identify those factors which dictate/predict water poverty
• Provide sustainable analytical models 'owned' by NWG – previous work indicates 18.4 per cent of our households (i.e. 370,000) spend over 3 per cent of disposable income on water and sewerage services but reproducing this information regularly is currently a costly exercise
• Deliver predictive analytics to drive business decisions and increase customer engagement. This includes altering tariffs and targeting marketing campaigns based on WPEM findings – offering proactive rather than reactive support to customers who may be struggling to pay
"Typically, the UK water industry has a reliance on credit reference agencies in terms of water poverty data and accessing insight required to make true impacts. This is inefficient and expensive.
"To mitigate this, NWG has developed a unique neural network (WPEM). The neural network itself is not a single algorithm but rather a framework for many different machine-learning algorithms to work together and process complex data inputs. Such systems 'learn' to perform tasks by considering examples, generally without being programmed with any task-specific rules.
"Whilst the modelling was led internally by the intelligence & analytics and litigation teams, we benefitted from NWG's ongoing commitment to partner with higher education. An undergraduate 'intern' from Newcastle University joined the intelligence & analytics team, supplementing in-house capability and taking a central role in successful project design and delivery.
"This arrangement is a great demonstration of these mutually beneficial engagements fostered by NWG. The WPEM initiative and NWG teams have benefitted massively from the leading-edge machine-learning techniques and energy brought by our intern, while they've gained valuable opportunities to apply data science practically in an industry setting.
"By applying our own, sustainable machine-learning models against our customer big data, we are gaining a 360-degree view of our current water poverty situation, alongside the ability to forecast and take preventative rather than remedial action.
"Tackling the issue of bad debt now, as Ofwat advise, will reduce our costs and make bills more affordable for all customers. Bad debt currently adds an estimated £21 p.a. to each customer's bill.
"Our modelling enables intelligence-led decisions, stretching our ambition to lead the sector in addressing water poverty. In addition, by reducing reliance on credit agencies' data services, NWG will realise sustainable savings every year.
"The model is applied to over two million existing NWG accounts. Over 30 different variables are used to predict customer groups and individuals at risk and simulate various billing scenarios to calculate the impact of different tariff changes with regards to water poverty.
"Testing/validation of the model against known income/expenditure data has provided high confidence levels – the model successfully identified 83.3 per cent of customers in water poverty. That said, WPEM is designed to provide continuously improving accuracy, its algorithms configured to learn over time and accommodate new data sources as these arise to refine trending and the application of optimal affordability tariffs.
"WPEM also pinpoints worst-affected areas geographically, allowing better targeted marketing campaigns, increasing customer engagement regarding affordability/payment methods and driving efficiencies.
"In meeting these objectives, WPEM provides an innovative solution, delivering insight to our teams in support of our main aim – looking after our customers who may be most in need of our help – before any financial or emotional burden becomes too serious."
This article originally appeared in the October issue of WWT