The Power of Drones for the Water Sector
Unmanned aerial vehicles (UAVs) better known as drones, have proved their value in many industrial applications and are now bringing multiple benefits to the water sector. Here, we look at some of the applications that are becoming more popular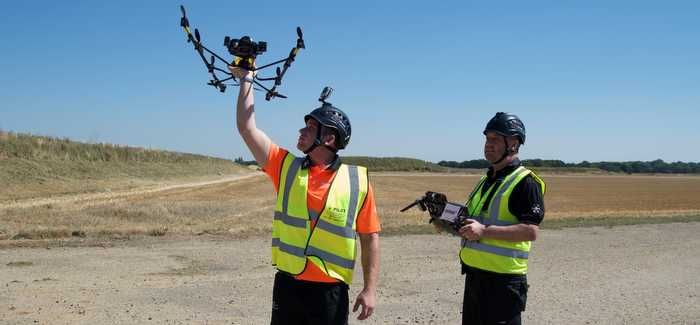 Case study: Anglian Water tackles leaks with UAVs
Anglian Water recently used UAVs with thermal imaging to address leakage issues as part of a pioneering project. Defects and issues with underground piping are picked up easily by thermal cameras, which show the temperature difference between escaping water and the surrounding earth. This means that even the smallest leaks can be precisely located - so excavation works and service disruption can be minimised. GPS means that the UAV can re-visit areas of concern precisely to monitor how things are changing on a minute-by-minute, hour-by-hour or day by day basis. A UAV can be launched in matter of minutes and deliver real-time high definition footage and thermographic data to an inspection team.
Chris Utton, Anglian Water's Intensive Leakage Manager said: "We already have one of the lowest leakage rates in the industry – around half the national average, but we're not resting on our laurels. Customers told us reducing leakage was important to them and that's why we're investing in the latest technologies to spot and fix more leaks than ever before.
"In 2015/16 we achieved our lowest ever level of leakage, beating the target Ofwat set us by 3%. But it's not about meeting regulatory targets, it's about beating them; it's the right thing to do for our customers, the environment and increases the region's resilience to drought.
"By using the latest thermal imaging and drone technology we are working to drive down leakage even further whilst keeping customers' bills affordable. Each drone flight that detects a leak can save Anglian Water up to £7,000 in water lost through leakage and can save tens of thousands of pounds if the leak can never be identified using traditional leak detection and the pipe is then replaced."
by David Williams, Principal Compliance Officer, Texo Drone Survey and Inspection Ltd
UAV technology for inspection services and aerial survey work has made dramatic advances over recent years, and the pace of progress remains unrelenting. Across a range of industries – from oil & gas to food processing and water - the technology has been transformational in terms of monitoring and maintenance regimes, adding greater commercial value and engineering accuracy and proving itself against so many long-established ways of working. UAV technology allows assets to be inspected while they are live – unlike traditional methods of inspection, which involve rope access or scaffolding.
The accessibility and capability of the mission-critical data gathered for asset integrity inspections has been a 'game changer'. It is not just the savings in terms of time- and cost-efficiency that are decisive, but the numerous operational benefits that include improved monitoring and planning and the removal of risks to personnel. The versatility of the technology means that it delivers equally impressive operational and commercial benefits to a range of sectors – not least the water industry.
What are the applications of UAV technology – and the benefits?
Most people immediately think of close visual inspection (CVI) when they think of drone technology. CVI generates thousands of images and high-definition video of a particular asset, providing data to inform engineering decisions in a fraction of the time that it would take a manual access team. The detail picked up by onboard cameras is minute: even the smallest hairline cracks and defects on an asset are made crystal-clear. The level of detail coupled with the ability to review, slow down, and replay footage means that highly detailed inspections can be carried out to identify problem areas, common difficulties, or regular maintenance requirements. It also means that repairs can be precisely planned, based on the level of detail acquired; once again this brings further savings in the form of vastly improved planning.
However, the technology goes way beyond CVI to include a spectrum of different but complementary applications that include, among others, thermography, thermal gas detection, optical gas imaging and hyperspectral investigations of structures, LiDAR surveys and precise information modelling. Quality, quantifiable and actionable data is the key principle at the heart of precision inspection by UAV. Texo DSI inspections are supported by a bespoke cloud portal system that allows data to be hosted by the company. The use of the portal enables the direct comparison of historical inspections and interaction with data sets, and analysis tools also generate classification by fault type across a client's entire portfolio. Data can be generated not just for localised reporting but also regionally and even globally.
How versatile is the technology?
More detailed applications involve the use of multiple UAV platforms with dual payloads that use a variety of high-quality, factor calibrated and interchangeable lenses that are tailored to meet varying requirements. Thermal systems can cover everything from coupled structural thermal analysis to hot spot identification, leak detection and non-visual water ingress detection. Visual and thermal aspects can be combined in one inspection or survey for maximum efficiency. Using advanced flight control, highly detailed orthomosaics can be stitched together seamlessly using advanced software systems - to allow for an overview of the specified target area - with the ability to magnify and observe the smallest details.

How do UAV applications benefit the water and wastewater industry?
This technology can be used in the water and wastewater industry to inspect the condition of assets that are often expensive and hazardous to access using traditional techniques. With the focus of water companies on environmental protection, improving services and keeping bills low, UAVs represent an attractive option as they offer huge time and cost efficiencies. It is all about providing evidence of how assets are performing.
Apart from pipelines, other assets such as outfalls and sewer crossings can be inspected to spot signs of failing components, joints, pipework and beams. Again, UAV technology not only delivers quantifiable safety benefits (by removing the need for personnel to gain access to locations), but it also avoids the disruption and costs involved in time-consuming and expensive manual access solutions. Entire sub stations and assets can be inspected and recorded to unrivalled detail. On a larger scale, complex geographical areas such as river banks and coastal areas can also be inspected and surveyed – again with huge savings.
How does the technology deal with day-to-day issues?
In the water industry, UAV thermography offers some truly compelling benefits in relation to leaks. It is generally estimated that more than 3 billion litres of water are lost each day due to leaks in the water network across the UK. Although some leaks are easy to spot, others can go undetected for months or even years.
A traditional camera for the visible spectrum discovers only a fraction of the defects, or records only areas with visible damage or leaks. However, by using highly-advanced sensor technology mounted on bespoke UAV platforms, a wide range of detailed and quantifiable survey applications are possible.
There are a number of advanced sensors deployed on UAVs that can be used in the water industry. For example thermal, optical gas imaging (OGI) and multispectral systems can all be used in leak and water ingress detection. Visual, thermal, OGI and multispectral aspects can be combined in one inspection or survey for maximum efficiency to remove and doubt and false positives.
Which other water industry assets can be inspected and surveyed?
Large and complex structures and geographical areas such as water treatment works, river banks and coastal areas can also be inspected and surveyed. UAV surveys are 10 times faster than contact-based surveys, and provide a welter of high-definition images. 
3D models of assets and landscapes can be created using UAV mounted LiDAR scanners.  Accuracy of data in conventional LiDAR UAV surveys is generally to around 40 mm; investment and development of UAV vehicles and associated survey software has led to Texo DSI Ltd achieving accuracy of sub 5mm in its survey grade LiDAR.  This is delivered via its custom-built UAV platform that measures over 1,000,000 measured points per second and gives Texo DSI Ltd the most accurate UAV deployed survey grade LiDAR system in the world.  It means that companies can get quick and highly reliable surveys of entire assets and topographies in a fraction of the time that it would take a traditional survey team.
Conclusion
The versatility of UAV survey and inspection and the engineering data it provides make it a truly compelling technology for the water and wastewater industry. Applications that have been honed and perfected in sectors such as oil & gas are bringing new benefits in the form of engineering certainty, time-and cost-savings and improvements to maintenance and repair regimes. All of this means that UAV technology is set to become a vital component in the drive by water companies to improve customer service and the efficiency across all of their operations.