The path to zero harm
Six years ago Murphy embarked on a mission to ensure the health and wellbeing of all staff. And, reports Yvonne Bennett, it has had a hugely positive impact across the company.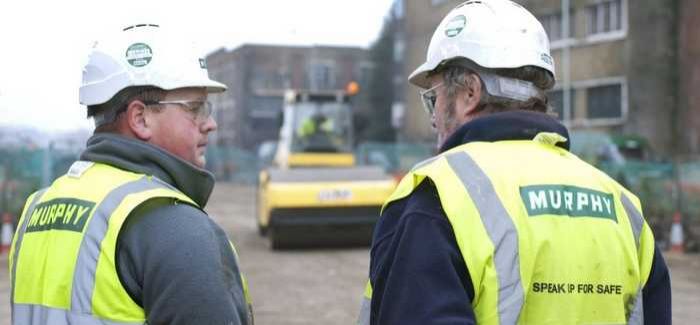 The programme incorporates tailored industry-specific examples that employees can relate to
The process of effecting a cultural change begins with understanding the attitudes of the individuals that make up a company. In turn, those attitudes stem from the conscious and subconscious choices of people at all levels in the company.
The target of a zero harm culture is totally dependent on the inter-relationship between systems and people − one cannot be successful without the other.
In 2006, Murphy embarked on a Safety & Culture Change Programme recognising that one hit safety training would not achieve sustainability. A pilot programme called +people® was trialled in Murphy's Golborne and Cannock offices.
Our mission was to ensure the health and wellbeing of all Murphy personnel, clients, subcontractors, and safeguard the public. The programme is all about real people taking responsibility and ownership for safety.
Such was the initial success that a board level decision was made to embark upon a phased roll-out of an extension to this programme to the rest of the company to engage with all 3,000 of Murphy's workforce. Clients and subcontractors are encouraged to take part including joint ventures like KMI Water for United Utilities.
The programme is based on a unique blend of strategies and tools including positive psychology, NLP (Neuro-Linguistic Programming) and industry best practice. Further internal development of the programme incorporates tailored industry-specific examples that employees can relate to.
Since the initial roll-out Murphy has held more than 50 Hub Day sessions that bring together board members and employees from a cross section of the business, office and site-based, contractors, sub-contractors, suppliers and clients. Delivery is achieved by our in-house dedicated resource, and trained coaches from operative level within the business.
This is the starting point of the communication about our zero harm culture and has involved 1,900-plus people to date. The Hub Day provides the mental tools to make better choices that can be put into practice either on site, at the office or home.
The programme is succeeding where other initiatives previously have not due to the degree and quality of the engagement. This has created volunteers from every level of the organisation to become actively involved as Focus Leaders as well as Coaches, who are the programme Champions. It goes beyond traditional approaches such as cautioning or policing behaviours focusing on the thinking process that come before the behaviour.
By engaging with people in a way that ensures they make the right choices in the first place, the potential for harm is reduced. With real life examples, when you see what barriers and limitations we place on ourselves as human beings, you can see how to remove them and the conditioned behaviour we all have.
Long-term sustainability is achieved and challenges the old belief that H&S is a priority. In reality, H&S should be a core value for any civil engineering or client facing organisation; the key is that the approach is supported by a highly visible leadership team who recognises that culture starts at the top of the organisation, thus they lead by example encouraging everyone within the organisation to "Speak up for Safety" and provide feedback about our operations.
What we are achieving is the promotion of safety as the core value and creating a coaching community with a common goal. This will help us to attain a generative culture, therefore we are not limited to achieving zero harm in H&S, it applies to everything we do as a business.
Murphy's in-house delivery team of coaches, known affectionately as Mrs Bennett's Boys, are a team of six who from expressing an initial interest in becoming a focus leader, have grown immeasurably through in-house training and development to become the collective faces of our "Speak up for Safety" programme across the business and to our customers.
All retain the day jobs within Murphy, so coach part-time. This keeps them close to the real challenges of the business and ensures the relationships with the teams continue.
The team includes John Moore who has worked for Murphy for more than 22 years and is one of the original coaches; Karl Edwards, who works on safety critical rail schemes by day, Gaz Riding who works in Golborne's Plant & Transport department; and Justin Smith, a rail supervisor on the GSM/FTN contract in the North-west.
Because it is being delivered by people on the ground who have seen the benefits it can offer and want to share the story with others, the programme works well. They all have a natural rapport with the audience and tell the story in a non-preaching, engaging and down to earth way.
Most importantly the relationship between coach and individuals can break down barriers and ensure that the individual is encouraged to speak up for safety without fear of retribution.
Major clients including United Utilities, Hochtief, Crossrail, National Grid, Network Rail and Wales & West Utilities have been exposed to our programme; some are now working with us to facilitate joint Hub Days attended by sub-contractors and the supply chain.
The Murphy C310 Crossrail project team held two Hub Days attended by 186 operatives. Eighty eight subsequently volunteered to be focus leader volunteers. A Hub Day at Wales & West Utilities was attended by a cross section of 150 people championed by its health & safety manager Mark Benton. There are plans for 20 more additional Safety "Step Up Days" throughout 2012.
To date the roll-out has resulted in exemplary health and safety performance and has made a real difference in changing attitudes and behaviours. The Golborne team for example have achieved more than 3.5 million man hours worked without a RIDDOR, reportable incident and over (the equivalent of 1,500-plus people working safely for one year). Murphy was also recognised for its ongoing commitment to occupational health and safety at the SBWWI Awards 2011, winning the Health & Safety category.
Positive and measurable results include:
Reduced AFRs, LTIs and RIDDORs
Increased H&S awareness that is sustainable and holistic
Increased business – jobs done on time and safely
Increased staff retention (a happier and safer workforce)
Integration into client specific H&S initiatives
It has been positively received by all staff involved to date. The company's trust in it has been reiterated with a commitment to invest time and financial resources to enrol and engage employees over the next two years by the board. The results and the changing attitudes and behaviours that have resulted in our industry leading and exemplary health and safety statistics is encouraging as we continue on our path to achieving a zero harm culture.