The leakage challenge
With water companies facing tough challenges around reducing water leaks, Alec Peachey caught up with experts from Northumbrian Water, Southern Water and Thames Water to find out more about the work they're doing in this area.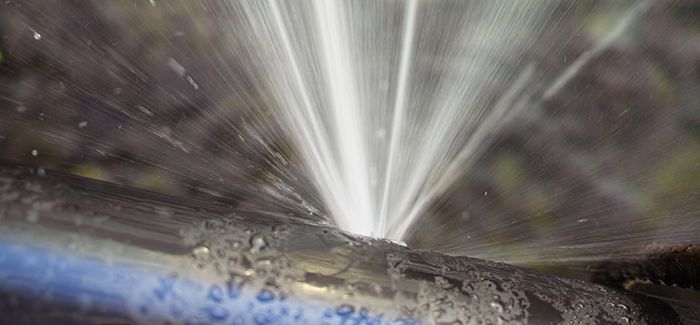 Industry views on leakage
Managing the network
Pauline Walsh, chief executive of Affinity Water, on why tackling leakage is one of the water industry's biggest challenges.
Earlier this year, Sir James Bevan delivered a stark warning that if something isn't done, there is a risk that parts of the UK will run out of water in the next 25-years. For many people outside the water sector this came as a surprise and was heard with some disbelief. But we know it is true.
Climate change combined with a growing population means the strain on our water supplies is growing year on year.
Water companies have a duty to ensure future generations continue to enjoy the high quality and reliable water supply that we provide today.
A future with insufficient resources to meet demand is a scary prospect and one that we cannot allow to happen. Significant action is required now to rise to our challenges. As a water sector we need to get better at what we do; learning, collaborating and sharing with each other and we need to do different things; thinking creatively and innovatively to come up with different solutions to our problems.
Earlier this year, the sector announced its Public Interest Commitments, which set out the sector's intention to work together towards five challenging environmental and social goals. On leakage, our goal is to triple the rate of reduction by 2030 – an unprecedented rate of improvement.
Along with Peter Simpson at Anglian and Bob Taylor at Portsmouth Water, I am sponsoring the Public Interest Commitment's leakage goal.
Reducing leakage ensures more water is available for distribution to our customers, less water is abstracted from the environment, we lower production and energy costs and reduce our impact on the environment.
At our recent newly-expanded Leakage Steering Group meeting, we agreed that one of our first tasks is to gain an understanding of what practices, tools and technologies are currently in operation across all water companies to successfully reduce leakage, particularly from those water companies that are performing well with their leakage targets. We will then create a maturity model to provide visibility of those activities, which will enable us to build a roadmap to bring everyone to those higher levels of performance. 
In parallel, we are working with UKWIR to identify innovation projects across the sector - so we are not reinventing wheels and so we can see opportunities for collaboration on projects to expedite learning or to provide scale for better results.
The challenge for many is now locating and repairing the smaller, harder to find leaks.
Across the sector, we're using big data and predictive modelling, which allows us to manage our network proactively, not reactively and to quickly spot when leaks develop. Applying innovative repair techniques means we can increasingly fix leaks without disrupting people's lives by digging up the roads.
There is huge conviction and passion in the industry to ensure we meet our 2030 leakage reduction commitment. Cutting leakage is key to ensuring we continue to meet the high expectations rightly expected of us as an industry – serving our customers and taking care of the environment now and in the future.
How we step up to address these significant challenges is going to be one of the defining issues of our industry. 
Research critical to making quantam leap on leakage
Steve Kaye, chief executive of UKWIR, talks about the importance of leakage research and how an innovation heatmap could help speed up progress in this area.
Leaks from underground pipes that carry treated drinking water have been a major political, technical and reputational issue for all water companies for many years. Since 1997, leakage has been reduced by 40 per cent but much work remains to be done as around 20 per cent of all the drinking water produced is still lost from pipes – not just companies' pipes, but from those inside homes and businesses too.
Today, customers, regulators and government expect water companies to reduce leakage much further than they have up until now and achieve those reductions more quickly too. Due to the challenging leakage targets that every water company in the UK has to deliver there has been a renewed focus on how leakage can be reduced.
The stark truth is a quantum leap will need to be made on leakage performance, which is why it is one of our big questions: How do we achieve zero leakage in a sustainable way by 2050? That big question also chimes with the Public Interest Commitment the entire water sector has signed up to – that is, it will at least triple the rate of sector-wide leakage reduction by the earlier date of 2030.
With that regulatory context in mind, we've produced a route map with circa 30 projects identified that will look at leakage with an emphasis on Prevention, Awareness, Locate and Mend (PALM). Our work is not just focused on water companies' assets but also on customers' supply pipes as demonstrated by our recent project – 'Understanding the balance between customer side usages, supply pipe leakage and plumbing losses'.
We've also recognised that a lot of individual water companies invest heavily in research and innovation to help deliver their stretching leakage targets, and not least to meet their own customers' expectations. But leakage is an industry wide issue – the whole really is greater than the sum of its parts – and so, in an industry-first, we are mapping out all the current leakage research and innovations that are taking place within the water sector (including the supply chain, consultants and academia) with the aim of sharing findings.
This exercise will, for the first time, provide an innovation heatmap for leakage research. We believe this will not only allow us to focus our own resources in areas that are not currently being explored but also improve engagement and collaboration within the industry.
I believe there is a great opportunity to take a more centralised approach to support high priority innovation for the UK water sector and our work on leakage is a shining example of that. Our big questions programme (we have 12 of them in all) provides the comprehensive framework to drive transformational change around specific challenges. It is also a place to target dedicated funding to support the end-to-end innovation process, drive greater collaboration and deliver tangible outcomes that benefit water companies, customers and the environment.
Now that is a quantum leap worth taking.
The role of innovation
Jeremy Heath, innovation manager at SES Water, discusses the role of technology in addressing the leakage challenge.
Due to the leakage targets that every water company in the UK has signed up to, there has never been such a focus on leakage innovation, nor such a requirement for our research to deliver. At present, it seems like every water company across the UK is engaged in some new research or project to try and solve the problem of water leakage; and whilst it is encouraging to see the level of interest, it's also vital that these projects are effective and cover all of the necessary areas.
Last year, I was invited to address the water industry leakage managers on the role of innovation in leakage reduction. I made it clear in my talk that there is no "silver bullet" that will solve leakage, and the simple reason for this is that leakage is complicated. I tend to use the acronym PALM to describe all of the areas that we will need to solve, if we are going to substantially reduce leakage.
P stands for prevent. The easiest way to reduce leakage is to stop it occurring in the first place. This means being able to lay new plastic pipes that don't leak, understanding the causes of, and then minimising pressure transients (which can cause bursts) in the network and also reducing network pressure to an absolute minimum. In addition, it means the effective assessment and replacement of worn out mains assets before they begin to leak.
A is for awareness. Once a leak does occur, it is vital that the amount of time it runs for is minimised. There is a wealth of analysis tools now available to companies, which allows them to understand when a leak has broken out in an area. However, the latest algorithms and artificial intelligence solutions appear to provide a level of understanding not previously seen before. The new IoT sensor networks that are currently being trialled will also allow companies to react in shorter time periods and with increased confidence once leaks have broken out in an area.
L stands for locate. Once a company is aware that leakage has broken out in an area, they need to quickly and accurately locate the leak. Traditionally this has been carried out by acoustic listening techniques, and in recent years we have seen a rapid development in the capabilities of this technology. We have also seen a growth in non-acoustic methods of detection, which are particularly valuable on plastic pipes, where leak noise is quickly attenuated.
M is for Mend. Once the leak has been accurately located, we need to carry out a repair. At present, the vast majority of our repair methods require both a large excavation and substantial disruption. Research is currently underway to develop micro-excavations, non-intrusive methods and advanced repair techniques, which would not only greatly reduce the amount of time it takes to carry out the repair, but also minimise the disruption that the repair work has on the general public.
In order to prevent duplication of effort and to enhance collaboration, we are currently carrying out an exercise to survey all of the UK water companies on their leakage innovation research. This exercise, which has the backing of the water company CEOs, will generate for the first time a leakage innovation heatmap for the UK. Solving leakage is complicated, but the research and development currently taking place, will undoubtedly place the UK water industry in the best place to meet this challenge.
Ahead of this year's WWT Smart Water Conference and Exhibition Jeremy Heath will be co-hosting a pre-conference workshop entitled 'Smart Ways to Tackle Leakage in AMP7'. The pre-conference workshop will take place on 10th March with the conference taking place on the 11th. For further information visit https://event.wwtonline.co.uk/smart/
Participants: Martin Lunn (ML), head of water service planning, Northumbrian Water; Phil Tapping (PT), regional demand manager wholesale water services, Southern Water; Tim McMahon (TM), head of water networks, Thames Water.
Q. What are some of the key challenges facing water companies as they try to reduce leakage?
ML: "There are a number of challenges facing the water industry as it works to reduce leakage. These range from an ageing network with millions of potential failure points to the availability of skilled leakage technicians. We are also dealing with more extreme weather conditions, which exacerbate the challenge."
PT: "Efficient methods of working, training and retention of skilled labour to undertake leak detection and repairs to the water network. Accounting for all water usage and obtaining accurate household and non-household consumption. As leakage is driven down, it becomes more difficult to find and very expensive to fix."
TM: "Looking forward, there are a number of emerging challenges as we reduce leakage to new all-time low levels. It is likely that leaks will be smaller on average, which will make them more difficult to find. It will also mean that the number of leaks we will need to repair to achieve a given reduction in leakage will increase, making leakage reduction more labour intensive and costly."
Q. How are you tackling the challenge?
ML: "We are working in full compliance with the new reporting guidelines, but using a number of techniques to tackle leakage. These include optimising pressures in the network, using advanced data analytics to improve the detection of leaks and improve the efficiency of the workforce. Also, we are investing in technology like noise loggers, smart meters and satellite detection, while the subject of leakage has been a focus of all three of our Innovation Festivals."
PT: "We're investing in innovating, training and developing people, and in technology and systems, to both monitor and forecast leakage levels. We're building framework agreements to meet the demands of the above with our service partners. AI and data analytics play a crucial part in forecasting leakage, weather patterns and the general state of our network. We use all elements of the supply chain to deliver efficient working methods and we're using acoustic logging practices and putting more people on the ground to find more leaks. Planned schemes are in place to deliver mutliple benefits, along with leakage and other ODIs."
TM: "Reducing leakage is a top priority for Thames Water and our customers and that is why we have delivered a 27 per cent reduction in leakage over the past 15 years. However, we want to do even better, so we have ambitious plans to do this backed by a strong focus on our performance. Our plans centre around two key areas. First, innovation and improving the productivity of our leak repair work. Second, improving our data to help us work smarter."
Q. How vast is your network and what sort of impact can ageing infrastructure have when it comes to leaks & bursts?
ML: "We have 37.5km of pipes in the North East of England, as well as 26.5km in Essex and Suffolk. Older pipes are more likely to fail, resulting in a higher frequency of bursts and leaks."
PT: "It's high impact because when you fix leaks it tends to find the next weakest spot within the network. We have 13,500km of water mains, customer supply pipes, and trunk mains services reservoirs which all contribute to leakage levels. All of these structures have to be maintained."
TM: "Thames Water's network of pipes stretches for 31,550km, which is almost long enough to wrap around the world. With almost two-thirds of our pipes being over 60 years old, and around half of those actually being over 100 years old, the age of our infrastructure does play a part in the challenge we face due to the natural wear and tear pipes are subjected to over time."
Q. What type of role can data play when it comes to detecting and fixing leaks?
ML: "Data can really help improve accuracy of the calculations and efficiency of the workforce, and inform a move to a more predictive approach, rather than reactive. For example, at our first Innovation Festival in 2017, we had dozens of experts crunching data from a huge array of sources, and this led to a process of leakage heat mapping that allows us to target those areas where we can make the biggest difference, allowing us to make more informed prioritisation decisions and effective workforce deployment."
TM: "We are already working harder to tackle leakage, but data has an important part to play in enabling us to work smarter. Improving our understanding of our network is crucial in tackling leakage, and our "data factory" is therefore developing two digital products to provide new insights into leakage and transform how we find leaks within District Metered Areas (DMAs)."
Q. How big a role can smart meters play when it comes to detecting leaks and preventing water wastage?
ML: "Smart meters can help give a more accurate representation of actual customer consumption, including internal leakages, which will inform customers when they have an issue and help us to target the right areas that have genuine network leakage."
PT: "They can play a very important role as we need to understand the total volumes of water used by our household and non-household customers. Flow and leak alarms can assist with customer-side leakage. Customers can also be informed of their water consumption and therefore be more efficient with water usage."
TM: "We are using the data from our smart meters to refine our understanding of household water consumption generally, and more specifically to update our assumptions about nightline usage. This helps us get more accurate leakage information and figures. Having better data on where leakage is happening then allows us to target our detection and repair efforts more effectively by concentrating on the parts of our network where we can reduce leakage the most."
Q. What feedback are you hearing from the regulator in this area?
ML: "The regulators are talking about the same things that our water resource professionals have also highlighted, that leakage has to be reduced in order to meet future demands on water resources."
PT: "They want all water companies to work collaboratively to meet targets and are happy to support research and development. The targets are tough but consistent across the industry."
TM: "In terms of the horizon for the next AMP covering 2020-25, we have proposed to deliver a 15 per cent leakage reduction against our 2019/20 Performance Commitment figure. This is still subject to finalisation as part of the normal Price Review process with Ofwat that is currently underway."