The future of MBBRs
Junaid Hassan from Warden Biomedia reviews the progress of the new media being designed with Cranfield University to enhance nutrient removal to meet the challenges of AMP7.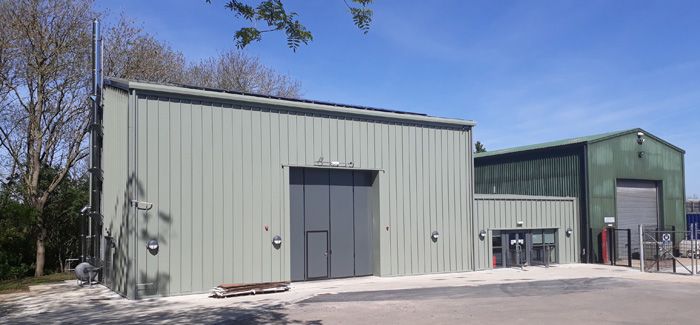 Moving bed biofilm reactors (MBBRs) are widely used in both municipal and industrial wastewater treatment sectors due to their small footprint, robustness, resilience and also because they are simple to retrofit in existing plants or install in greenfield sites.
In MBBRs, the biological conversion of carbon and nitrogen is completed by a biofilm that grows attached to a moving biomedia. The key to a successful MBBR operation is the biomedia.
This is often made from plastics such as high-density polyethylene (HDPE) and polypropylene (PP) that have an intricate design allowing for high surface areas and in return promote high biomass concentrations, removing pollutant loads quickly.
Warden Biomedia has been a key player supporting the intensification of wastewater treatment processes for many years and are experts in manufacturing complex biomedia shapes from virgin or recycled plastics.
The company is now developing new products to meet AMP7 and future challenges of the wastewater industry, in particular, nutrient removal. Nutrient accumulation in surface waters can lead to eutrophication, causing serious harm to natural habitats. The tighter nutrient consents imposed in AMP7 are part of the strategy to reduce pollutants in aquatic environments, as described in the EU Water Framework Directive.
This Directive is pushing for effluents from wastewater treatment plants to have concentrations as low as 0.03 mg/L of phosphorus and 1.0 mg/L of nitrogen, when discharged into sensitive water bodies.
These low nutrient concentrations are extremely difficult to achieve, and the water industry relies heavily on phosphorus chemical precipitation, by dosing coagulants such as iron chloride.
However, the sustainability of this approach and the need to constant purchase and store chemicals, are a concern. Further to this, the supply chain of such chemicals is at risk and the prices are expected to increase because of high demand.  On the other hand, biological phosphorus removal, also known as 'luxury phosphorus uptake', has lower OPEX, is more sustainable, and it can be easily integrated with nitrogen removal.
Warden Biomedia understands the benefits of MBBRs as an intensified version of the conventional activated sludge process and is looking to develop new biomedia that facilitates nutrient removal. Moreover, due to the versatility of MBBR processes, these can be implemented in large sites or as package plants in small wastewater treatment plants.
The latter is of particular interest because it addresses the current limitations of conventional BNR processes that are challenging to retrofit in 2,000-10,000 population equivalent sites that struggle with nutrient removal.
MBBRs have the potential to remove phosphorus down to 1.0 mg/L and by integration with a much-reduced chemical precipitation, compared with other options, the strictest discharge limits can be achieved. Furthermore, the use of biological processes is aligned with phosphorus recovery options, making MBBRs a more attractive and future proof technology.  
Phosphorus is widely used as a fertilizer in agriculture and there is high demand for it. Phosphorus is natural resource found in mineral rocks in certain parts of the world. However, the depletion of this mineral rock is happening at a fast rate and replacement sources need to be found. Recovery of phosphorus from wastewater has been identified a sustainable way to recycle nutrients and it aligns with circular economy principles.  
With increasing pressure to reduce phosphorus and nitrogen levels in effluents, nutrient removal is a key criterion for the new biomedia, which is currently being tested at Cranfield University's National Research Facility for Water and Wastewater Treatment.
The new MBBR biomedia supports a variety of microbial biofilm growth from fast-growing aerobic heterotrophs, which proliferate in the biomedia with large openings, to slow-growing autotrophs which form thin biofilms and larger surface areas are favourable.
The understanding of how different groups of bacteria interact with the biomedia is critical towards achieving targeted and active biofilms.  
Warden Biomedia's new products are being developed and tested in conjunction with Cranfield University through a three-year £300,000 Innovate UK Knowledge Transfer Partnership. Now, a year into the partnership, the biomedia is moving from bench to pilot scale trials.
"Achieving low nutrient concentration in treated effluents in municipal and industrial treatment plants with reduced energy and negligible chemical consumption is critical to achieve net-zero targets.  Sustainable intensified technologies, such as MBBRs, can be further developed to respond to these pressures through higher integration between microbiology, material sciences and process engineering" explained Prof Ana Soares from Cranfield University.
KTP associate Anjani Parsotamo, who researched MBBR technology for her Masters degree at Cranfield, says "The new product developed by Warden Biomedia and Cranfield University will give much more efficient removal of nitrogen and phosphorous from wastewater, a major challenge facing the water industry. It will improve cost-effectiveness and sustainability and pave the way for the next generation of wastewater treatment solutions."