The Catchment Based Approach - what is it and why does it matter?
Engaging a range of partners at a river catchment scale is proving to be the best route to environmental improvements, including better water quality and flood management, writes Clare Deasy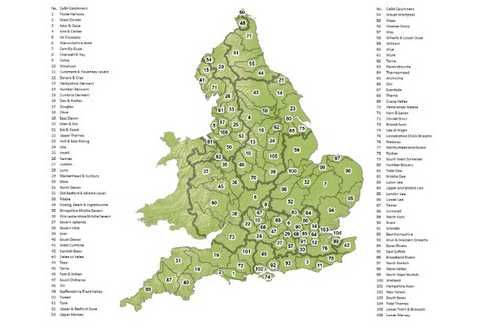 By Dr Clare Deasy, Catchment Co-ordinator, Northumbrian Water
Writing on behalf of the CaBA National Support Group
The Catchment Based Approach (CaBA) embeds collaborative working at a river catchment scale, bringing a range of partners together to support integrated catchment management, pool knowledge and expertise, and deliver cross-cutting environmental improvements. Although originally envisioned as a route to support implementation of the Water Framework Directive (WFD) (2000/60/EC) to improve waterbody status, its success over the past 5 years means that its involvement and influence now extend both wider and deeper into environmental management.
CaBA was launched as a Defra policy framework in 2013 to 'encourage the wider adoption of an integrated Catchment Based Approach to improve the quality of our water environment'. Catchment Partnerships are now active in all the 100+ management catchments in England and cross-border with Wales (see map).
The Collaborative Approach
The CaBA initiative combines the concept of integrated catchment management with an inclusive partnership approach. Previously, management of the water environment was undertaken by government agencies, private water companies and landowners, often operating in isolation. The 'bottom-up' collaborative approach taken by CaBA can engage all sectors of society, including businesses, civil society, land managers and local authorities. Catchment Partnerships each have a host organisation, typically an environmental NGO such as a local Rivers Trust or a Wildlife Trust, although other organisations, including water companies, also act as hosts. Hosting is currently supported financially by Defra. Partnerships use their influence to leverage further funding into catchments – in 2017/18, for every £1 invested in CaBA by Defra, £6.50 was spent on catchment improvements.
Around the table are a wide range of partners, including Defra family organisations, environmental NGOs, local authorities, water companies and academic Institutions. Partners may also include the agricultural and business sectors, local community groups and angling clubs, but vary by partnership, depending on their own and the partnerships' interests, objectives and particular pressures.
Catchment Partnerships are supported at local level by a designated Environment Agency Catchment Coordinator, through the CaBA National Support Group (NSG) and CaBA Support Team, and by the activities of a series of national working groups addressing particular issues, including data, urban water management, abstraction, biodiversity, fisheries and agriculture.
Catchment Partnerships are at different stages of development. Most have a formal steering group, a catchment action plan and/or business plan, and some have very active sub-partnerships or local delivery groups, working at smaller spatial scales across both rural and urban areas, where visioning and delivery can be more focused. The collaborative nature of the approach means that each Catchment Partnership is unique, and the challenges faced by each vary, as are their ways of approaching them. Sharing knowledge and expertise between partners helps partnerships to build strong relationships, reach consensus, and identify innovative long-term and sustainable solutions which meet multiple objectives. As a result, partners achieve 'more for less' while benefitting both people and the environment.
Delivery
The CaBA Monitoring and Evaluation reports summarise CaBA's main impacts and achievements at national level. Catchment Partnerships now deliver a wide range of multiple benefit projects. In addition to the habitat restoration, biodiversity and rural diffuse pollution focus of many partnerships, areas of focus include urban water quality, natural flood management, natural capital and ecosystem services and low flows. Over 60 partnerships are engaged with their local water company, and some work closely with water companies on innovative catchment solutions to water and wastewater management issues. Partnerships also work with local authorities and developers to address integrated flood risk, promote the use of sustainable drainage systems (SuDS) and other green-blue infrastructure and manage the urban water environment. Community engagement underpins CaBA nationwide, with over 14,000 volunteers and citizen scientists now actively involved.
In his opinion piece in WWT in September 2018 Dr Phil Aldous asks "do we really have the will to apply catchment management in urban areas?" The response of the CaBA NSG is "of course, we're already doing it".
Influence
Partners' work under CaBA has transformed the level of ambition to engage with communities and all interested parties to deliver improvements to the water environment that maximise benefits for people and wildlife. These benefits increasingly provide social and economic as well as environmental benefits, with CaBA activity contributing to resilience to climate change, more resource efficient and sustainable businesses, and improving the health and wellbeing of local communities.
As a trail-blazing country-scale project to empower local engagement, CaBA has attracted significant interest from deliverers and researchers in other European member states interested in approaches to better implement the WFD. Projects such as WaterCoG have helped to promote CaBA internationally, and directly influenced water management in countries such as Denmark, Sweden and Finland.
The Future
The water environment (streams and rivers, lakes, wetlands, beaches and coastline) and its contributing catchments provide many of the natural capital and ecosystem services on which we rely. The government's 25 Year Environment Plan puts natural capital at the heart of environmental protection, sees catchment approaches as a key delivery mechanism to achieve a range of goals, and recognises the role of Catchment Partnerships in supporting strong local leadership and delivery. The Catchment Management Declaration and Blueprint for PR19 - Shared Principles for Collaboration also demonstrate strong national cross-sector support for CaBA.
Water and sewerage companies have emerging challenges in relation to removal of chemicals and nutrients from raw water and from discharges, and in developing Drainage and Wastewater Management Plans which will consider a broad range of catchment interventions. These areas should benefit from Catchment Partnership expertise, and through significant catchment investment in planning and delivery, these areas represent real opportunities for CaBA.
The big challenges for CaBA are to ensure it has capacity to address active catchment issues, to link in with new and existing catchment programmes, and to continue to draw in a broad range of partners to support the approach – including business and industry. This will keep it energised and sustainable. The partnership approach is not always easy. Partnership working takes a lot of 'will' from individuals, requires commitment and support from partner organisations, and needs strong but flexible leadership from a key partner or partners to be successful. Limited funding adds to the challenge. The direction of travel for CaBA, however, is positive and exciting, engaging an ever growing range of stakeholders, and undertaking an increasingly important role in integrated catchment management.
For more information see https://www.catchmentbasedapproach.org.