That's renewable power
Howdon Sewage Treatment Works now boasts a fully operational Advanced Digestion plant. Donna Rawlinson and Barry Oliver report on how the new facility will play a key part in Northumbrian Water's sustainability strategy.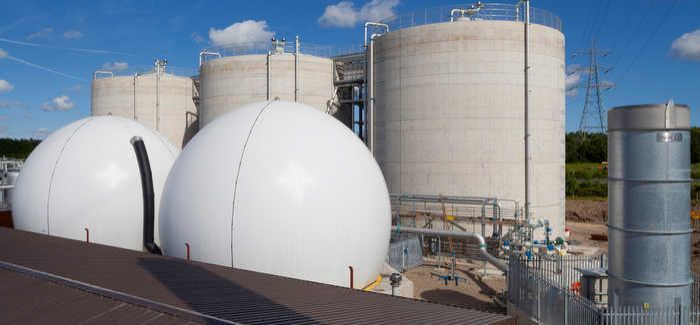 NW is leading the industry in utilising AAD and produces 50% more biogas than is possible using conventional anaerobic digestion
Northumbrian Water's (NW) Advanced Digestion (AD) plant at Howdon Sewage Treatment Works (STW) has now been completed and is in full operation, generating renewable power. This is a key part of NW's strategy to provide more sustainable sludge treatment and move towards a power self-sufficient wastewater service.
NW constructed the UK's largest thermal sludge drying facility at Bran Sands in 1995, and for ten years sludge treatment was focused on sludge drying at Bran Sands, Middlesborough, and dewatering with lime stabilisation at Howdon, Newcastle.
In 2006 a strategic review identified that the installation of Thermal Hydrolysis (TH) Advanced Digestion (AD) at both of these sites was a much more sustainable solution that would generate multimillion savings in annual operating costs and significant environmental benefits including:
Enhanced quality sludge cake for recycling to local farm land
50% reduction in solids requiring disposal
10MW of renewable power from biogas production
20% of NW's total electricity demand being met by renewable sources
All of NW sewage sludge being used to produce renewable electricity
20% reduction in NW's operational carbon footprint
This strategy was agreed and two guaranteed performance design and construct contracts, totalling more than £60M, were awarded to Aker Solutions (now Jacobs E&C) to install AD at Bran Sands in 2007; and GTM (the joint venture between Galliford Try and Imtech Process) to install AD at Howdon STW in 2010. GTM has delivered NW's latest thermal AD plant at the Howdon STW. This plant has built on the lessons learned from Bran Sands and similar plants built for other water companies in recent years, including Dwr Cymru Welsh Water's Cardiff and Afan plants.
The new TH plant at Howdon has a design capacity of more than 40,000tDS/annum and can process all the indigenous sludge arising at Howdon and imported sludge cake from satellite sites. The plant includes a new strain press installation to screen all liquid sludges. Elsewhere, screening has been found to significantly improve plant availability, reduce downstream maintenance, and improve renewable power generation. Liquid sludge is conditioned with polymer and dewatered using Alfa Laval's latest generation of high speed dewatering centrifuges. The sludge cake is conveyed directly into one of two sludge cake storage silos.
The plant also includes sludge cake reception facilities comprising a fully enclosed building with vehicle access, two cake reception hoppers, and automatic transport of sludge cake into the sludge cake silos. This plant was delivered by Agrivert using the well proven design developed by Hunning. All raw sludge reception facilities are fully enclosed with dedicated odour control facilities to ensure no odour nuisance.
The odour control plant is based on lessons learnt at Anglian Water and includes a first stage biological scrubber and second stage chlorine dioxide impregnated carbon which can reliably treat high levels of Mercaptans.
Sludge cake is conveyed from the storage silos and diluted to 17%DS before being pump transferred to the TH plant. Hot water recovered from the high efficiency CHP units is used for cake dilution in order to optimise the heat balance and minimise the use of support fuel. The TH plant is a two stream installation with each stream comprising a pulper, four reactors, a flash tank, and vapour condensing skid.
This technology is well proven, with heat recovery and mixing in the pulper, TH within the reactors using direct steam injection, and balancing of the thermally hydrolysed sludge in the flash tank, allowing continuous feed to each digester. Condensed vapours and inert gas is transferred forward to the digesters to ensure effective odour control.
TH sludge is diluted using UV disinfected final effluent (to avoid re-contamination), mixed with recirculating digested sludge, cooled by final effluent using specialised heat exchangers and fed to each digester via the pump mixing system to ensure effective dispersion. Three post-tensioned concrete digesters have been installed, each of 7,000m3 capacity and including specialist pump mixing and integrated sludge coolers to allow the optimum digester temperature of approximately 40°C to be maintained. The anaerobic digesters provide optimum conditions for the hydrolysed sludge and included lessons learnt from other plants including increased free-board and facilities for foam management.
Biogas flows from the digesters through large diameter pipework specially inclined to a number of large condensate traps to allow cooling and automatic removal of condensate. The biogas is used primarily by the three 2MW high efficiency CHP units, allowing more than 40% of the available energy to be converted to renewable power. In addition, the exhaust gas is transferred from each CHP unit to one of three composite steam boilers. These boilers can use biogas and natural gas or fuel oil as support fuel to efficiently produce the steam required for TH.
The digested liquid sludge is displaced from the digesters before polymer conditioning and centrifuge dewatering. Liquors are returned to the main treatment works for further clean-up.
Lessons learnt from other recent installations have been used in the design, construction and commissioning of the new plant. These include:
Use of strain presses to fine screen all liquid sludges, reducing downstream maintenance and improving overall availability
The design includes multi-stream processes with sufficient standby provisions to ensure no single point of failure
Well proven equipment has been selected wherever possible
Plant flexibility including liquid and imported sludge cake facilities improves NW's overall resilience for sludge treatment, renewable power generation and recycling to agriculture
Full containment of raw sludge operations with extraction to proven two stage odour control system using biological first stage and chlorine dioxide impregnated carbon in second stage for improve removal of mercaptans
Use of well proven twin stream TH with standardised modular design and factory pre-assembly for improved quality control and safe and lean site installation
Optimised heat balance including, control of TH feed DS, cake dilution with hot water, use of surplus hot water for office heating, use of CHP exhaust for producing steam, and triple fuel composite steam boilers for full flexibility
Optimised anaerobic digester design including jet mixing, increased free board and foam management
The use of increased diameter biogas pipework with large automatic condensate traps for improved gas cooling and condensate removal
Installation of a carbon filter for improved biogas cleaning and reduced CHP maintenance
Installation of integrated high efficiency CHP units for optimum utilisation of biogas and economic benefit
Fast process start-up, use of process start-up which was successfully developed for Cardiff, allowing the full load conditions and optimum economic benefit to be achieved within six weeks of seeding with acclimatised sludge cake
Design flexibility to accommodate future expansion.
Howdon AD has now been successfully commissioned, NW is on track to treat all its sludge and generate approximately 80,000MWh/y of renewable electricity, equivalent to 40% of the energy needs for wastewater treatment. The whole of the Howdon treatment works will shortly be energy self-sufficient, with excess renewable electricity exported to grid.
NW is leading the industry in utilising AAD and produces 50% more biogas than is possible using conventional anaerobic digestion. All of NW's sewage sludge is now used to produce energy, and design includes the innovative re-use of waste heat from the AAD process to service adjacent facilities on site.
The innovation continues and NW is currently investigating further re-use of any remaining waste heat, cleaning and directly injecting the biogas into the national gas grid, continued optimisation of the process so that operational performance can be maximised and integrating the treatment of alternative feedstock's to maximise renewable power generation and operational savings.
Donna Rawlinson is with Northumbrian Water and Barry Oliver is at GTM-Imtech Process