Thames' eight2O alliance sees benefits in Active Risk Manager
Alliance has deployed ARM to manage projects as part of Thames Water's capital investment programme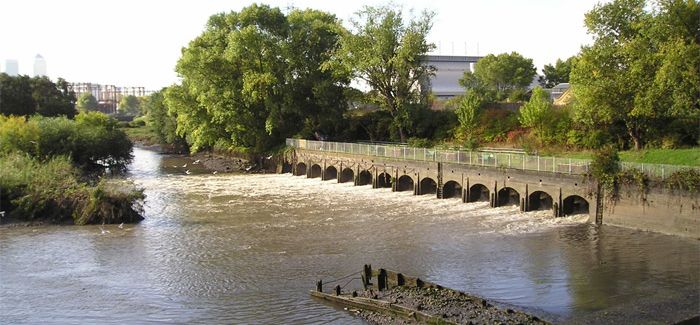 The eight2O alliance has worked on a vast number of Thames Water projects including Abbey Mills
Thames Water's eight2O alliance – made up of Costain, Atkins and Black & Veatch (CABV) and Skanska, MWH Treatment and Balfour Beatty (SMB) – was set up to deliver infrastructure development and maintenance projects across AMP6, handling a portfolio of infrastructure projects worth around £1.7 billion.
Setting out guidelines for delivery, the organisation identified a requirement for a robust software tool to manage risk across the projects.
Following an evaluation process in which six organisations were shortlisted, and three products demonstrated in detail, Active Risk Manager (ARM) from Sword GRC was selected.
Steve Wilson, risk lead at eight2O, says: "We were clear how the organisations work in the alliance, and this includes providing 'professional tools for professionals'. We needed an industry standard tool to manage risk and chose Active Risk Manager.
"We wanted to manage all aspects of risk. We are not just managing a funding pot but actively identifying and managing risk at the appropriate level. Using ARM is now driving a maturity in our approach to risk."
The ability for ARM to be hosted in the cloud was important for the organisation, with the project managers spread across a wide geographical area. ARM Apps is a web application that can be accessed through an intranet.
ARM Apps enables all project managers, as the main owners of risk, to use the software, populating it with data and running reports.
"The ease of use was one of the biggest drivers," Wilson adds. "If a product isn't easy to use then people won't use it and the best reports are only good if they are populated with accurate data.
"Using ARM Apps means that there's no need for the project managers to become risk management experts. It is intuitive to use and we liked how configurable it is – it enables us to give our managers the right tools for the job and there has been a real recognition of this.
"The project managers have to administer complex commercial and technical data. As project managers, engineers and commercial experts, we have always managed risk as a matter of routine. However, we wanted a tool like ARM to systemise risk management to drive compliance, visibility and best practice."
Since deploying ARM in early 2017, the solution has become embedded into the project management process. Project managers use ARM to provide risk data to the central risk team responsible for corporate risk and reporting to the executives and board.
The corporate risk managers provide an overview of risk practices and, for the more complex projects, carry out detailed risk analysis using Monte Carlo simulations to make investment decisions.
Each project has a leadership team covering specialist areas such as design, environment, commercial, health & safety, operational and customer management, and the project managers work with their leadership teams to understand and manage the unique risk profile on each project.
At any time, the corporate risk team can oversee the whole programme, which currently stands at 350 live projects. The centralised visibility and extensive reporting capability in ARM provide the team with a suite of reports.
"The reporting capability is really where the ARM solution shows its pedigree – at a touch of a button we can report upon any aspect of a project, effectively providing me with a priority list on where to focus our time," Wilson says.
The reporting functionality provides multiple options to report upon any facet of a project. From examining the overall risk performance of an individual project to looking at programmes managed by a single joint venture or project manager, the team can slice and dice the data to suit their needs.
The increased visibility and reporting automation have also improved productivity, resulting in significant time savings. The ARM solution can be proactively set with various parameters to prioritise when projects should be reviewed, for example when projects are coming up to full governance. This enables the niche team of centralised risk managers to actively conduct timely reviews and interventions across all projects.
Through the consistent use of ARM across all projects, the company has complete visibility of compliance and can ensure project managers are adhering to the high standards of risk management.
Wilson says: "The enhanced reporting and increased visibility has driven the right kind of behaviours, the teams are more cognisant of compliance and have been overwhelmingly positive about the solution. ARM has helped to drive a culture of compliance across all projects."
Risk profiles by nature change during the project lifecycle due to new risks being identified and others mitigated or managed, reducing their exposure. As a result of deploying ARM, Thames Water is managing risk both quantitatively and qualitatively. Risk scoring has been configured within ARM to manage cost and time, as well as risks for health & safety, environment, Thames Water operations, regulation, customers and reputation.
Black swan events, meanwhile, are by their very nature rare but carry an extreme impact. They do have some level of predictability, though, and eight2O is using the scoring mechanisms within ARM to identify high impact, low likelihood events. Monthly reports are run and presented to stakeholders to remove the reliance on project managers alone to highlight the risks.
In addition to risk management, eight2O is using ARM for early warning notices to the programme managers, and hence Thames Water.
Originally the company looked at a separate solution but the cost was prohibitive. However, the flexibility and configurability of ARM has enabled the team at eightâ''O to develop the capability for early warning notices within ARM itself, resulting in a fully integrated solution.
Today, eight2O has a defined escalation path for the administering of early warning notices, such as a change in defined costs beyond the approved threshold or any impacts on planned completion.
"We have enabled the escalation functionality within ARM for risks and early warning notices," Wilson says. "We were able to achieve this after a small amount of in-house development work on the solution and it has been so successful that we have extended our original license order so we can roll out wider across the organisation."
The ARM solution has provided intelligence that has benefited the company in understanding future funding requirements. By analysing the data since implementing ARM, eight2O has been able to identify risks and associated costs across the 300-plus projects.
This information has been beneficial when reviewing the next round of funding for 2020-25, informing the process with accurate, evidence-based data and encouraging a learning culture in Thames Water and eight2O.
"We have bought into the ARM product roadmap, which will be helpful as we look forward to the next five-year strategic plan," Wilson says. "The functionality is there and we are looking at how we can integrate other aspects of uncertainty management. For us, risk is inherently simple – it's about identifying the right risks and making sure the right responses are being managed. ARM gives us the scalability we need to do just that."