Technically Speaking: Hydraulic Modelling
Computing capabilities now allow a new level of integrated catchment modelling which can be harnessed to optimise sewer and drainage systems, write Claire Watson and Paul Martin of Black & Veatch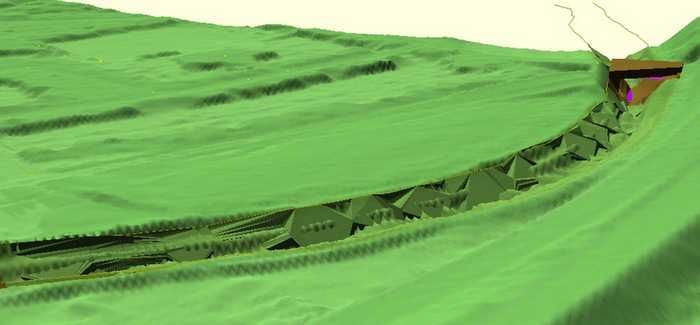 New software enables drainage, river systems and overland flow routes to be modelled simultaneously
by Claire Watson and Paul Martin, Chief Engineers, Network Modelling, Black & Veatch
Hydraulic modelling of sewer and urban drainage systems has come a long way in the last 30 years. While hydraulic equations and the other mathematical building blocks of modern hydraulic models have been around much longer, it is only in this period that computers have been brought to bear. The rapid progress of computer capabilities has been reflected in the development of hydraulic models and the expansion of their use.
In the early stages of computer models, when simulation time was long and model set-up was time intensive, models were typically used to verify a solution and understand system performance. However, as run time reduced, model use has shifted towards design option development, allowing a modeller to efficiently assess and optimise numerous potential solutions.
Drainage Area Plans use a catchment approach. They are typically risk-based and drive investment planning by assessing network performance with respect to hydraulic, structural, operational and environmental criteria. The process follows a staged approach from Scoping Study through to Model Build and Verification, and then on to Needs Identification and Option Development.
Source data is commonly taken from corporate geographic information systems (GIS) and supplemented with specialist survey data. Anecdotal information from operations teams, and occasionally the public, is vital in building and verifying a model to create an accurate tool. To ensure that the model represents reality it is typically verified against a short-term flow survey.
Following verification, the "needs" of the catchment are identified and solutions developed. Understanding the root cause of each problem is critical to developing an effective solution and lends itself to the development of a holistic solution in which a joined-up approach can potentially resolve multiple issues. The speed of simulation comes into its own at this stage, allowing the modeller to test numerous scenarios to understand then solve the problem.

A fully-joined up approach
The piecemeal approach to managing different urban wastewater system elements has been shown to be ineffective. Integrated catchment modelling allows a fully joined up approach to management and solution development. InfoWorks ICM allows the drainage systems, river systems, and overland flow routes within a catchment to be modelled simultaneously with seamless links between catchment features. This is a step forward from previous methods of simply combining model results from different software packages. Integrated catchment models typically comprise:
• The pipe network – foul, combined and storm systems are included where required, including ancillaries such a s combined sewer overflows (CSO) and pumping stations. The pipe network and ancillaries are commonly imported from GIS asset data and existing network models. These data sets are typically supplemented with new survey data.
• The river network and associated hydraulic structures – including river channel cross sections along with bank-line information and river centreline definition. Modelling of these elements typically makes use of data from existing river models in addition to new surveys. Bridges, culverted sections and sluice type structures are also modelled and are generally created from survey data, asset data and from existing model information.
• The ground model – this allows for overland flow routing across. The modelled surface is often created from DTM data (from LiDAR) and supplemented with detailed topographic survey data in selected areas, such as around key surface features which may influence overland flow routes.
The models are usually verified against pipe system flow surveys, river level gauging data and historic flooding records. The model can then be used to identify areas of flood risk from multiple sources, utilising a full suite of design and historic rainfall events. The results and associated high quality mapping are used to inform solution development, giving clear presentation of catchment risks and issues.

Identifying the root cause of flood risk
Integrated catchment models provide an excellent tool to undertake root cause analysis to confirm the mechanism of flooding and identify areas of flood risk. For example, an integrated model might show that a flooding location is at a low spot in the topography and receives overland flow via a kerbed road from a flooded manhole. The integrated model may further show that the manhole flooding is exacerbated by backing-up in the piped system caused by a high river level at the outfall. This situation would be more difficult to understand without an integrated model.
These types of models also enhance the modeller's capability to consider and develop strategic catchment-wide solutions, where numerous related catchment issues can possibly be addressed in a single holistic solution. They allow the modeller to include potential sustainable drainage components as part of an integrated solution and also lend themselves to looking at how a system performs when the design capacity of a solution is exceeded.
Integrated catchment modelling requires the involvement of all stakeholders in solution development, because different drainage system elements within a catchment are typically owned, managed, maintained and regulated by different parties. A joined-up view and good working relationships between stakeholders become absolutely fundamental where a solution crosses these ownership boundaries. These types of integrated solutions are often successful, but need to be considered carefully during the early stages of the project with complete buy-in from all parties throughout the solution development phase.
The requirement to construct a model is often linked to the perceived performance of a system in relation to environmental criteria. A step beyond simply understanding the hydraulic performance of the network itself is to use the model outputs to carry out an urban pollution management assessment, where the modeller gains an understanding of how the performance of the network impacts on the quality of the receiving water.
Watercourse impact
One application of this is the setting of required consent limits for various pollutant types in discharges that impact watercourses. Typically rivers will have water quality standards expressed in percentile terms (i.e. threshold values that are only allowed to be exceeded for a given percentage of the time). Rather than use the blunt instrument of universally applied limits, environmental regulators can set site specific consents based on an analysis that takes into account the sensitivity of the local receiving water (e.g. the effect of a small discharge on a large river may be negligible even if the concentration is high). Tools have been developed to analyse the impact of trade effluents, treatment works effluents, and intermittent storm sewage discharges on rivers with known statistical variations in flow and upstream quality. Hydraulic model outputs often provide the input data to such calculations. This approach means that costs of pre-discharge treatment or storage based spill reduction solutions can be reduced or in some cases eliminated.
It is difficult to say with certainty how wastewater network modelling may develop in the future, but there are a few predictions which can be made. Integrated catchment modelling is an advancing field and one that is set to develop further, with stakeholder engagement key to success. We need to ensure that we understand the challenge of a joined-up approach with stakeholders working together from the very beginning of a project. Integrated approaches are set to improve model capability, with more and more data required to develop increasingly complicated models. The potentially vast improvement in catchment understanding with the use of intergated catchment models is offset by increased modelling costs and longer project timescales. However, experience shows that the multiple benefits of developing these models, more often than not far outweighs the apparent increase in cost.
In the past, hydraulic models have been used somewhat passively and reactively to assist asset planners. In the future, they will become essential proactive asset management tools.
Taking these models a step further to use with real time catchment monitoring to prevent problems from occuring is also likely to be part of the network modeller's future. Smart operation of a network may help to reduce problems before they happen and is certainly something we are destined to see more of in the future.