Tank and booster combination provides safe solution
The use of an all-in-one tank and booster set helped Welsh Water and its contractor remain safe and compliant in a project to upgrade a wastewater treatment site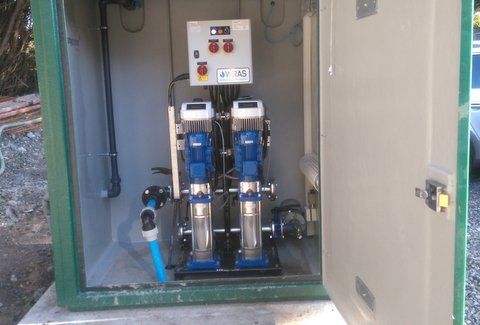 by Tom Burke, Key Account Manager, Dutypoint
The issue of contamination at waste water treatment works is something utilities companies take very seriously. The risk of backflow or cross connection with other fluids is high, so it's essential that the correct steps are taken to ensure any risk is nullified. This is particularly critical for washdown hoses to ensure no contaminated water travels back into the system affecting the clean water supply.
Preventing contamination is imperative to protect not only those drinking the water, but also the health of staff on the site. As laid out in the Water Regulations Advisory Scheme (WRAS), Water and Waste Water Treatment Works are classed as high risk premises due to the presence of raw sewage: they are classified as Fluid Category 5, the highest level requiring the most stringent protection.
At Welsh Water's Llanpumsaint Water and Waste Water Treatment Works in South West Wales, an upgrade programme of works was required to meet safety standards for water contamination. Dutypoint has been working with Welsh Water for a number of years on multiple projects at its water treatment works across the country to help provide pump and fluid solutions. As an operational Waste Water Treatment Plant serving hundreds of customers, it was essential that the work was carried out to a tight timescale to ensure no disruption to the supply.
A screen is used to filter water during the treatment process and these require regular washdown from high pressure water hoses. However, these present a backflow contamination risk as water can travel back up the hose and into the water supply. To overcome this, there is a requirement for the mains cold water feeding the application to be protected by a Cat5 AB airgap.
Dutypoint worked closely with main contractor Mott MacDonald Bentley to provide a Category 5 protected pressure boosted supply that also met WRAS requirements, installing an all in one tank and booster set called a QuadraTANK. This pre-packaged unit was specifically designed with Welsh Water's requirements in mind and includes a suitable sized tank with an AB Airgap and a weir overflow.
The airgap is designed to prevent the inlet ever being able to become submerged and contaminate the mains water supply. This makes it 100% safe as it is not relying on a mechanical device such as a check valve.
An AB air gap is an arrangement of fittings where a complete physical air gap, a minimum of 20mm, is maintained between the lowest water discharge point and the critical receiving point of the vessel. A rectangular overflow within the receiving vessel provides uninterrupted spill over.
One of the biggest benefits of the QuadraTANK is that it can be preassembled and delivered as one unit, helping to reduce the installation time, and therefore disruption, on site. The unit is also ideal for locations that are short on space as it removes the need for a separate tank, booster and kiosk. Depending on size requirements, both the tank and kiosk are scalable and can be adapted accordingly. For much smaller projects, the ScubaTANK also offers a Category 5 AB Airgap and is designed to fit through a standard door.
"As part of the upgrade works taking place across the whole Llanpumsaint treatment plant, we took over the site from Welsh Water," comments Owain Brown, mechanical engineer from main contractor Mott MacDonald Bentley. "This involved a complete rebuild which meant that, while previously we'd tapped directly off the mains to power the wash down hoses, and therefore only used a backflow valve, we now required a Category 5 AB Airgap protected boosted supply to ensure no cross contamination occurred and correct pressure was maintained.
"Speed of installation on site was crucial, so the QuadraTANK was ideal as it was fully constructed off site and then simply lifted into place. Then it was just a case of connecting to the electricity and water supply. If we'd had to install each element separately, this would have lengthened the installation, and presented more of a health and safety issue."