Taking a stance on HAVS
Jacqui McLaughlin, chief executive of Reactec, looks at how the risk from exposure to hand-arm vibration is assessed and why not enough is being done to keep people from developing the syndrome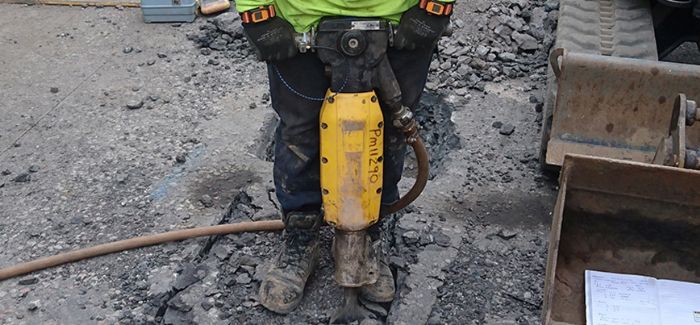 Exposure to vibration through the hand and arm system can cause serious vascular, neurological and musculoskeletal damage, which is collectively diagnosed as the industrial disease hand-arm vibration syndrome (HAVS).
It affects sufferers from carrying out simple tasks like holding a cup of tea, getting dressed or reading a newspaper. Many HAVS sufferers are forced to change career or stop work entirely.
The disease became so prevalent with increased use of power tools that the EU in 2002 and the UK in 2005 released regulations to control the potential risk of developing the disease within the workplace.
The regulations require employers to carry out suitable and sufficient assessments of risk, implement occupational health screening when the risk is of a certain level and most importantly reduce the risk as low as reasonably practicable.
Yet 15 years on from the UK regulations, HAVS is still the highest reported industrial illness in the UK and the single largest fine of £500,000 was imposed on a major utilities player in 2018 relating to their employees operating handheld power tools such as hydraulic breakers and floor saws.
HAVS compliance fines have increased by over 300 per cent in recent years and the Health and Safety Executive states that 10 per cent of all workers who operate at what is considered by most as a safe level of exposure, the exposure action value (EAV), will develop HAVS within 12 years.
So how is the risk from exposure to hand-arm vibration assessed and why is that not doing enough to keep people from developing the disease? The likelihood of developing the disease is linked to an assessment of a person daily exposure to HAV, which involves determining the duration of exposure and the probable vibration magnitude during exposure.
The term monitoring of HAV generally refers to the collecting of the daily HAV exposure data through the course of a working day while using multiple tools as per an individual's normal working day.
After the release of regulations, many organisations set about monitoring HAV exposure in order to meet their obligations to carry out suitable and sufficient risk assessments. Many approaches to monitoring were taken from simple logbooks to digital tool timers, but they did not necessarily support the need to reduce the risk to their employees from HAV exposure.
In fact, the approach of simply collecting data can lead to a false sense of security either because the monitored data is not used to take action against the risk or because the logged data does not reflect the real-world use of the tool by operators.
As a consequence of the poor practice of monitoring for no real purpose, there is a view from those who govern the regulations that monitoring with no action is worse than no monitoring. So why do people monitor and what is the danger of not monitoring? Many organisations will monitor not to be in compliance with the regulations but to provide evidence of their employee's HAV exposure for the purpose of defending civil litigation claims.
In an increasingly punitive culture, employers who can evidence what they have exposed their employees to are more likely to fare better when defending claims taken against all previous employers of an individual who can as readily be exposed to HAV in their personal life.
On a more poignant note, there is a direct relationship between the level of exposure to HAV and the likelihood of developing what is a debilitating and irreversible disease. Therefore, from an individual's perspective, the most certain way of ensuring they are not excessively exposed is to monitor their exposure in the same way that you would use gas detectors to monitor dangerous gases or a dive computer to manage your future dive plans.
In a very detailed work study with a leading utilities company, it was reported that individuals who were deployed to do a very specific task with the same tool type, while deployed in multi-person teams, could face very different levels of HAV exposure.
While nine out of 14 were able to stay under the task-based rick assessment of 140 points, which used ISO standard compliant tool measurements, five were above and one particular individual almost reached the exposure limit value (ELV) and was five times as exposed as some of his colleagues. Only monitoring of the activity could reveal this variability from the task assessment.
If you have decided on a level of monitoring to manage your employees' HAV exposure risk, how do you make the most out of that monitoring?
Firstly, ensure that there is a clear intent supported by allocated responsibilities to act on the information gained from the monitoring. Choose monitoring technologies that will readily allow the most at-risk people and greatest risk generators (tool use) to be prioritised in your risk reduction activities.
Secondly ensure that there is a competence within the organisation to choose equipment that will most realistically assess the risk that is being monitored. Key is to appreciate that the vibration level of a tool is not fixed. It depends on the condition of the tool, the accessory used, what the tool is used for and the tool user.
Unfortunately, the standards for measuring a tool's vibration are not suited to monitoring everyday use. However, emerging wearable technologies are available. Some devices even include an ability to provide data in accordance with the perceived demands of regulations and latest HSE guidance while also providing a practical means of monitoring real use data, which is more likely to reflect the actual exposure of the tool user. 
Again, with the right intent, real tool use and exposure data will go further in ensuring the right priorities for operator training, tool maintenance and tool elimination. With the onset of the Fourth Industrial Revolution, where sensors and data-driven decisions can drive effective change, why not use them to drive down this preventable industrial disease?