Sustainable success: RainScape and Greener Grangetown
Welsh Water and its project partners soaked up the acclaim at the Water Industry Awards as the SuDS-focused RainScape and Greener Grangetown schemes both picked up prizes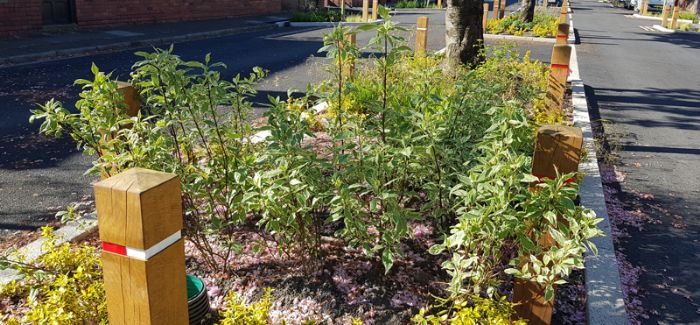 SuDS features in the Grangetown area of Cardiff
Need to know
RainScape Llanelli achieved the following:
• Flood-risk resilience improved to greater than one-in-30-year protection across Llanelli
• Local wastewater overflows reduced from 3 million cubic metres to less than 200,000 – a 95 per cent reduction
• Forty-two hectares of surface water – 15 per cent of the area of central Llanelli – separated from the foul sewer
• Eighty per cent carbon saving and 60 per cent capital cost saving on typical storage and upsize techniques
Amid urban creep and the expectation of more extreme rainfall events, Welsh Water has turned its attentions to nature-based solutions. At the 2018 Water Industry Awards on 21 May, the company and its project partners were rewarded as the sustainable drainage-focused RainScape and Greener Grangetown schemes were named Drainage & Flood Prevention Initiative of the Year and Engineering Project of the Year respectively.
The judges described RainScape, which has retrofitted sustainable drainage and surface water separation features into the urban environment of Llanelli, as "an example for others to follow"; Greener Grangetown Water Sensitive Urban Design, a retrofit SuDS scheme in central Cardiff, was hailed as a "breath of fresh air". The judges said the "results being achieved in areas where others are struggling to deliver are remarkable".
The situation in Llanelli, Carmarthenshire, had been particularly pressing. The area was seeing almost as much stormwater in its network as neighbouring Swansea, despite the fact Swansea serves three times the number of properties. Some of its combined sewer overflows were operating over 100 times a year, with 115 properties deemed to be at risk of sewer flooding.
The standard approach would have been to build large storage tanks and increase pump capacity, but the scale of the problem was prohibitive: it would have required over 200,000 cubic metres of storm tanks for Llanelli Wastewater Treatment Works alone. For an area with a population of 35,000, the estimated cost of the works using traditional methods stood at around £600 million.
Welsh Water is not alone in having to look beyond traditional tactics – Ofwat's climate change policy notes that the principle that "sewerage systems should accommodate future flows is unsustainable in the long-term" – but it is making very impressive strides in putting them into action.
The company had already seen success with some small, localised SuDS schemes but, when assessing how to deliver a fully sustainable approach to Llanelli, it found inspiration from Malmo, Sweden, and Portland, Oregon, where an emphasis on large-scale nature-based solutions was showing it was possible to not only deliver practical results at a substantially reduced cost but to make the area more eco-friendly and attractive. As Welsh Water's wastewater strategy manager, Fergus O'Brien, said last year: "We realised water doesn't have to be a problem but can be made a feature of the environment."
Welsh Water chief operating officer Peter Perry told the World Water-Tech Innovation Summit recently that the dual challenge of a growing population and an increasingly volatile climate means we are in "uncharted territory", adding: "What we've done in the past just isn't going to be good enough. It's going to need a combination of a lot of small schemes and the odd big opportunity to engineer our way out."
RainScape encapsulates that approach perfectly: a combination of green, blue and grey. The Welsh Water Capital Delivery Alliance has overseen the installation of shallow, vegetated channels known as swales; basins and planters, which capture surface water runoff from roofs and roads; porous paving; filter strips; grass channels; and geocellular systems, which can be installed beneath roads and kerbs to help reduce the speed at which surface water enters the sewer network. New gravity surface water sewers have been connected to existing rivers or new green infrastructure, while existing assets are being brought back into service and improved.
The largest individual part of the project, though, is a new 1.5m diameter tunnel through central Llanelli that is due to be completed this autumn. At a cost of £13 million, the new trunk sewer known as 'The Spine' required six years' design and planning before work began in early 2017. It includes eight 6m diameter shafts 11m deep and an 11m diameter terminal pumping station rated to lift 3,300 litres per second. "It's almost like an extra water course because every water course in Llanelli is full," O'Brien said.
RainScape has already seen more than 42 hectares of surface water separated from the foul sewer within Llanelli and reduced peak flow in the sewer by 6,000 litres per second, ensuring 1.5 million cubic metres of clean rainwater is no longer pumped and can be stored and reused or diverted to green spaces, rivers and streams. Flood risk resilience has been improved to greater than one-in-30-year protection across Llanelli.
Greener Grangetown, meanwhile, had different objectives. As Ian Titherington, lead officer at City of Cardiff Council, said last year: "What we're doing here has nothing to do with flooding. This is all to do with rainwater removal from the sewer system, to enhance the community and save environmental costs."
Rainwater in the Grangetown district had to be pumped eight miles to enable it to be treated and put into the sea near Barry. The project, initiated by a partnership between Cardiff Council, Welsh Water and Natural Resources Wales, has seen trees, planters, grass channels, drainage kerbs and rain gardens installed across an area of 12 residential streets, cleaning the water naturally and diverting it into the nearby River Taff. It means over 40,000 cubic metres of surface water is removed from the sewer network annually, creating a reduction in pumping and treatment costs and freeing up capacity for future development.
In addition, the blue-green corridors improve the area generally, with the additional intention of regenerating parts prone to crime and antisocial behaviour.
"We're using drainage as a tool to improve the whole community and effectively get people to understand that water is an asset and not a threat," Titherington said.
The project has been implemented by contractor ERH Communications & Civil Engineering, which had to contend with a substantial number of unmarked utilities and poor ground conditions during the installation work. Perhaps the greatest challenge for any retrofit SuDS project, though, is handling community anger over the loss of parking, both during the construction phase and beyond, with Grangetown now accommodating 1,700 square metres of new green space.
Large public meetings were held along with weekly drop-in sessions, leafleting and social media engagement. Parking permits were issued to residents and commuters, and ERH workers were encouraged to communicate the aims of the project to the public to keep people onside.
"We had a 'meet the contractor' event," ERH civils operations director Ken Evans told a conference last year. "We thought about 50 people would turn up but there were about 150-200 really very angry people. We had another one a couple of weeks ago and it's completely changed – only one angry person."
Titherington added: "You have to avoid confrontation, constantly communicate and make the community feel part of the scheme."
The partnership between Welsh Water, the council and Natural Resources Wales has been key to seeing Greener Grangetown to fruition, and the local authority will carry the responsibility for maintenance of the new greenery. Measures have also been taken ahead of time, such as installing root cell systems for the 130 trees planted in Grangetown to help them thrive in the urban environment.
The increased focus on nature-based solutions creates new challenges and, as Welsh Water acknowledged in its 'Plan for Maintaining and Enhancing Biodiversity', they are intrinsically less predictable than conventional, hard-engineered treatment processes and networks.
However, the changing landscape is creating a situation where they will often be the best or even only option, and the Water Industry Awards successes for Welsh Water and its partners represent recognition of the effective delivery of an approach that is going to play an increasingly important role in the sector's future.
"Sustainable drainage plays a vital role in Welsh Water's long-term approach to protecting our customers and improving the environment in spite of the growing pressures from climate change and urbanisation," O'Brien tells WET News.
"It does this by enhancing the inherent resilience of our assets and allowing them to cope with the increasing variability of the demands we make on them.
"To meet our ambitious plans between now and 2050, we need to work in partnership with stakeholders to share knowledge and invest in areas where our priorities overlap.
"The Greener Grangetown project is a great example of how we can work with forward-thinking organisations like Cardiff Council and NRW, and we were delighted when the project was recognised as the Engineering Project of the Year in the 2018 Water Industry Awards in the face of some stiff competition."
Dwr Cymru Welsh Water's RainScape project won the the Drainage & Flood Management Initiative of the Year Award, which was sponsored by the British Precast Drainage Association (BPDA). It was awarded at the Water Industry Awards on 21 May 2018.
This article originally appeared in the June issue of WET News.