Structural cast and ductile iron pipe assessment
The Water Research Foundation is to publish a report into non-destructive condition assessment technologies for small diameter cast and ductile iron pipe. MWH's Adrian Davies-Jordan, Guy Cleveland and Sandra Rolfe-Dickinson outline the report's key findings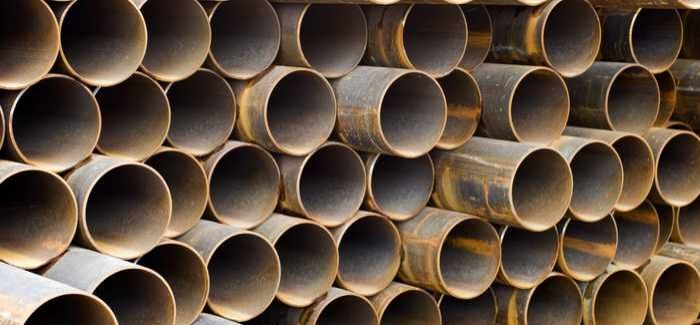 The common failure mechanism for small diameter pipes is corrosion
In association with the Water Research Foundation, MWH is in the final stages of a three-year research project investigating the use of non-destructive condition assessment (CA) techniques within the global water industry.
The focus was on technologies capable of estimating the remaining structural metal in the pipe wall.
The project report, due for publication later this year, aims to demonstrate the benefits of CA in asset management of small diameter cast iron pipe (CIP) and ductile iron pipe (DIP).
It will also provide an evaluation of existing CA technologies, and prioritise the next generation of CA technologies for further development. This will include a development plan for new technologies applicable to small diameter (≤ 400mm/16") CIP/DIP.
What's wrong with current CA techniques? This was the key question for the project researchers.
A recent study in the US of 14 large diameter CIP breaks recorded an average failure cost of US$500,000 (£325,470). Such failures result in massive water loss, property damage, and negative publicity. This makes the case for large diameter CA easier to make, even if the assessment cost is expensive.
However, for small diameter CA, initial findings showed water utilities felt the cost benefit case for using existing cutting edge techniques was poor.
A 2009 US EPA study put the average cost of small diameter failures at $10,000 (£6,509).
Although, many of the tools used to assess large diameter CIP/DIP can be used on smaller pipelines, the relatively low cost per failure figure means the cost benefit case for proactive small diameter assessment can be hard to justify. Especially as road closure and excavation costs alone, may exceed failure costs.
Key question
The problem with this approach lies in considering individual pipeline failures. With upwards of 300,000 small diameter breaks annually in the US alone, this equates to potential failure costs in excess of $3B (£1.9B).
So the key question then, is do CA techniques exist capable of quantifying remaining structural metal; techniques that can provide the data needed to proactively prioritise rehab / replacement budgets and are inexpensive relative to the low failure costs of small diameter breaks?
The project initially identified relevant failure modes through an international literature review. This was used to populate a global survey sent to more than 50 water utilities Australia, Canada, New Zealand, the UK, and the US.
Data received from 29 utilities was used to identify, prioritise, and estimate the cost of their small diameter CIP/DIP failures.
With the exception of third-party damage and ground movement, the common failure mechanism is corrosion. If small diameter CA is to be effective in predicting failure and assessing structural adequacy, it needs to quantify the extent of corrosion pitting and wall thinning.
Failure costs incurred from 15 of the participating utilities and indicates that in the majority of cases failure costs were 10 times that of CA expenditure. The failure costs ($27.5M) were mainly incurred in pipelines ≤ 150mm/6" with less than $250,000 being spent on CA. At less than 1% of failure costs this supports the water utilities position that individual failure costs don't justify the expense of CA.
Failure costs
The project also looked to identify the key factors in decision frameworks used to justify proactive and reactive small diameter CA. Again, the data showed failure costs are considered relatively unimportant at these small diameters. It was only when the data for reactive CA was analysed that the direct cost of failure became important, though still second to burst history.
Limited uptakes
A key element of the project was the identification and review of existing CA technologies. The following techniques were considered applicable for the structural assessment of small diameter CIP/DIP:
• Acoustic propagation velocity measurement (APVM)
• Acoustic resonance technique (ART)
• Broadband electro-magnetics (BEM)
• Hand held ultrasonics (UH)
• Phased array ultrasonics (UPA)
• Remote field technology (RFT)
• Magnetic flux leakage (MFL)
Although BEM, MFL, RFT, and Ultrasonics are represented, the most commonly used techniques are Acoustic leak detection (ALD), CCTV, and Visual inspection. Without destructive testing, these techniques cannot quantify remaining structural adequacy.
Furthermore these techniques featured low on the list of those considered most suitable for smaller CIP/DIP by the participating CA contractors. When participating utilities were asked why there was such limited uptake of techniques other than ALD, CCTV, and visual inspection, they cited cost as the main issue.
When asked what improvements would justify the cost of assessment, the ability to inspect continuously without the need for excavation or service interruption were at the top of the wish list.
The majority of respondents (87% ) said they were willing to pay more for non-interruptive techniques, rising to 95% for non-excavation techniques.
A gap analysis was undertaken to see if tools currently existed that met these performance criteria. This included comprehensive details on inspection lengths, access requirements, service interruption times, and applicable diameter ranges.
Our research shows that currently available techniques are capable of meeting the majority of water utility requirements, such as acoustic propagation velocity measurement, phased array ultrasonics and remote field technology.
Replacement schemes
These can all inspect long pipe lengths and can be inserted into live pipes without excavation.
There are limitations – some are only capable of qualitative assessment and inspection lengths differ according to technique, but the strength of these technologies is their ability to identify pipeline sections at risk, targeting these for rehab/replacement and avoiding the expense of replacing the whole.
Our data showed research organisations were aware of water industry performance requirements.
The majority echoed the utilities position on the cost of small diameter techniques with 50% working on techniques specific to CIP/DIP, and capable of inspection without excavation or service interruption. Asked to identify key developments in small diameter CA, most indicated no dig or single insertion techniques capable of assessing long pipe lengths was the answer.
CIP is expected to continue to deteriorate with age with the likelihood of increasing failure costs. Total replacement is neither desirable nor affordable but effective rehabilitation and selective replacement schemes, require more than reactive, discrete CA. Water utilities argue that small diameter assessment is expensive.
However, continual long length assessment should be considered in terms of the amount of data that can be collected.
If considered in terms of unit cost the benefit case is easier to make.
* Rolfe-Dickinson et al. 2013. Pioneering Non-Destructive Condition Assessment Technologies for Small Diameter Cast & Ductile Iron Pipe.
Draft Report. ©Water Research Foundation. Reprinted with Permission.