Stopping Hastings falling foul of the revised BWD rules
Various sources of pollution were putting the population and historic town of Hastings at risk of failing the stringent new standards demanded by the revised Bathing Water Directive. MWH's Rob McTaggart explains.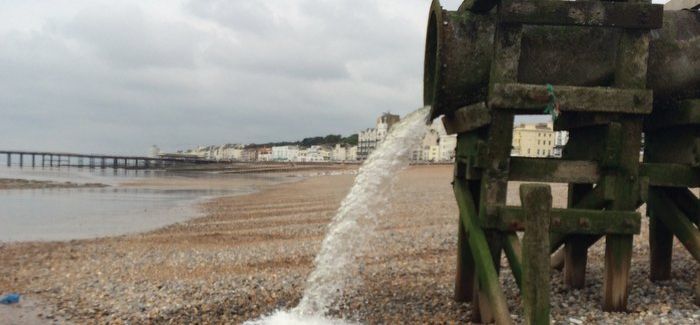 The Alexandra Park Stream Outfall discharging 60m from the bathing water sample point
The revised Bathing Water Directive (rBWD 2006/7/C) introduced by the European Union has brought a new classification system with much tougher water quality standards as well as an emphasis on providing information to the public. It has four levels of classification – excellent, good, sufficient and poor.
Hastings had been identified as one of 25 UK beaches at risk of failing to meet revised bathing water quality standards. Additionally, the Environment Agency (EA) had predicted that Hastings would be classified as "poor" for the 2015 bathing season. Southern Water, therefore, set itself the target of achieving at least the "sufficient" classification (as identified in the Environment Agency National Environment Programme) following the 2015 season.
It was clear from the outset that this was not going to be an easy fix. Especially, as the Hastings drainage catchment is a historic area, heavily urbanised, covers an area of approximately 1,350 hectares and has a population of around 56,000.
The EA had identified the Alexandra Park Stream as a major path of pollution that discharges directly onto the beach, 60m from the bathing water sample point. As a result, the EA and Hastings Borough Council (HBC) undertook works to clean Alexandra Park Stream during 2014 and 2015.
It was also quickly obvious that this was not a challenge that could be tackled alone. Southern Water, HBC, EA and Hastings and Rother Voluntary Action groups, all supported by local MP Amber Rudd, joined forces to create a consortium to collectively meet the "sufficient" target.
Combined powers
The Hastings Bathing Water Executive Group (HBWEG) formed to bring together interested parties and foster collaboration and data sharing. The combined powers of all these groups enabled them to address sources of pollution and communicate effectively with the public and other stakeholders.
Work carried out by all parties has helped fix a variety of pollution sources leading to the town's bathing water now passing the more stringent standards (which are twice as tough as those previously applied). The first results published on November 5 show the bathing water not only passed but has been classified as "good", exceeding the "sufficient" target
John Spence, head of Water Quality and Environment at Southern Water, says: "This is fantastic news for Hastings and demonstrates just how successful this collaborative way of working can be. We were fortunate to have the support of the town's MP, Amber Rudd, who helped drive the collaboration. We are really pleased to have played our part in helping the town protect its bathing water and meet the new standards for water quality."
Southern Water commissioned MWH to carry out a detailed review of all the historic investigations in Hastings in 2014 and prioritised areas of the catchment for further research. We took visual surveys and grab water samples at every outfall in the catchment that discharge to Alexandra Park Stream to identify key sources of pollution.
Several sub-catchments were confirmed as being low risk to pollution following these surveys. The sub-catchments where pollution was present were prioritised to achieve the biggest impact in reducing the bacterial load discharging onto Hastings beach. These sub-catchments were thoroughly investigated to identify bacterial sources by means including strategic caging, manhole surveys, connectivity surveys and property surveys.
Approximately 1,700 surface water manholes were successfully surveyed. A total of 125 defects to dual manholes, which have the potential to be a pollution source, have been identified to date and remediated.
Misconnections
Between 2014 and 2015 additional surveys commissioned by HBC, MWH and Southern Water collectively checked the connectivity of more than 1,200 properties in the town, revealing misconnections at 85 properties. These included dishwashers, washing machines, sinks and 22 toilets.
Details of all the private misconnections found have been passed to the council so they can contact homeowners and arrange for them to be corrected. Southern Water continues to carry out rectification works on the public network where issues have been identified.
It was envisaged that direct misconnection would be the main source of pollution. However, the extensive survey work identified that indirect misconnections were the main source of pollution. Misconnections are when foul sewers carrying wastewater from homes to the town's treatment works are wrongly connected into surface water pipes through which rainwater is released into the sea. Indirect misconnections occur when a foul sewer running through an open dual manhole becomes blocked. As a result, the sewage builds up and tips into the surface water network. The survey identified a small number of misconnected properties.
It is estimated that the removal of these indirect misconnections has reduced E. coli being discharged into Alexandra Park Stream by 47.9 billion E. coli/day.
An assessment of the three overflows in the catchment was carried out by Southern Water, to determine what risk they posed to the bathing water based on frequency and scale of pollution. Following a review of historical spill events, it was concluded that the spill frequency of the overflows in Hastings was not regular enough during a bathing season to have an effect upon the classification of the Hastings bathing water.
To help communicate this wide-ranging project to the people of Hastings, a community-led campaign called 'Clean Seas Please' was set up in March 2013. It is managed by Hastings Voluntary Action and Rother Voluntary Action, and supported by the EA and Southern Water.
Volunteers from Clean Seas Please held a series of high profile events across the town. The wide-ranging and successful campaign focused on encouraging people to check their domestic plumbing for misconnections and to only flush the three Ps – pee, poo and paper – and to put everything else in the bin.
Richard O'Callaghan, Coastal Environment manager for the EA, says: "It is great news for Hastings but it's crucial that we continue to work in partnership to address the effect that pollution is having on bathing water quality. Having quality beaches and bathing water is not only good for the water environment, but also for tourism and local economies too."
The impact of this collaborative project has resulted in Hastings Bathing Waters exceeding the targeted "sufficient" classification and achieving a strong "good". Southern Water has so far invested more than £3M in the work and further surveys are now being carried out in north-east Hastings. The collaboration will continue to protect and sustain the classification achieved.
Rob McTaggart, senior principal civil engineer at MWH, is strategic solution provider technical lead on the Hastings project.
This article first appeared in the January 2016 issue of WEt News.