Spa town saves on major infrastructure
An innovative approach to drainage in historical Leamington Spa has made 80% efficiency savings, says European manufacturer Kijlstra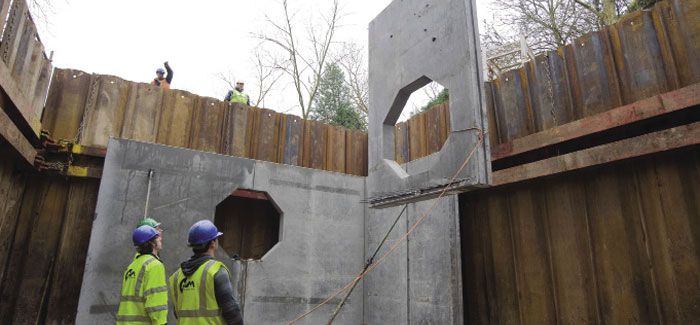 A new chamber is installed in Leamington Spa
Kijlstra, one of Europe's largest manufactures of off-site precast drainage products, says it is helping to provide significant cost reductions on a major water infrastructure project in the regency town of Royal Leamington Spa. The company is supplying combined sewer overflow (CSO) structures and river outfalls together with large valve chambers to framework sewerage contractor NMCNomenca, which is constructing a strategic upgrade of the existing sewer network on behalf of Seven Trent Water (STW).
This first phase of the ongoing programme of sewer improvements is valued at £7.6M and is one of the most extensive and complex sewerage flooding schemes undertaken by Severn Trent and NMCNomenca, as it involves replacing 2.2km of mainly Victorian sewers through the town centre, reducing the risk of sewer flooding to over 50 properties in the town. The new design enables the abandonment of four uncontrolled overflow structures, to be replaced by two new screened CSO chambers which will help to improve water quality in the River Leam in high amenity areas.
STW set its supply chain a challenge to achieve 20% efficiencies in the delivery of their AMP5 capital programme. Nomenca identified that cost and time savings could be achieved by installing precast concrete units in place of the traditional cast in-situ method. The contractor approached Kijlstra at an early stage of the contact to develop bespoke pre-cast options and work with their design team to help manage the process.
Geoff Hancock, site manager for NMCNomenca says: "We had to construct two river outfalls which can only be accessed by closing off local footpaths, and in area where you are mixing concrete close to a river it can easily pollute. We eliminated this risk."
Following the success of the outfalls, NMCNomenca opted for Kijlstra's pre-fabricated CSO structures, together with a large valve chamber. By adopting these solutions, the time for completing this part of the project was reduced from five to two weeks.
Nomenca estimates that the use of Kijlstra pre-cast structures has provided up to 80% programme reductions compared with traditional construction methods. This was achieved by using repetitive designs for connections between the precast panels and the in-situ base, ensuring that no shuttering was required during the installation phase.