Something old, something new
Air-Water Treatment and Plasma Clean have shown that the future of odour abatement is a combination of the traditional and modern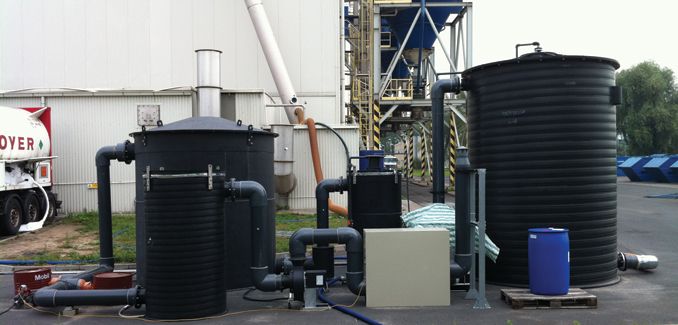 With ever tightening environmental pollution legislation, the impact on odour control in waste water treatment facilities can be huge. British companies Air-Water Treatment (AWT) and Plasma Clean have come together to prove traditional and new technologies are the future of odour abatement in the sewage industry.
In a recent pilot scale study, companies from all over Europe were invited to take part in a pilot scale study to design a system to combat VOC emissions from a Polish sewage sludge drying facility.
One of those asked to take part was Flintshire-based Air-Water Treatment, which has been providing a substantial range of odour abatement equipment to the water industry for more than 30 years.
Having assessed the design for the pilot study, John Naylor, MD of AWT, says: "Because the sewage sludge drying process is one of the most complicated processes for odour control, we knew the design of that system would mean there would be some breakthrough of difficult hydrocarbons such as aldehyde and ketone compounds"
The solution to this breakthrough problem was to talk to David Glover, managing director of Plasma Clean, a spin out company from the University of Manchester. Plasma Clean is one of the UK's leading developers of innovative air purification systems. The two companies came up with a design that not only proved new and traditional can work together efficiently, it also beat rivals from Germany and Italy in the Polish study.
At the site's inlet point the total hydrocarbon levels were 45ppm. After being treated by a combination of AWT and Plasma Clean technology the measured total hydrocarbons were 0ppm over a five-month period.
In this study AWT used a combination of bio-filtration, wet scrubbing and its Peacemaker dry scrubber to treat the sulphides, mercaptans, amines and ammonia compounds within the gas stream.
Once these VOCs had been treated by AWT technology, it was Plasma Clean's turn. The air was initially treated by the Xtract 2100 where the VOCs were mixed with ozone, which essentially attacks double bonds in VOC molecules by a process known as ozonolysis.
This was followed by treatment in the Techniclean UV-C module, where UV-C light was used to treat the ozone activated air by a process known as photolysis – where photons are used to cleave double bonds in molecules.
During the test phase between June and September 2012, the AWT odour abatement technology reduced the hydrocarbons to 0ppm for three months. When the anticipated breakthrough occurred, Plasma Clean's ozonolysis and photolysis technology reduced the breakthrough hydrocarbon emissions to 0ppm.
The pilot scale study has given both Air-Water Treatment and Plasma Clean a clear indication that their combined technologies will make a real difference in odour abatement for the wastewater industry.
As Glover says: "The study has demonstrated that our advanced oxidation systems are highly effective for industrial processes when used in combination with AWT's traditional air treatment systems."
Naylor agrees: "The technology that is offered by Plasma Clean is a completely different type of odour control. It is an excellent system to go on the back end of our existing and proven technology.
As environmental standards increase there is a need for final polishing, removing difficult VOCs down to the very low levels.
"We see the Plasma Clean system of ozonolysis and photolysis to be the way forward on that."
The success of their partnership on this pilot study means the two companies will work together on future projects in the water industry and beyond.