Smart thinking: The digital asset management revolution
With many of the pieces now in place for a digital asset management revolution, AI and machine learning solutions are set to have a significant impact throughout the sector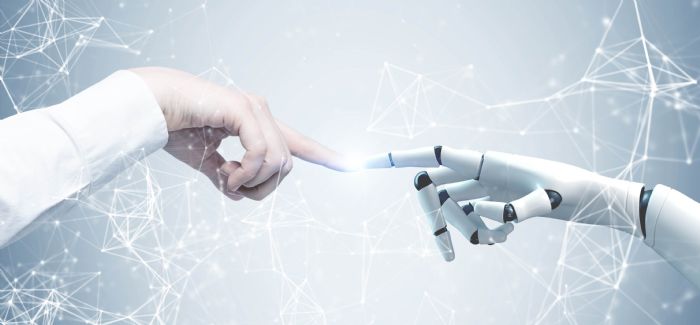 HOW HARVI USES AI PRINCIPLES
The idea of artificial intelligence began to gain ground in the mid-20th century and, over the decades, the ability to process data, recognise patterns and identify solutions has developed significantly and now forms part of everyday life.
For example, algorithms are routinely used to process internet use – taking into account data such as sites visited and which device and browser are being used – to form a demographic profile of the individual and provide targeted advertising or content recommendations.
Banks, meanwhile, monitor everyday financial transactions to create a baseline for how the customer behaves and can then temporarily cancel their card if there are signs of potentially fraudulent activity, such as unusual shopping sprees or use in a foreign country.
Perhaps the most striking use of AI to date came last year, when Google demonstrated that its Duplex chatbot technology could so convincingly mimic a human that it could call up a hairdresser and book an appointment without detection.
"A lot of those technologies were built on this concept of hierarchical hidden Markov models," EMAGIN's Thouheed Gaffoor says. "Nuance Communications was one of the first companies to come up with the virtual assistant concept after studying how the human brain works, and a lot of its technology is what got baked into Siri.
"If you look at how the human brain understands sentences, it's hierarchical. If the machine starts off by looking at a piece of paper with some messy handwriting, the first layer is: Can I interpret and understand each letter based on the handwriting? Then: Can I understand the words? Then: Can I understand the sentence? Then the last bit is: Do I understand the context of what the sentence is saying?
"That's a hierarchy. That's how the human brain works and the concept that was abstracted behind a lot of machine learning models that made its way into Duplex."
EMAGIN's HARVI platform follows many of the same principles, recognising patterns within the data, understanding the wider context and then – if necessary – suggesting a response.
"We saw similarities with the water infrastructure in terms of plants – you have sensors that are generating parameter readings, these sensors are connected to assets, these assets have multiple parameters that are being measured, you have multiple assets connected to each other to form a process, and you have multiple processes in a plant," Gaffoor says.
"A system is more than the sum of the assets, just as a sentence is more than the sum of the words. It's the context that's key. We saw the analogy and were able to capture that and bring it to the sector, and that's something that nobody has ever done."
Black & Veatch's Mark Kaney adds: "It's opportune when you look at the UK water sector and the narratives coming out of Ofwat about no longer thinking about assets and starting to think about asset systems, especially in relation to sustainability, resilience and reliability.
"A system can't just be a bunch of assets because that doesn't consider how they behave differently when you connect them together. This approach faces that challenge head on – it's not just looking at everything in isolation, putting it all in a bag and then saying: 'When you tot that all up, it means this'. It treats a system as a true asset life cycle system."
By Robin Hackett
While the water sector has already made significant strides in the use of BIM for design and build, digital asset management could deliver more substantial benefits, and artificial intelligence and machine learning are among the technologies promising transformational approaches.
How long the transformation will take remains uncertain but, with tech companies demonstrating that cutting-edge AI can be adapted for the water sector, the journey has already begun.
NEW SOLUTIONS
While the industry can gain real insights from the existing standards of instrumentation used to measure asset health, there is scope for improvement – instantly identifying when an asset has failed is not nearly so useful as accurately predicting that it is due to fail and being able to intervene.
The opportunity to move from reactive to proactive approaches, and being able to understand an asset's role in a connected system, could be significant.
"Everybody's trialling new non-destructive testing or measurement methods to look at asset health below ground, but we're seeing very few widespread, systematic solutions," SES Water innovation manager Jeremy Heath says. "We're really waiting for a lot more data to come through."
Two key developments have the ability to facilitate change. The water sector is set to be hit with a surge of new data as the industry takes advantage of the superior, and more affordable, communication protocols offered by the Internet of Things (IoT) to install a raft of new sensors above and below ground.
However, more data creates its own problems. The Veritas Databerg Report 2015 for Europe, Middle East and Africa (EMEA) estimated that 54 per cent of stored data is 'dark', meaning no value is derived from it, and 32 per cent is 'ROT', meaning redundant, obsolete or trivial. The amount of data generated is also growing at a phenomenal rate – an IBM report in 2017 estimated that 90 per cent of the world's data had been created in the previous two years.
Like most sectors, water is at risk of being overwhelmed.
"There's a wonderful acronym for water companies," Heath says. "DRIP – data rich, information poor. Water companies are great at collecting loads of data and doing nothing spectacular with it. There's no point in getting data back if you can't process it."
The solution to that could come with the implementation of AI and machine learning technologies, which have the ability to process and utilise vast amounts of data. These technologies will also allow companies to move beyond just descriptive analytics, which uses the data to understand past incidents and trends, to predictive analytics, which establishes what is likely to happen, and prescriptive analytics, which suggests actions on the basis of the predictions.
A number of tech companies and universities that have developed such platforms are now looking to seize the opportunity in the water sector.
"There's a lot of entrants that have never been associated with the water industry coming in because they have an AI engine and recognise the amount of data we've got," Heath says. "What we're seeing from the first demonstrations is that they're very good at looking at systems and working out whether they're working normally or not.
"They will learn your particular system and how it operates, which is completely different from the old system of putting in an alarm and saying: 'If it goes above or below that level, send me an alert. If it's between the two, I'll assume it's fine.' With an AI solution, you can start to program exactly how that asset should operate."
Hitachi is among the big-name companies to have identified an opportunity in the water market, but Canadian technology firm EMAGIN became the first to introduce large-scale artificial intelligence into the UK water sector late last year following a successful trial with United Utilities.
"We see the market as ready for this," EMAGIN CEO and co-founder Thouheed Gaffoor says. "They're looking for new technology to optimise operations connected to some of the capital planning and have a more holistic approach."
EMAGIN recently signed a two-year strategic partnership with Black & Veatch Water Europe that adds asset management and engineering knowhow to the former's HARVI artificial intelligence platform.
Black & Veatch has since announced the launch of a Smart Maintenance business to support utility clients in the UK, which will be used to bridge the gap between strategic asset management support and hands-on implementation.
"From our perspective as a technology company, we needed a strategic partner that has not only a large network and domain understanding but also the engineering expertise that can help us navigate through the market," Gaffoor says.
Mark Kaney, Black & Veatch's asset management director for Europe, adds: "We realised it was something we could offer to our clients that would bring value. It's not just clever, it's not just innovative – there is something there that is a true value proposition.
"Operational budgets and Totex amounts are getting smaller, so companies can't just keep throwing more and more money at this problem and hoping it will go away. Even if the money was there, it's not going to get it done. They need to find more of the problems. That's where predictive and prescriptive analytics comes in – the way to get ahead of that curve is to not have the problem in the first place."
DATA ISSUES
While the potential advantages are significant, there are challenges to overcome. One is that a significant amount of clean data is required to determine what 'normal' looks like before anomalies can be detected with precision.
For many water companies, that might cause difficulties. Historical data may not contain all the necessary information, may be inaccurate, and may be scattered across different parts of the business.
Ian Small, AECOM's innovation champion for civil infrastructure (EMEA), believes such issues mean it will take more than a decade to start reaping the full value of digital asset management.
"It will have had an impact by the end of AMP7 in that the processes and ways of working will have changed, but I don't think we'll have realised the vast potential benefits," Small says.
"We'll have organised, or be organising, the data. We'll have collected a lot more. The datasets won't be that long – while there are datasets that go back years, they're not very well organised, so it's a lot easier to just organise the data going forward.
"Once you've got 10 years of data, starting from tomorrow, you'll be able to do a lot more with it."
There is also work to do as BIM matures and shifts focus from Capex to Opex.
BIM – now often used to mean 'better information management' rather than 'building information modelling' – is seen as a key enabler for the Fourth Industrial Revolution (4IR), which is marked by the convergence of new technologies in fields including robotics, AI and IoT.
Systems can be used to hold data on assets in ways that are both easy to understand and widely accessible, and the cross-industry BIM4Water group believes 80 per cent of BIM's benefits should come through the operational phase.
However, while the water sector has made major progress in the use of graphical models as part of project delivery, the industry is still yet to get to grips with the need to effectively transfer the asset management information so that it can be used into the future.
"AMP6 has been a little bit of a learning curve for the industry in how we might implement some of the digital techniques that are available," former BIM4Water chair Andrew Cowell says.
"Primarily that's been focused on project delivery, but I think the dawning realisation is that the real benefit of digital is when we take that project delivery digital footprint into the asset management phase and the operational phase. We've run out of road in terms of project delivery and trying to cut capital costs there."
As part of its efforts to explore where BIM can add value to the sector, BIM4Water set up an 'owner-operator group' that brings together all of the UK's water and sewerage companies, and its focus is on "whole life of asset knowledge and better business information management".
That has helped influence the work of the standard libraries group, which is seeking to overcome the issues posed by varying data formats.
"One of the common elements the water companies have struggled with is getting consistent data from the supply community about the products being provided, and one of things that's frustrated the supply community is that different companies ask for different product information," Cowell adds.
"The standard libraries group has developed product data templates for different products. If we could get universal adoption of those, and templates for all the products being supplied, it would help to standardise delivery of digital information into asset management systems."
BLENDED WORKFORCE
Even with perfect data, the implementation of AI and machine learning technology demands cultural change within the business. Operational teams will need to learn to trust the guidance from the AI and act accordingly but, equally, the AI platform requires input from subject matter experts.
The technology might detect an event in the data patterns, but that event could have a number of causes: it could come from asset failure, such as a burst pipe or pressure transient; it might be a process shift, such as a new influent stream; it could be down to maintenance activity; or it might simply be that the sensor has failed.
Similarly, until the technology gains an understanding of how the various data streams should behave in relation to each other, it might not realise an event such as sensor failure has occurred.
Subject matter experts will be required to provide insight into the data patterns and teach the platform how to recognise failures and asset behaviour. Rather than replacing the existing workforce, the idea is to create a blended workforce that together can deliver the best possible solutions.
"It's giving the AI the tools to do the job, like the way you would train a graduate, put them through a training programme and get them experience on different sides," Kaney says. "If you think of the AI as another component of your workforce, it has the ability and capability to learn, but we still need to teach it. You need the blend of the expertise with the AI's fast ability to pick it up."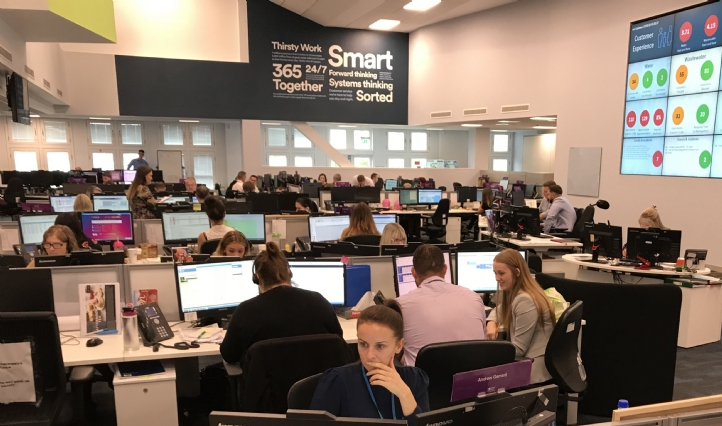 United Utilities was the first water company in the UK to introduce large-scale artificial intelligence into its operational systems
As the idea of the blended workforce takes root, the hope is that artificial intelligence will ultimately release staff to focus their attentions on identifying new solutions.
"I can see a time where it'll be something your average engineer can do without needing any in-depth training," AECOM's Small says. "As automation becomes bigger and more ubiquitous in everything we do, the skills that engineers need will be more about being creative and who can design the best solution that the AI or automation can resolve."
READY FOR THE FUTURE
While there are different levels of readiness across the industry, it is clear that there is an urgent need for the whole sector to get to grips with digital asset management sooner rather than later.
"Some water companies and some in the supply chain have really grasped this and are really moving forward at a pace, and others have sat back and waited to see where this is going to go," Cowell says.
"With the digital movement, it's dangerous to sit back and wait and see where it goes because it's moving at a pace. It's a bit like swimming – unless you actually jump in, you're not going to learn to do it."
While there have been challenges, United Utilities has enjoyed a relatively smooth implementation of the HARVI platform in large part because the company instilled an open-minded approach to adopting the technology and adapting its own processes.
"They didn't just take the technology and assume it would drive efficiencies," Kaney says. "This technology came into a new operating model – they created the wholesale technology division because they knew they wanted to go down this route.
"They recognised that the business needed to act and behave differently, and be organised slightly differently, to get the maximum value, so they laid the groundwork first."
EMAGIN has since deployed HARVI at Scottish Water, too, and Heath says more and more companies are now starting to look at AI techniques.
"It's like the way Excel spreadsheets came through the industry about 25 years ago – a few departments started using them and finding the benefit and then it expanded into other areas as people started to realise that it makes a lot of sense," he says.
"I would expect that, in the next two or three years, we will see every water company in the UK using some form of AI in some form of their processing. My suspicion is that in five years or so, that will become the norm. It's been remarkably quick in the uptake and I know the companies that have been experimenting with it have been very impressed with the results they're getting."
SES Water's Jeremy Heath will be discussing innovative techniques to manage asset health at the WWT Asset Management conference in Birmingham on 2 May. For more information, visit: event.wwtonline.co.uk/asset
This article originally appeared in the April issue of WET News