Sludge storage system a piece of cake for Saxlund
Saxlund's experience in sludge handling and delivering flat bottom silo technology was key when Anglian Water wanted to update site storage systems as part of its Love Every Drop target to reduce operational carbon.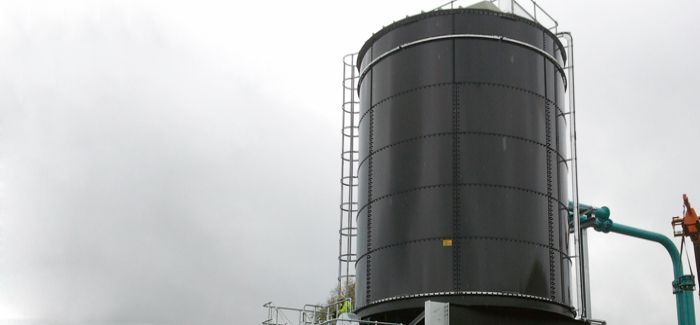 Anglian Water supplies water and wastewater services to more than six million domestic and business customers in the east of England and Hartlepool. As the largest water and wastewater company in England and Wales by geographic area, Anglian Water provides its customers with almost 1.2 billion litres of drinking water daily, and treats almost a billion litres of wastewater before returning it to the environment.
In order to meets its Love Every Drop target to reduce operational carbon Anglian Water decided that a number of its sites needed an updated sludge storage system. By updating these systems, including one at Thetford, Norfolk, the utility will be able to maximise the treatment of sludge and production of renewal energy across the area.
A new storage sludge silo had to be managed, installed and completed within a tight programme of around 16 weeks; which also included the installation of the mechanics and electronic components.
GTM, the joint venture between Galliford Try and Imtech Process, selected Saxlund International, a major provider of innovative solutions for bulk materials handling and biomass combustio, to assist with the Anglian Water project.
As a result of Saxlund's extensive experience in sludge handling and delivering flat bottom silo technology, the company, part of Opcon Bioenergy, was tasked to develop a system for the storage of sludge at the Thetford satellite water treatment works. This project would also include finding a solution to load the material into articulated trucks for transport to collection works, where the sludge would be then taken for further processing.
Since AMP4, Anglian Water has a commitment to reshape its business around a low-carbon model, and as a consequence is implementing a strategy of installing high efficiency Combined Heat and Power (CHP) engines at new advanced digestion plants, as part of its Biosolids Programme.
At the beginning of AMP4, Anglian Water had a total installed power generation capacity across its region of just 14GWh/year. By the end of AMP4, this was increased to more than 40GWh/year and is projected to increase to almost 90GWh/year by the end of AMP5 in 2015.
As a result, installing these engines are an integral part of new advanced (hydrolysis) digestion plants and provides an important element in reducing operational carbon.
As part of this strategy, Anglian Water is building a number of centralised advanced digestion sites that require additional sludge cake imports from satellite sites. These satellite sites require truck loading facilities that can particularly cope with the transportation of sticky bulk solid materials like de-watered sludge cake.
Under the contract, Saxlund delivered a 200m3 truck loading storage silo for the loading of dewatered sludge cake into trucks, which has proven to be a popular design and size for the application. The silo is fed by the sludge cake being pumped into the silo in a way to maximise the storage capacity.
The silo was supported high above the road on legs to allow cake to be loaded directly into trucks below by the reciprocating action of the Saxlund Sliding Frame into and a truck loading discharge screw conveyor.
Saxlund's Sliding Frame was a patented design that has been engineered and refined since the 1950s to a level that allows the company to claim to be the market leader in sludge handling, seeing thousands of installations across the world. The Saxlund Sliding Frame is designed to break any bridges when moving in one direction, and slide under the material when moving the opposite direction, thereby promoting bulk material flow.
Because of this bulk material flow the Saxlund Sliding Frame is a "First in, First out" technology, an added benefit for materials which can degrade over time such a Sewage Sludge Cake.
Screw Conveyors are an essential part of many conveying and storage systems. With a simple design and easily maintainable, screw conveyors can move most non-free flowing materials.
With several large components to the project, a thorough management process was required in order to install the quality equipment of first class specification, construction and performance. The Southampton headquartered company works on some of the largest projects in the UK and is well known for its excellent safety standards, as well as ingenuity in designing new products, so was able to work closely with GTM to deliver the project on time and develop a cohesive working relationship between all involved parties.
The Thetford project is still to go live, but the work conducted by Saxlund has enabled GTM, on behalf of Anglian Water, to move onto the next stage of the contract.
"The installation of truck loading facilities will enable us to transport more sewage sludge from sites"
Matt Drew, managing director for Saxlund International, said: "We were delighted to provide this wastewater solution to Anglian Water, which adds to our portfolio in the utilities sector and is testament to our capability in efficiently providing truck loading and storage solutions whilst helping the client meet their personal low-carbon targets. We're looking forward to soon beginning work at another Anglian Water site, in Bedford, which demonstrates our fantastic relationship with the company."
Sarah Collier, treatment manager for Anglian Water's Thetford works, said: "As part of our Love Every Drop initiative we are working across our region to maximise the amount of renewable energy we produce as part of the wastewater treatment process.
"The installation of truck loading facilities, like that at Thetford, will enable us to transport more sewage sludge from smaller sites to those where this can be converted into energy. What's more, the silos that Saxlund will provide will help to ensure that our customers in the local area will not be affected by this process."