Vacuum sewerage networks: solutions for difficult situations
When gravity sewers are unsuitable, vacuum sewerage technology can provide the answers - and with multiple added benefits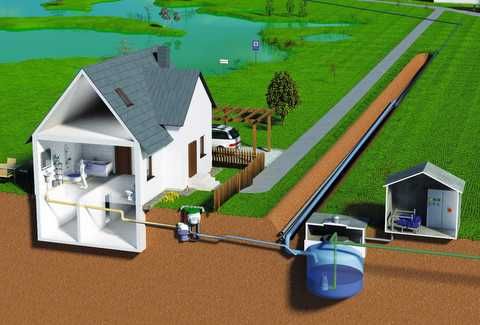 Vacuum sewerage network including vacuum station and wastewater tank
By George MacMahon, International Sales Manager, Aqseptence-Roediger
Traditional gravity sewers are often able to handle the majority of requirements regarding transportation of wastewater from buildings to sewage treatment works, yet occasionally certain situations arise where – for any of a variety of reasons – they are unable to provide the best possible solution, whether from a technical or cost perspective.
This can, for instance, be the case when ground water tables are high, or where there is danger of flooding. Here, leaks – as well as manholes – in gravity sewer networks can lead to overfilling and resulting problems. Vacuum sewerage will eliminate this risk, as such a network – made up of fully sealed plastic piping – will not allow any ingress of water.
By the same token, wastewater cannot leak out into the ground – even if there were a hole or imperfect sealing somewhere, the vacuum within the pipework will always entirely prevent any such leakage.
Vacuum sewage networks, being well and tightly sealed in all places, will of course also never emit odours or smell unpleasantly.
Another significant advantage is that vacuum sewerage technology can even enable wastewater to be transported, if necessary, upwards, viz. vertically. An example is a requirement for sewerage piping to cross a river – without pumping, this is hardly possible with a gravity sewer. A vacuum sewer pipe can, however, easily be laid, either under or over the river (should there be a bridge there, along, or under which, it can run).
The strong vacuum force within the pipework provides the additional benefit of always ensuring that wastewater flows at a high speed – this in turn leads automatically to a self-cleaning effect, so keeping the pipework free of obstructions at all times.
Of course, vacuum sewers consist of plastic pipes that are of much smaller diameter than are gravity sewers, pipe diameters of just 110mm or 160mm being very typical. These are therefore not only much easier and quicker to lay down; they can also be laid at much, much shallower depths, with just 1.0 or 1.2 metres depth being possible.
The very significant possible cost savings that result are self-evident.
In addition, any possibly required repairs later on are able to be effected quickly and efficiently, as the entire network is more easily accessible than is the case with many parts of a gravity sewer network.
Such vacuum sewer networks require special valves – supplied by Aqseptence, under both the "AIRVAC" and "ROEDIGER" brand names – which are usually located in the below-ground vacuum collection chambers, close to the buildings where wastewater is coming from. These are automatically activated, as soon as a certain pre-defined quantity of wastewater has been collected within the associated sump, also located within the vacuum collection chamber. The vacuum within the system then sucks this wastewater into the network, and transports it very quickly into a holding tank, where it is collected, to be later pumped to a sewage treatment plant, pump station or existing sewer.
Aqseptence not only supplies the above-mentioned valves and associated controllers, but also the required vacuum chambers, as well as the vacuum pumps (which generate the required vacuum). Also supplied are the holding tank (which doubles as a vacuum tank), the water discharge pumps, and the necessary process control items, including the control cabinet, required for operation of the entire system.
A recent very significant development, leading to further improved automation efficiency and security, has been in the field of "chamber management from a distance", viz. constantly remotely monitoring, as well as remotely influencing and controlling, system operation, to always ensure for best operation. This chamber management system, developed and supplied by Aqseptence, not only detects any imperfect valve operation and immediately identifies in which vacuum chamber the valve in question is located; it also reacts proactively and automatically, for instance by completely deactivating and closing the valve, in order to prevent a temporary excess of wastewater from deleteriously influencing the whole system.
The chamber management system can also be programmed to automatically open and close valves at certain pre-defined and pre-programmed times – a very useful measure in situations such as may exist whenever a property is vacant for several weeks or months, and there has therefore been no wastewater generated for a longer period. The management system thereby counteracts any danger that might otherwise possibly exist of a reduced vacuum level at the valve in question limiting its performance.
Information about the status and current operation of every single vacuum valve in a network can be obtained by suitably authorised personnel at all times, and in "real time" – as well as remotely – simply by logging in to the process control software of the management system, either with a PC plus the internet, or using a mobile phone.
By this means may a valve, or valves, also be remotely controlled by authorised personnel, provided a suitable modem has previously been installed and connected to the corresponding operating software in the control cabinet.
With such a management system is safety and security of network operation very significantly enhanced, so providing for even better vacuum sewerage.
-This article appeared in the April 2018 issue of WET News magazine.