Catchment management: Seeking Solutions at Source
After Winterton Water Treatment Works spent almost six years out of operation due to pesticide problems, Anglian Water found the way forward by working with local farmers on a catchment management solution that resolved water quality issues at a fraction of the cost of their original plans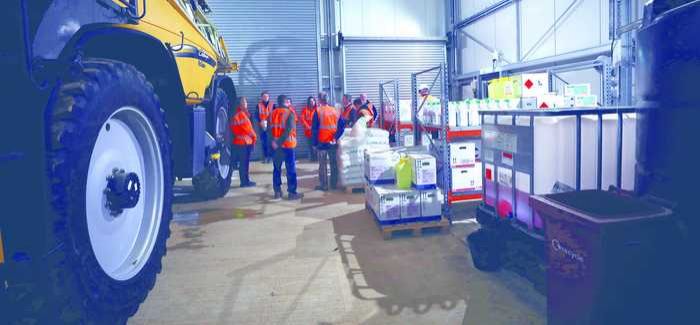 Pesticides and the DWD
• The European Drinking Water Directive (DWD) places a limit of 0.1μg/l (microgrammes per litre) for each individual pesticide in drinking water – a concentration of one part in 10 billion, equivalent to a single grain of wheat in 390 tonnes – and 0.5μg/l for total pesticides
• For water companies, that leaves little margin for error, particularly when having to contend with hard-to-treat pesticides like clopyralid or metaldehyde
• The DWD was never designed to be a health-based standard – it was set by the European Commission in 1980 to reflect the limit of analytical methodology at the time while also serving to limit pesticides generally for environmental reasons, adopting the precautionary principle
• The World Health Organization (WHO)'s guideline values for pesticides of health significance in drinking water is a useful reference point for the health effects of pesticides. Most of the recommended levels are far less stringent than the 0.1μg/l stipulated by the European Commission, and clopyralid (or 3,6-dichloro-2-pyridinecarboxylic acid) is not included on the list
• During the 2016 REFIT evaluation of the DWD, agricultural interests and some water experts argued that the permitted pesticide levels should be relaxed in favour of a more risk-based approach to drinking water regulation
• However, the European Commission rejected this in favour of keeping the strict DWD limits, saying that any contamination could be potentially adverse to human health and that pesticide-free drinking water ought to be the aim. It has pointed out that stopping pesticide contamination at source costs a fraction of the cost of treatment solutions and should be the preferred solution
by Robin Hackett
When the presence of pesticides caused Winterton Water Treatment Works to fail Drinking Water Inspectorate standards after routine borehole tests in November 2012, it was shut down immediately, with the water run to waste and Anglian Water forced to put an alternative supply into place.
By the time it had reopened in April this year, the treatment plant – which supplies 9.5 megalitres of drinking water a day to the 15,500 people of Scunthorpe while acting as a booster for nearby Thealby – had been mothballed for five-and-a-half years.
Anglian's task had been complicated by the fact that one of the pesticides found at elevated levels was clopyralid, a herbicide used for control of broadleaf weeds that has been banned in several US states due to its ability to linger in manure and compost, damaging plants years after its initial application.
Bentazone, which had also been found to exceed levels during the borehole testing, was being treated effectively at the works, but clopyralid has a molecular structure that makes it far more challenging. It is extremely difficult to remove using traditional treatment methods like granular activated carbon and ozone and, as such, could not be tackled at Winterton.
Anglian's initial proposal, approved by the DWI, had been to build a 10-kilometre pipeline from Winterton WTW to Elsham WTW, which supplies much of the drinking water for northern Lincolnshire, to allow the water to be blended and returned. The estimated cost for the pipeline was £5 million.
When Anglian brought in a catchment management team three years ago, though, they realised there was a better way of overcoming the challenge.
As the water continued to be sampled, the levels of the two pesticides came down, indicating that the original source was likely to have been a spill or a drip from a farmyard that had made its way through the aquifer and into the groundwater source.
The Anglian Water catchment management team suggested working with the farmers to put systems in place that would provide sustainable solutions for both parties and negate the need for the pipeline.
The challenge
Lincolnshire is a richly agricultural area, where pesticides are used extensively as they are a key part of arable farm management.
The European Drinking Water Directive places a limit of 0.1μg/l (microgrammes per litre) for each individual pesticide in drinking water, and 0.5μg/l for total pesticides. So there is little margin for error for water utilities, especially with the substances that are hardest to treat. Up to 70 per cent of pesticide losses found in rivers can be attributed to pesticide handling areas in farm yards. According to investigations after the incident, the clopyralid pollution that caused Winterton to fail DWI standards was likely to have come from no more than a single capful spilt in a yard.
"The drinking water standard is there and needs to be met, which means just one drip or a spill of pesticide can cause catastrophic results," Kelly Hewson-Fisher, catchment manager for the Winterton project, says.
In 2015, after the completion of an external investigation, Anglian Water sought and received DWI approval for a catchment management approach to tackle the Winterton pesticide problem at source.
The solution
Anglian's catchment management team worked with the Environment Agency to identify seven farmers they needed to work with based on their proximity to the aquifer that feeds the boreholes.
"Getting the farmers on board was actually the easy bit," Hewson-Fisher says. "After that initial engagement where I told them what the problem was, I think they were all shocked, as I was, that such a small amount of pesticide can cause such huge problems.
"Our motto is healthy crops, healthy water – we wanted to find a solution which all parties were happy with and really bought in to."
Individualised solutions were then put in place. One farmer, who owned two fields within the catchment, was using a contractor to handle spraying. Anglian Water provided a drip tray to use under the sprayer's induction hopper so that any drips or spills are contained. Another was given a biobed, which uses a biomix – a combination of straw, compost and topsoil – to filtrate any drips and spills through natural microbiological activity.
At six of the farms, purpose-built sheds were installed where farmers could fill up their sprayers and clean off their vehicles. Any drips and spills within the sheds are caught in a catch pit and then pumped through a biofilter similar to that used in the biobed.
"We have to ensure that the farmers continue to maintain them," Hewson-Fisher says. "We've provided them with the maintenance documentation booklet but I will continue the engagement with them and make sure they are utilising the equipment correctly to ensure we are protecting the source."
Anglian has also drilled two new observation boreholes within the catchment, and gained access to a third operated by the Environment Agency, to provide an early warning system should the water quality in the aquifer deteriorate.
The company also had a significant task in recommissioning Winterton WTW after half a decade of inactivity. Steve Parker, the integrated projects leader, worked with a commissioning engineer and members of the operations team to see what elements of the plant could still be used, and the network then needed to undergo rigorous testing to ensure it was ready to receive water. 
"We needed to work on the network to reverse the flow of water, but after a period of inactivity there's a chance that reversing the direction of flow will disturb sediment and affect water quality," Parker said. "We flushed out the pipe as much as we could and began to slowly change the flow, monitoring the water quality while we did it."
At the end of March this year, Winterton was returned to service, and has been providing safe and compliant drinking water to the people of Scunthorpe since then.
The future
Kelly Hewson-Fisher hopes to see catchment management growing in popularity going into AMP7 and says it is "certainly being talked about more as an alternative solution" at Anglian.
The company has worked with partners across the continent on the EU-funded FAIRWAY project, which began in June last year, to learn how other countries interpret legislation and how they collaborate with the agricultural sector to ensure water quality meets drinking water standards.
Anglian is making strides in exploring new ideas on the catchment management front, too. Working in conjunction with the University of Lincoln, the company is setting up a demonstration site, due to open later this year, that farmers can visit to examine a biofilter, a biobed and a Heliosec first-hand and gain expert advice.
It will also try to tackle other sources by exploring ways to educate gardeners and allotment holders on how to properly use and dispose of pesticides.
"It's not about banning pesticides," she says. "There is a place for them in farming and allotments – it's just about how we can work with the catchments to ensure safe and responsible use."
Farm Fixes
In conjunction with the University of Lincoln, Anglian Water is setting up a demonstration site for farmers that give them the chance to see the following pesticide-prevention measures:
• Heliosec: Developed by Syngenta in France, Heliosec is a roofed, galvanised and plastic-lined steel frame that collects the agrochemical residue from the spraying equipment during the cleaning process and then uses solar radiation and wind to remove the water through evaporation. The user can then dispose of the leftover residue. The system involves a dewatering system, including a hermetic tank, and software to assess how it should operate according to its location. The Heliosec costs in the region of £4,000.
• Biobed: Developed in Sweden in the early 1990s, biobeds are excavated pits filled with a mixture of straw (50 per cent), soil (25 per cent) and peat-free compost (25 per cent) and then turfed over. Research has shown they can cut pesticide levels in wastewater around 100,000 fold using enhanced microbial activity. Biobeds cost in the region of £3,500 to £7,000.
• Biofilter: Like biobeds, biofilters use enhanced microbial activity through a mixture of straw, soil and peat-free compost, but they tend to be smaller, are built above ground and use robust containers – often referred to as IBCs – which are stacked, with the fluid passing through from top to bottom. Biofilter costs are estimated to be around £1,000 to £2,500.