Round table: Taking stock of totex
Has total expenditure become enshrined in utilities' practices? A special pan-utility round table held at Utility Week Live sought to find out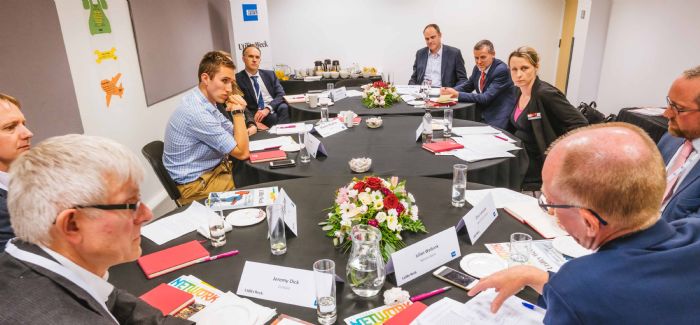 Just a few years ago, totex was the biggest buzzword in utilities. Totex – or total expenditure – was the new approach to regulation and accounting intended to end the traditional, perceived bias towards 'pouring concrete': in other words, investing large amounts of money (capital expenditure) in physical assets.
Under the old regulatory frameworks, utilities were effectively rewarded for doing this, as expenditure on maintenance or on non-physical solutions (operational expenditure) was treated less favourably, meaning companies that built more were valued higher and ultimately made more money.
Totex, enshrined in AMP6 and RIIO1, the current regulatory regimes for water companies and energy networks, was meant to end all that. Did it work? That was the question WWT asked at a special roundtable, held in partnership with Costain and sister titles Network and Utility Week, which brought together pan-industry leaders at Utility Week Live in Birmingham in May.
These are some of the questions we asked, and the answers we heard:
How far has totex been adopted?
It's a mixed picture. Delegates agreed that utilities had adopted totex thinking to an extent. This has been driven by the regulatory shift to focus on outcomes, giving utilities the freedom to deliver those outcomes in new and different ways – for example, via catchment management, whereby water companies address water quality issues with farmers and other local stakeholders at source, before they get to the treatment works. The focus on outcomes has been supported by regulatory incentives – Outcome Delivery Incentives (ODIs) have been particularly effective in water sector.
But this is just the start. Delegates suggested that while totex thinking has been applied to the current asset base, the real challenge will come in the next regulatory cycles.
What impact will AMP7 and RIIO2 have on utilities' approach to totex?
The new regulatory regimes for water companies and energy networks are putting unprecedented pressure on utilities to deliver more for less. "Totex thinking is going to have to come more to fruition [under AMP7]," one water company delegate noted. He added that under the current regime, companies have "driven efficiency after efficiency", and there simply isn't the headroom to continue making savings in this way.
Thus, a true step change, embracing the potential of disruptive technology to really do things differently, will be required. "Totex thinking has got to go to the next level," he said, "as you get disruptive technologies that actually work, that will give us a mechanism for not building unsustainable chemical treatment plants, or whatever it might be."
However, totex may not be as embedded in the new regulatory regimes as it might be. Delegates cited a specific issue with PR19, where enhancement schemes have been assessed on the basis of capital expenditure only, without allowances being given for operational costs – an issue that has bene raised with Ofwat and is expected to be addressed in the forthcoming draft determinations.
What challenges do utilities face in embracing totex?
While the economic regulators Ofgem and Ofwat have led the drive for totex thinking, utilities businesses are still operating in a framework that is not entirely sympathetic. Accounting rules in particular remain a challenge. Capital expenditure such as that on a new asset is depreciated – discounted from the balance sheet over a number of years – whereas operational expenditure comes straight off the annual profit.
Moreover, even where costs such as new technology systems or refreshes are classified as capital expenditure, they are depreciated over much shorter periods of time than traditional long-life assets, making them less attractive from an accounting point of view.
As one delegate said: "Whilst we're in a totex environment, in terms of your profit and loss, you've still got to keep your overheads down."
Water companies face a further, unique, challenge in the form of their quality regulators – the Environment Agency and the Drinking Water Inspectorate. Delegates cited these regulators as taking a 'zero tolerance' approach to failure and consequently making it difficult to innovate. They also cited several examples where Environment Agency regulation defined specific outputs at specific sites, rather than replicating the outcome-based approach now favoured by Ofwat. As one delegate put it: "We have made progress [towards totex] not because of the regulator, but in spite of the regulator."
With affordability riding high on the policy agenda, how are utilities prioritising their investment on asset maintenance and capital programmes?
Delegates revealed that in some instances, they are having to 'sweat the assets', getting maximum life out of every piece of kit by prioritising maintenance over the capital expenditure required to build new assets. This approach is supported by new technologies that facilitate condition-based monitoring – rather than have a rolling programme of maintenance based on the age or usage of an asset, utilities are able to target their maintenance spend on assets that most urgently require it.
While this is a logical approach, it does create difficulties, because service must never be compromised – and delegates acknowledged that incidents such as last year's Beast from the East highlighted what they tactfully called "resilience gaps".
What is the role of the supply chain in delivering a totex culture?
As utilities move away from the traditional approach of 'fix on fail' to condition-based monitoring, the skills required to run the network are changing. A network filled with sensors requires data and technology specialists to capture, interpret and act on the data they produce. For one delegate, this promoted the question: "Going forward, how much do we ask the supply chain to step into this?"
Traditionally, the supply chain has built assets for utilities. Totex thinking, coupled with the emergence of new and more complex technologies, inevitably drives a major shift in this relationship.
As the management of utilities becomes more complex, the supply chain is stepping into new service models whereby a supplier might, for example, build, operate and maintain an asset on an ongoing basis.
Delegates added that a particular benefit of the supply chain in this context is its ability to share learnings across companies and across sectors – "that's much more difficult to do if you're operating in a silo."
What role has innovation funding played in driving the adoption of totex?
Delegates from the energy networks sector agreed that innovation funding has been critical in allowing them to experiment with different approaches and drive a totex culture within their businesses. The example of Project Freedom was cited – a collaboration between Western Power Distribution and Wales and West Utilities, investigating multi-vector solutions to domestic heating.
The learnings form such innovation projects are shared between the networks – and with other stakeholders – as a condition of the funding, encouraging a collaborative approach to innovation.
It's a different story in the water industry. As one delegate noted, making reference to benchmarking in the regulatory system: "We've been set up to compete against each other, and now we're being asked to collaborate, and there's a tension there." While Ofwat has traditionally been resistant to the idea of dedicated innovation funding, it has recently indicated that it may be changing its position on this.
View from the chair: totex, or not totex?
By Ellen Bennett, content director, Utility Week
Seven years ago, totex was the biggest buzzword in the business – this was before 'innovation' was on everyone's lips, and long before most people had even heard of today's Labour leader Jeremy Corbyn with his headline-grabbing policy to renationalise the nation's energy and water companies.
As the water and network industries prepared for PR14 and RIIO1, the introduction – or extension – of totex in the regulatory system was big news, with utilities keen to explore the approach but often worried about their ability to deliver.
Fast-forward to today, and we don't hear so much about totex. There could be two reasons for this change. Could it be that utilities have fully embraced totex, realised its benefits, and embedded it so deeply in their culture that they no longer need to talk about it? Or could it be that the 'totex' box has, on the surface, been ticked, and utilities have moved on the newer buzzwords?
This was the question I put to delegates at the round table, and the answer was unexpected – and in fact, challenged the grounds of the question itself.
Rather than a binary approach – totex, or not totex – it seems that the industry has moved on to a point where the question of totex has been absorbed in the much bigger issue of whole systems planning. That is to say, it's no longer just about whether to build a new asset or come up with another solution; rather, it's a question of looking holistically at the infrastructure system, cross-vector, and determining the best solution.
It's a complicated picture, throwing up questions about who will govern a multi—vector system, and whose role it is to drive it forward. While Government has been struggling with the Brexit-induced leadership vacuum, delegates name-checked the increasingly influential National Infrastructure Commission, chaired by Sir John Armitt, as having both the nous and the political clout to come up with the right solution. With the commission currently investigating regulation in utilities, watch this space.
The round table took place at Utility Week Live in Birmingham in May and was sponsored by Costain