Round Table: Smart Asset Management for Water Companies
Smart asset management is expected to drive significant improvements in water companies' operations, but is the industry ready to embrace cutting-edge analytical technology?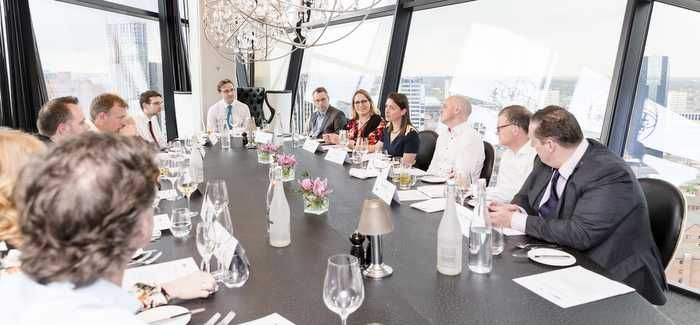 Attendees at the round table got to grips with the issues
Round Table Participants
Elaine Algaard, water director, Northumbrian Water
Michael Baker, tactical planning manager, Northumbrian Water
Nicola Evans, head of asset strategy, Bristol Water
Oliver Grievson, deputy chairman, SWIG
Jeremy Heath, innovation manager, SES Water
Mark Kaney, director of asset management, Black & Veatch
Cigolene Nguyen, head of planning and resilience, Southern Water
Derek Procter, head of global sales, Inflowmatix
Gordon Reid, wastewater strategy manager, Scottish Water
Kyle Robins, head of wholesale strategic investment, Thames Water
Christopher Steele, head of information management & analytics, Black & Veatch
Neil Wilson, director of asset management and investment, Wessex Water
By Robin Hackett
As the water sector faces up to a wide variety of challenges, such as climate change, the skills gap and growing customer expectation, the industry must find ways to work more effectively.
Smart asset management, including artificial intelligence, could play an important role in driving improvements and, while there are questions over the sector's readiness for technological transformation, there is little doubt that such approaches are likely to be required sooner rather than later.
Representatives from a range of UK water companies gathered to discuss the topic at WWT's round table in Birmingham on May 1st, which was held in association with Black & Veatch.
Asked to define smart asset management, participants agreed that it involves having the ability to make informed, reliable decisions with accurate information – not just making predictions but making them confidently.
It was also argued that the concept involves looking beyond maintenance to the whole lifecycle – knowing when assets will break down and when they need to be replaced, and enabling asset owners to make the right decisions at the right time.
"The best form of asset management is the one where you don't build anything," one attendee said. "The priority is to do more with what you've got. If you can't do that, enhance it. If you can't do that, then you replace it."
Others raised the point that smart asset management facilitates a systematic approach that can find synergies between issues like leakage, bursts and water quality and seek to address them as a group, pointing out that companies simply do not have the resources to tackle each challenge individually.
Data quality
Successful analytics relies on good information, though, and there were concerns that the industry is currently drowning in data, with the vast majority of it providing little in the way of insight. The level of data is set to increase hugely in the coming years, too, with a raft of sensors being installed and, unless greater efforts are made to separate good data from bad, that could prove counterproductive.
"Probably 99 per cent of the data collected may as well be in the bin because we don't use it," an attendee said. "It's about data quality as well – if you put garbage in, you get garbage out. We have a lot of that in the water industry. Some companies have made a lot of progress on that, but the first piece we have to do is look at what data we need to be collecting, from CEOs down to the guys on the ground."
Smart asset management systems promise to help separate the wheat from the chaff, automatically sifting data to determine patterns and anomalies and then flag up issues as required, and participants said such technologies will be required to meet the demands of the future.
While the longest-serving members of staff might already be able to anticipate problems through intuition or listening to an asset, such insights are the result of extensive experience and – particularly in light of the industry's skills gap – will be extremely hard to replicate in the years to come.
For many staff, though, there is understandable hesitancy to embrace automation as it carries an implied threat to jobs. It was noted that the transition to smart is viewed as "difficult and uncomfortable", and that the pace of development is such that, by the time people are comfortable with any aspect of it, it tends to have transformed again.
Attendees emphasised that smart systems require human intervention to both guide and interpret the analysis, and that their introduction should mean a change in staff roles rather than a reduction in head count. Part of the answer, they said, is to show staff how they can benefit from embracing smart technology: if it allows them to carry out the most boring parts of the job more quickly and easily, that frees them up to do the interesting and more creative parts, which brings added value to the company.
"We need to stop saying it's going to be hard," one said. "We should be saying it's going to be fun."
In addition, it was argued that while humans assessing data might ultimately come to the same decision as the smart technology, they will frequently take far longer to do so. Similarly, several attendees highlighted the need for the industry to change its mindset and adopt a more agile, fast-thinking approach.
"To achieve what we need to achieve for our customers, we have to embrace automation and retrain," a participant said. "We need to free our minds."
Workforce challenges
There was also a question raised about whether the industry has the right people in place to achieve its aims, with one attendee saying the required balance of analytical and creative qualities is lacking at present. It was also suggested that adopting a more forward-thinking, technological approach could help to bring in the required talent, with digital-first youngsters likely to be attracted by the idea of utilising AI to maximise their potential.
Some companies have already taken strides towards smart technology and are seeing positive results. One attendee said their company was now in a position to make predictions, although not always with confidence, highlighting the vast number of false alarms that occurred during their earliest experiments. As they gained more experience, though, the number of false alarms has fallen to a level where the technology is starting to deliver useful insights.
Even so, there were doubts as to whether the industry is ready to step up as a whole. Challenges from Ofwat, not least the 15 per cent leakage reduction target for AMP7, are forcing companies to reassess the way they do things and explore new ideas, but attendees noted that there has not been universal enthusiasm.
"We have the resources and we have the technology," one said. "What we're refusing to do is to use everything we have. A regulator should never push you. In any other industry, the companies are pushing too hard and the regulator is pulling you back."
-The WWT round table 'Smart Asset Management for Water Companies' took place in Birmingham on May 1st and was sponsored by Black & Veatch